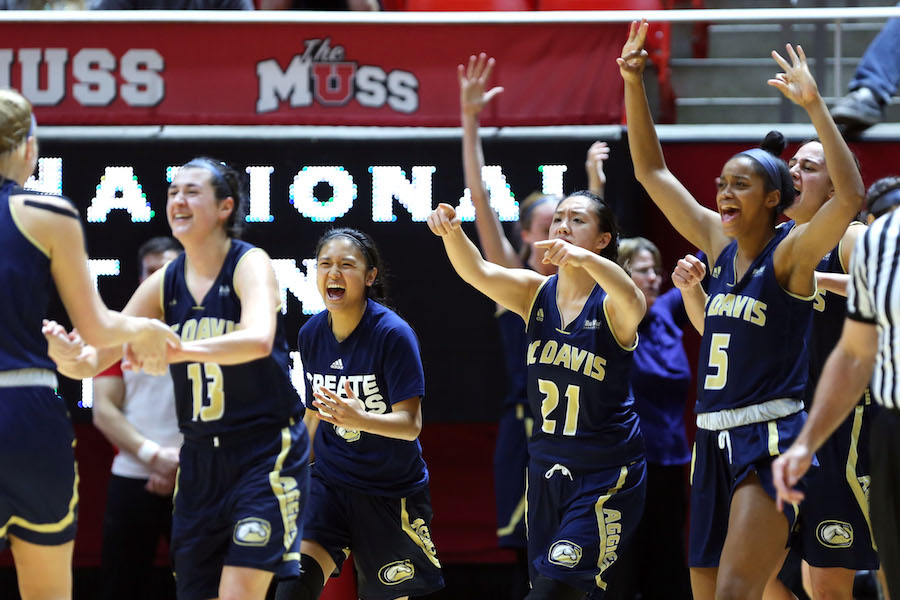 In first round of WNIT, Aggies protect basket en route to 72-62 win, claim first postseason victory in program Division I history
Despite its disappointing loss in the Big West Tournament, the UC Davis women's basketball team (24-7) found itself in its first postseason game in Division I history during the first round of the Women's National Invitation Tournament against Utah (16-15) in Salt Lake City. The Aggies responded to Utah's home court advantage with a commanding 72-62 victory. It was a wall-to-wall victory, as the Aggies came out early and led by as much as 17 in the first quarter. Utah was never able to recover from the initial onslaught,
While the Aggies performed well on offense, they won their game with defense. Utah shot just 34.7 percent from the field and 19 percent from three-point range. The entire Aggie team amassed 12 total blocks over the course of the game with six rejections coming from sophomore forward Morgan Bertsch. Bertsch also led the team in scoring, with 23 points and seven rebounds.
The team's second and third leading scorers on the season, junior guard Dani Nafekh and junior forward Pele Gianotti, failed to find their shots, shooting a combined 2-13 from the field, and the team needed someone else to step up. Junior guard Rachel Nagel did just that, adding 17 points of her own on a superb 7-10 shooting. Junior forward Marley Anderson added 10 points and six rebounds in just 15 minutes off the bench.
Despite Utah's struggles to get its shot going as a team, 14 of the Utes' field goals came from Malia Nawahine (6-13 from the field) and Tanaeya Boclair (8-14). The rest of the Utes shot just 11-45 from the field.
The Aggies hope to continue their postseason run in round two of the tournament on Sunday, March 19, when they will face off against Colorado State in Fort Collins, Colorado.
Written by: Bradley Geiser — sports@theaggie.org