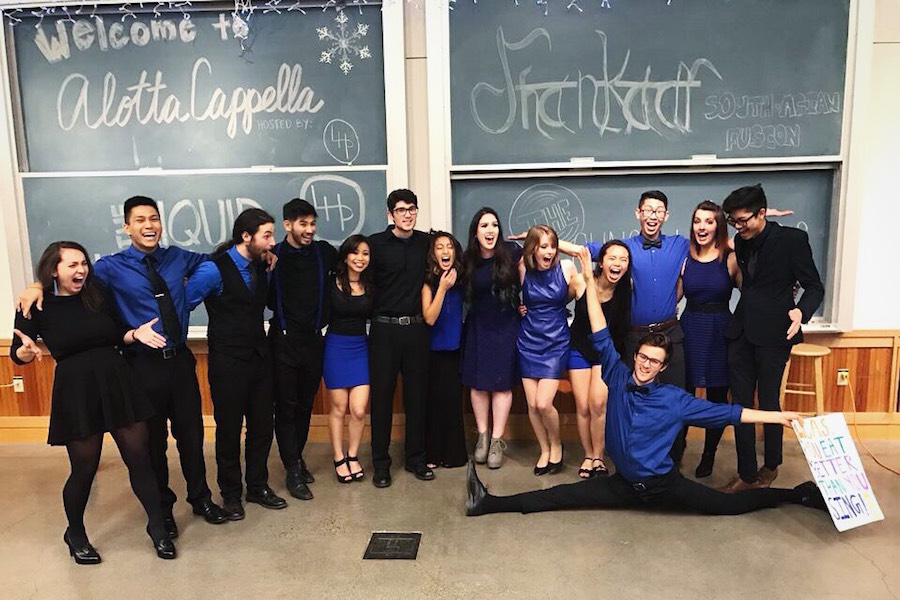 A cappella choir to move on to ICAA semifinals
UC Davis' very own a capella group, the Liquid Hotplates, has been chosen to compete at the International Championship of Collegiate A Capella (ICCA) Tournament on March 25. After winning the Northwest quarterfinal a few weeks ago, the group is now advancing to Salem, Oregon, where it will sing against groups from Stanford, Oregon, Utah and Washington. If they win the semifinals, they will advance to nationals in New York City.
"I think we have a really good chance," said Calvin Htet, a fourth-year computer science major who won the award for outstanding soloist at the competition. "We scored among the top 5 out of 40-something groups in our region, so I think we have a really good likelihood of getting to the finals."
The group has been putting in extra rehearsal time to prepare for its upcoming competition. They are focusing on micro-tuning fine details from their quarter final set.
"We are not going to change what works," said Tristan Bonds, a third-year neurobiology, physiology and behavior major and co-music director of the group.
"The goal is to pinpoint the areas we need to focus on," added Maddy Dufek, a fourth-year biological sciences major and the other outstanding solo winner. "We are really going to tailor our changes to the judges comments we got from the last competition."
One notable aspect of the group is its unique sound, which is achieved by taking elements from several types of music and mixing them together.
"It is kind of jazzy, R&B and pop-style," Dufek said. "Every group has different styles. The goal in a capella, especially when competing is to take a song and make it your own […] A lot of groups do traditional barbershop style which can be very cookie cutter and safe. It is fun to listen to, but not as exciting or stimulating."
The Liquid Hotplates are a completely student-run group. The members do everything from fundraising to music rehearsals all by themselves. Music directors Cole Hofberg and Tristan Bonds frequently work off one another to come up with new arrangements for the group.
"We come from different genre backgrounds," said Cole Hofberg, a third-year civil
engineering major. "I wanted to do more kind of R&B hip-hop kind of stuff, and [Tristan] wanted to do jazz."
The combination of different styles seems to work well for the group. Their unique sound helps them stand out from the competition.
"We are doing a version of 'Cocoa Butter Kisses' by Chance the Rapper," Dufek said.  "Our music director, Cole, made it a much more melodic edition. It has a really nice R&B sound. It is really different and really fun. By the end of the song we are all just belting."
The Liquid Hotplates will be traveling over eight hours on March 25, the day after finals schedule ends, in order to compete in the tournament, which runs from 7 to 11 p.m. For more details, please visit the Liquid Hotplates' and ICAA event pages.
Written by: Myah Daniels — arts@theaggie.org