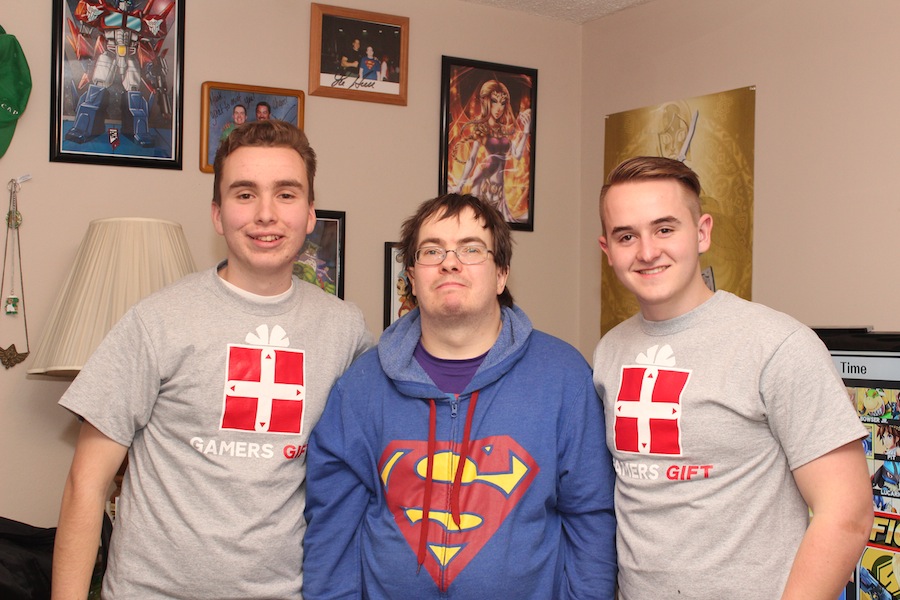 Student-run nonprofit provides children in hospitals, older adults with access to virtual realities
Thoughts of aging and hospitalization may unearth fears of immobility and a loss of opportunity for outdoor exploration. With the help of a student-run, nonprofit organization and a virtual reality headset, reliving and discovering new experiences doesn't have to end at old age or hospitalization.
Gamers Gift was founded by Dillon Hill, a first-year cognitive science major, and uses video games and other electronic technologies to alleviate psychological stress caused by lengthy hospital stays, loneliness, poverty or other difficult circumstances one might face.
"The epitome of Gamers Gift is allowing people in the hospital and in really bad situations to escape and have fun with the virtual situations they're in," Hill said. "For the kids that can't walk and for the elderly that can't move as well, they can put on the virtual reality and experience those things again."
Prior to creating Gamers Gift, Hill often played video games with a close friend who was undergoing treatment for cancer during middle school and high school.
"Playing video games was always a more unique way to spend time with him than reading books or watching TV," Hill said.
Hill organized the nonprofit in 2016 after learning that his friend was experiencing a cancer relapse. He felt motivated to provide companionship in facilities that housed children and older adults who were immobile or sick, and he was inspired to incorporate video games into charity.
Gamers Gift volunteers are helping hospitalized children and older adults in assisted-living facilities visualize and relive exhilarating experiences using virtual realities.
"If people used to do something and want to do it again, we try to find a specific program that can fit their needs," Hill said. "That's how we found the snow-skiing simulator; an old woman told us that she used to snow ski all the time and wanted to do it again. So we were able to find that program and allow her to relive that experience."
Thanks to the efforts of Gamers Gifts, over 1,000 people across Northern California have had the chance to play video games with volunteers and peer through the virtual reality headsets.
"It's been really eye-opening," said Kristen Chrisco, the director of outreach for Gamers Gift. "[Gamers Gift has] really shown me how video games can really help people and bring people together. We'll go to the children's hospital, and just seeing how excited the kids get from playing a game with them for like 10 ten minutes is really heart-warming."
The nonprofit also donates funds and computers to schools within the Sacramento and Bay Area regions. In its first year, Gamers Gift raised over $20,000 in donations.
Gamers Gift aims to continue raising money during its upcoming fundraiser GG: WP, A Charity Gaming Convention (short for Good Game: Well Played) on April 29, in which gamers are welcome to socialize with one another and help raise funds for the organization.
"The goal is to have a whole lot of people who enjoy playing video games in a room together playing with their friends, meeting new people and helping Gamers Gift," Hill said.
The event will be split up into different sections, which include a virtual reality section, a retro section, a console gaming section, a Nintendo section and a single-player section. GG: WP will also feature several giveaways and guest speakers.
Brian Wu, a first-year computer science and engineering major and Gamers Gift's secretary, emphasized that GG: WP is an opportunity to highlight the benevolence of gaming communities.
"My whole life people have been telling me that video games are a waste of time, you're melting your brain — that kind of stuff," Wu said. "I just thought it would be cool to prove people wrong and show what good it can do for you and help out overall."
In upcoming years, Gamers Gift hopes to organize competitive events for electronic sports and to host competitions at local children's hospitals. Until then, the nonprofit will continue to raise money and do outreach for interested students and volunteers.
"We just want people here on campus and around the area to understand that there are so many people here playing games, and to really just recognize that we're doing good things with videogames, too," Hill said. "That's what's important."
GG: WP will run from 4 to 8 p.m. on April 29 at the Walter A. Buehler Alumni Center. Attendees can register online. No gaming experience is necessary, but bringing personal gaming equipment is encouraged. Donations can also be made on the Gamers Gift website.
Written by: Emma Sadlowski — science@theaggie.org