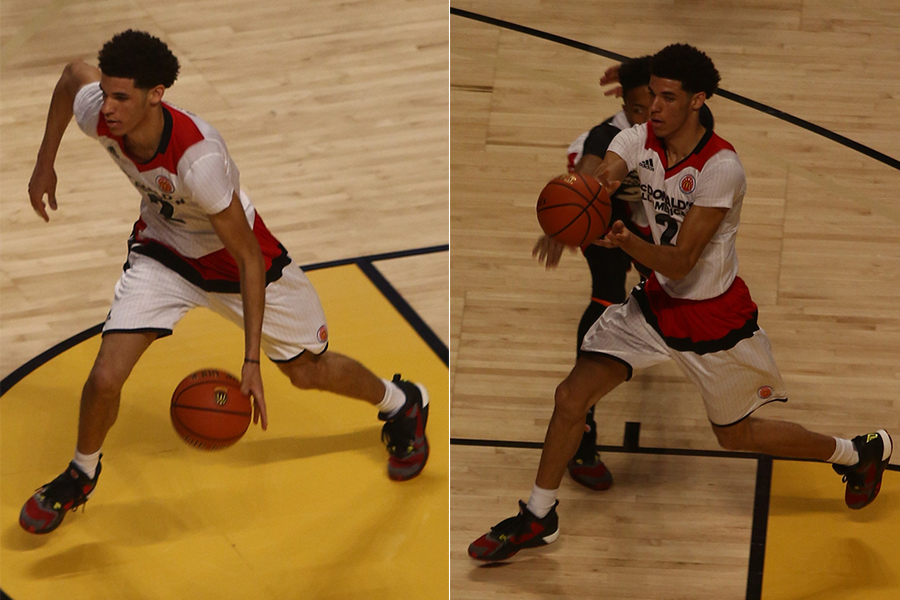 A star's rise to college basketball fame
He is undoubtedly the biggest name in college basketball; he has transformed a UCLA team that, just a year before, had finished with a sub-.500 record (15-17) and missed the NCAA tournament; he's a projected top-three pick in the upcoming NBA draft. And his name is Lonzo Ball.
Lonzo Ball's rise to stardom has been nothing short of spectacular. Born in Anaheim and raised by two former college athletes, Lavar and Tina Ball, the spotlight has been on this family for a while now. Lonzo and his younger brothers, LiAngelo and and LaMelo, turned Chino Hills High School into a basketball powerhouse. Lonzo has since departed for UCLA, with LiAngelo to follow next year and LaMelo a couple years later. The Bruins got quite the catch by getting these brothers to commit to UCLA, and it is already paying off.
Lonzo Ball, standing at 6-foot-7 and weighing 190 pounds, has quite the imposing physical stature for someone of his position. His length at point guard will make him a nightmare for guys in the NBA to guard if his funky, unorthodox jump shot translates at the next level. Lonzo, a right-hander, currently begins his form on the left side of his body near his left shoulder and brings the ball to the top of his head and slings it away.
This form works, and he shoots 41 percent from three, but many speculate that NBA caliber defenders will make Lonzo suffer for his steadfast adherence to these mechanics as it doesn't give him the ability to create much separation with his shot. Regardless, this is not the most important element of his game. Lonzo Ball runs the best offense in the country at UCLA: he is one of the best passers college basketball has ever seen. Ball averages 7.7 assists per game, and his offensive brilliance and basketball IQ will surely pay off well in the NBA. Lonzo Ball will one day be the orchestrator of a lethal NBA offense.
Despite his success in college thus far, Lonzo Ball still has much to improve on. His one-on-one defense can definitely be polished, especially when he'll be forced to guard quicker and more athletic NBA guards. The most important issue with his makeup, however, is that Lonzo Ball has zero mid-range game. He exclusively shoots three-pointers, layups and dunks. Many see this as a way of minimizing inefficient long-range two point shots, but this may well be a ballast to his success as it will hamper his options in pick-and-roll situations.
The media train surrounding the Ball family has been non-stop since Lonzo entered college. I partially attribute a lot of Lonzo Ball's popularity to his marketable name, funky and fun style of play and his other family members. Lonzo's father Lavar has made many abrasive comments over the past few months about the inevitable success of Lonzo at the next level that have made many, like myself, cringe. He claimed he's already better than Steph Curry and that Lonzo would only play for the Los Angeles Lakers. He's definitely not one to shy away from the spotlight, and Lonzo, despite a less talkative approach, will definitely have a target on his back because of it.
As March Madness gets underway, I fully anticipate that UCLA will make a deep run in the tourney. Lonzo Ball, with all his quirks and oddities, has returned the UCLA basketball program to prominence, and with his brothers set to follow right behind him, it looks as if they might be back for good.
Written by: Michael Wexler — sports@theaggie.org