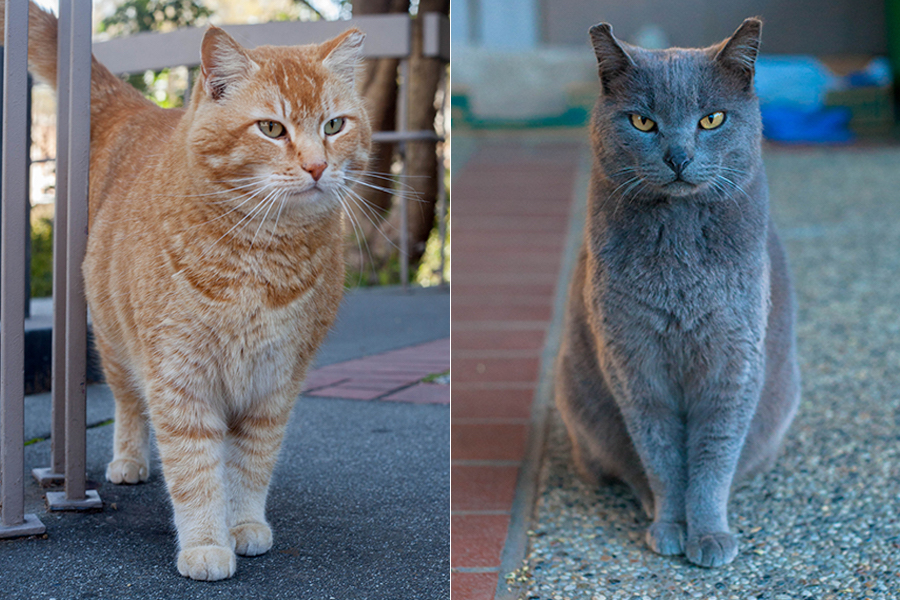 Stray cats taken in by physics staff bring comfort to students
Around the northeast corner of the physics building, two stray cats can be seen playing a mischievous game of hide-and-seek in the shrubs outside, sunbathing on the concrete or enjoying the treats the physics staff leaves them.
"Sometimes we have tough days and it's nice to come out and get some animal love," said Danielle Fradet, a first-year wildlife, fish and conservation biology major.
Like many other students, Fradet comes to the Physics Building specifically to play with these cats every now and then.
These cats have been given many names over the years, but the ones that have stuck are Cheetoh, for the big orange cat who loves to laze around in the sun, and Grey Cat, who is always found in a visitor's lap.
"I just like animals in general, and I have a dog, so it's nice when I come to college to be able to pet something," Fradet said.
Although Fradet is a dog owner, she doesn't buy into the dog-cat dichotomy, and luckily for Cheetoh and Grey Cat, visits them frequently.
"I've actually been out here multiple times since the beginning of the year," Fradet said. "There's not that many dogs here on campus, and the cats are really nice."
The ultimate "cat lady" award, however, goes to Laura Kemp, a financial assistant who works in the Physics Building. She has taken it upon herself over the past few years to care for the cats and make sure they are fed and sheltered.
"We have a lot of people [who] really like the cats," Kemp said. "They think [the cats are] good therapy for the students when they're real stressed out with courses and things. Any day I come out here, there'll be at least one or two people sitting down with a cat on their lap. I think they almost get more attention here than they would inside a home."
Fradet believes both of these cats are actually strays that have never had an owner before — until, of course, they found a family in the Physics Department at UC Davis.
"They're both spayed or neutered, and that's why they [each] have their ear clipped," Fradet said. "It's actually a thing […] for stray animals [to have their ears clipped] whenever they've been spayed or neutered, so that way if someone else finds them, they'll know [if it was done]."
As the cats do not have official licenses, their names are up for debate. Fradet explained that her preferred name for Grey Cat is Garrison, which is actually an inside joke among her and her friends.
"My friends and I […] started calling him Gary, but we decided to elaborate on the name," Fradet said. "I know the orange one's called Cheetoh, but we don't know what [Grey Cat] is called, so we made up a name."
Grey Cat is generally friendly and approachable, and Fradet wonders if their friendship has progressed enough for him to recognize her.
"He kinda just sits in anyone's lap whenever I walk by, so I don't know [if he recognizes me], but I like to think so," Fradet said.
Tanat Kissikov, a graduate student in the Physics Department, has noticed the cats growing plumper and more accustomed to people over the course of the past two years. Before he moved to a higher story in the building, Kissikov worked on the first floor and would often enjoy petting the cats.
"One or two years ago, they started off more reticent, but became more used to people — and fatter," Kissikov said.
Students have worked with Kemp to create a feeding log spreadsheet in order to organize the cats' feeding schedule, especially for the weekends. Despite all of this care, there has unfortunately also been some negative energy toward the cats.
"We've had some vandalism here about a year ago, where somebody kept throwing out the cat food dishes," Kemp said. "I got upset, so that's [when] I kind of became more of the cat lady. I posted the sign here asking people not to throw away the dishes, and that if they had a problem with the cats, to come see me. During the summer it was hot, and I don't know if [the cats] can get water anywhere else, so I was more concerned about them just getting water."
Lined up along the left-side wall of the building are little cat shelters built by anonymous donors. But of all the fancy shelters made, the cats only used the open boxes with a blanket.
"Last summer [Cheetoh] was laying out here, and I think she was just sleeping, and somebody called the […] town sheriff," Kemp said. "He came out to check on her, and he was sitting in his truck out here writing notes."
Worried and indignant at the possibility of having their cats taken away, many staff members working in the Physics building had taken it upon themselves to speak to the sheriff.
"It was funny because one of my coworkers said 'Oh don't worry, I talked to him — I'll make sure he won't take our cats away,'" Kemp said. "I started realizing that all these people would come up to [the sheriff] and get upset that he was going to take the cats away. And I thought, 'oh my God, the sheriff will never come here again!'"
These cats are no longer strays, now considered a part of the UC Davis family.
"I think they're happy," Kemp said. "I think they like their life here."
Written by: Sahiti Vemula  – features@theaggie.org