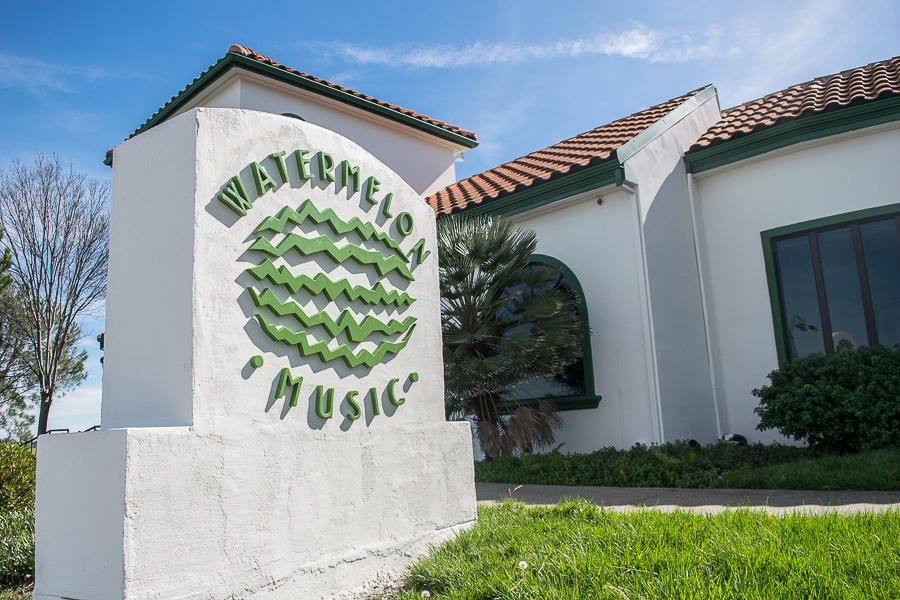 Local business relocates to Lake Boulevard
Four days and 12 hours each day — that's how long it took to pack up 17 years worth of business. After receiving a letter from its landlord in August of 2015, Watermelon Music was informed that the commercial property on which their business was located was going to be sold. Owner Jeff Simons had someone appraise the property, discovering that the value was well beyond what the business could afford. As a result, Simons began to look elsewhere for properties where Watermelon Music could relocate.
"As we were negotiating, a broker that I had been trying to talk to about buying other pieces of land had said that this building had just gone up on sale that morning," Simons said. "When I went out and looked, it was absolutely stunning — an amazing fit for what I wanted to do. So we made an offer on it and purchased the building."
Simons described renting the biggest U-Haul in town to transport instruments and products. With the help of family members, friends and customers, everything was out of the old store on Feb. 28 at 9:30 p.m., just four days after starting the moving process. It then took approximately three to four days to get everything settled into the new store. Watermelon Music opened its doors to customers on March 4, although the performance part of the store is yet to be finished.
This new performance part will include a 120-seat music venue to host concerts, clinics and open mic nights. In addition, the layout of the store is much more customer oriented, with each department clearly labeled. The repair space is also improved, allowing more complicated repairs to be done, and the building is humidity controlled. This is vital for an instrument store, as wooden instruments need to be kept at the correct humidity in order to prevent the wood from drying out and cracking.
Watermelon Music's new location, although farther away from downtown, has its perks. The space itself is much bigger and also has parking. Since it is also not as centrally located, the people who come into the store are those who are serious customers and have the intent on purchasing something.
"The downtown location was like a combination of a music store and a playground," Simons said. "So many of the people who walked in weren't interested in buying anything, and just wandered in since it's kind of a fun, hands-on thing; we're going to have much less of that. It's also easy to get to from any part of Davis."
This also opens up room for other businesses in the old Watermelon Music location. Paul Wilbur, the manager of Armadillo Music, is excited to see what will occupy the former Watermelon Music store.
"Anytime an institutional business leaves the area, it definitely hurts, [but] anything that makes Davis unique is good — we like different types of businesses," Wilbur said. "The more diversified, the better."
The transition to its new location was a step forward and a way to expand their horizons, although owner Jeff Simons certainly was surprised.
"Commercial property in Davis never ever goes for sale, it's a super rare thing," Simons said. "So I think this group from out of town looked at it, and in the long run, I'm sure they're going to do well with it — it's prime location in the middle of downtown. But I'm not sure they understand the Davis dynamic — what makes it unique and interesting."
For other stores and organizations in the West Davis area, the relocation of Watermelon Music is will have a positive impact on customers, as it will attract more business.
"I think it's a great thing — I myself am a musician," said Patrick Cain, a manager at Westlake Market. "I think it will bring more people from central Davis this way."
Written by: Kaelyn Tuermer-Lee — city@theaggie.org