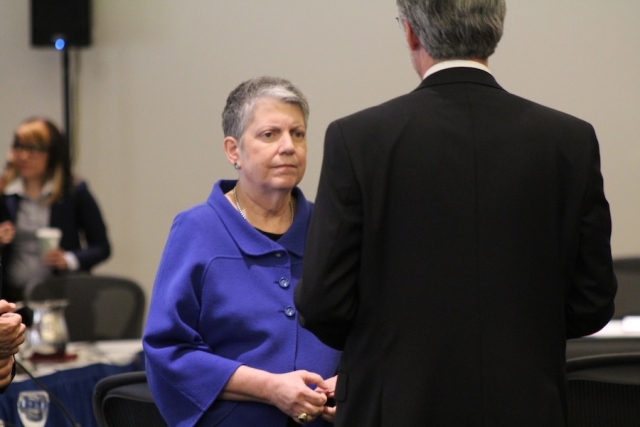 Regents approve new UC Berkeley chancellor, discuss nonresident enrollment cap, divest from fossil fuels
The University of California (UC) Regents held a board meeting on March 16, during which they appointed Carol Christ as UC Berkeley's new chancellor and discussed a 20 percent enrollment cap on non-California residents and foreign exchange students.
Christ will oversee UC Berkeley's 27,000 undergraduates and 10,000 graduate students. During the remarks leading up to the vote, Napolitano spoke of why she had selected Christ.
"I strongly believe that Carol Christ will make an excellent chancellor for UC Berkeley," Napolitano said. "She has a compelling vision for Berkeley's future, a demonstrated record of accomplishment and the trust of students, faculty, staff, alumni and the other members of Berkeley's community. I urge you to support her appointment."
Christ's annual salary will be $531,939, set by the Regents as a continuation of the current chancellor Nicholas Dirks' salary.
Christ was unanimously voted as Berkeley's new chancellor.
"I am deeply honored that the president and the regents have chosen me to lead Berkeley at this critical moment in its history," Christ said. "I'm even more honored to serve the campus that I love. I've been asking myself what Berkeley has meant and continues to mean to me. I arrived to Berkeley in 1970."
Napolitano spoke about Christ's established history at UC Berkeley, complementing her leadership and administrative skills.
"In January of 2015, Dr. Christ returned to campus as director for center of studies for higher education," Napolitano said. "May of last year, she agreed to take up her former role as executive vice chancellor and provost on an interim basis. In every position she held at Berkeley, she left the entity better off."
In 1970, Christ became a faculty member of UC Berkeley and also served as the chair of the English Department from 1985 to 1988. She became dean of humanities, mathematic and natural sciences in 1986 and was appointed provost and dean of the College of Letters and Sciences. The highest-ranking female administrator member at UC Berkeley, Christ served as vice chancellor, assistant manager and continuing provost at UC Berkeley until this latest position.
Napolitano said that Christ has been an integral part of Berkeley's success and will help the school continue to grow.
"Dr. Christ has a way with making things better," Napolitano said. "She builds strong relationships, and trust, with diverse groups and diverse individuals, and then forms consensus and finds solutions. In challenges, she uncovers opportunities and improves upon them. I believe she is the right person to lead what is widely regarded as the best public research university in the world. It also helps that she loves the place, and the faculty, students, staff, alumni and community who make Berkeley what it is: rightly famous."
In addition to the appointment of Berkeley's new chancellor, Regent Sherry Lansing said that she is interested in the "assembly of a debt-free college education which would include more than just tuition," and that the Regents should support this step.
"We want to be very strong advocates of this legislation once it's finally proposed," Lansing said.
On March 15, the Regents held an Investment Subcommittee meeting to announce a further $150 million fossil fuel divestment.  
Companies being divested from include the Sunoco and Energy Transfer Partners, businesses involved in building the Dakota Access Pipeline. UC has also divested from companies earlier this year, including $450 million from Wells Fargo and $200 million from coal and tar sands resources.
Laretta Johnson, a first-year student at UC Santa Cruz, demanded that the UC fully divest from fossil fuel businesses.
"The UC refuses to take a firm stand, in essence backing the status quo, and acting as though we are not in a time of deep political and climate crisis," Johnson said in an interview with Fossil Free UC. "This situation demands action, and real leadership requires they make the decision to fully divest from fossil fuels and truly stand with us."
The board also discussed a possible 20 percent cap on non-California residents, which would affect out-of-state and foreign exchange students. Some regents mentioned how tuition and housing payment from out-of-state students help fund the UC system, while others were concerned about resources.
Some students have mixed feelings about the results from recent Regents board meetings. Dinar Kurji, a second-year religious studies major at UC Davis, questioned the potential cap on non-California residents, as it could encroach on foreign exchange students.
"I'm glad UC Berkeley has a new chancellor," Kurj said. "Regarding the non-resident cap, it's bad to restrict foreign exchange students."
Written by: Aaron Liss — campus@theaggie.org