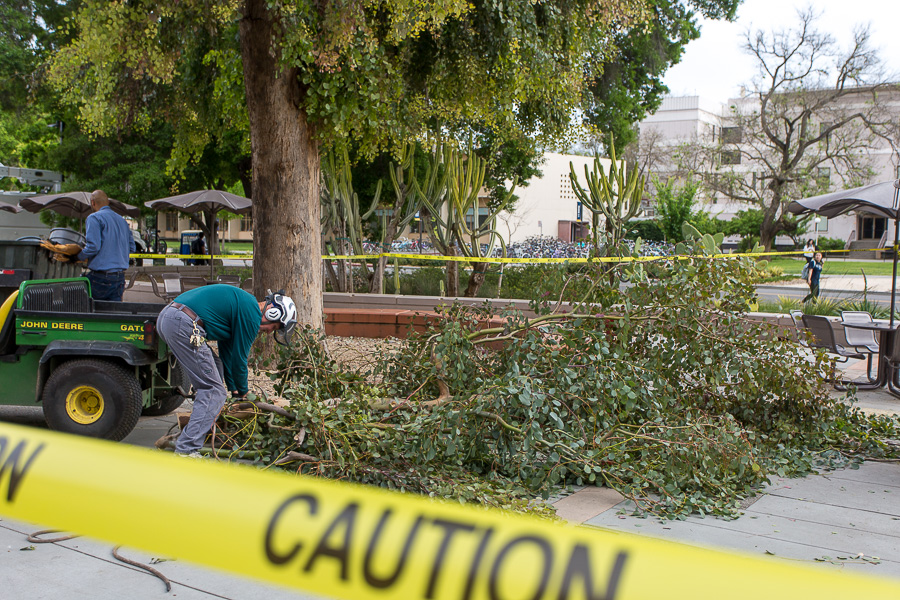 Employees' injuries still unknown
A branch of an eucalyptus tree in front of the Student Community Center (SCC) fell, injuring four female UC Davis employees on April 5 around 3:30 p.m.
"[The branch] missed the majority of the people, but it did hit one of the tables, where it broke off all of the metal panels and kind of trapped the people under it," said Ashley Collins, a third-year political science and Spanish major who was at the SCC when the branch fell. "Everybody from the [SCC] runs out […] and it's kind of an emergency at that point, so everyone is lifting the tree, people are calling 911, it was like a very fast response."
The Fire Department and Police Department arrived on the scene shortly after the incident. Three of the four people injured were taken to area hospitals via ambulance. According to the associate director of News and Media Relations, Andy Fell, the severity of the injuries cannot yet be publicly confirmed.
Written by: Alyssa Vandenberg — campus@theaggie.org. Kenton Goldsby contributed reporting.