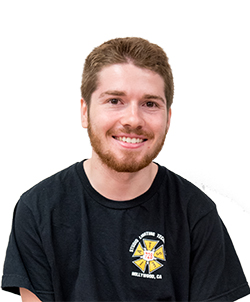 Millennial relationships and agricultural advocacy among diverse array of topics
It's Spring Quarter! Finally. There's no better time to open up a copy of The Aggie on the Quad, flip a few pages to the opinion section and cheerily read about what people are complaining about.
This quarter we have a decidedly diverse set of topics, ranging from how Millennials interact with each other to the prevalence of mental health issues in our society. Readers will both learn about the need for agricultural advocacy and how science fiction has provided the perfect medium for understanding some of today's most pressing problems, like climate change.
It's a thrilling time to be in journalism, and this quarter's writers and their passions show why.
But columnists can only contribute so much to the discourse on a college campus. As always, The Aggie welcomes and encourages guest submissions from the Davis community. Are you seeing something that bothers you? Write about it. Do you take contention with an article we ran? We want to publish your reaction. A healthy paper depends on the active participation of its readers.
Email opinion@theaggie.org to submit an op-ed for consideration. Make your voice heard.
Here are the Spring Quarter columnists and their topics:
Marisol Beas
Third-year sociology major Marisol Beas understands that mental health permeates and influences all aspects of a person's life, from sleep to school and everything in between. Her column will focus in part of self-care for individuals who might be experiencing varying levels of mental illness or stress. With more and more students seeking mental health services, Beas' column promises to shine light on an issue and problems that are increasingly hard to ignore.
Camille Chargois
For first-year communication major Camille Chargois, agricultural advocacy has long been a personal passion. With a special focus on the Davis, Sacramento and Woodland areas, Chargois will illustrate how agriculture is intimately tied to issues like food security and sustainable living. In doing so, she hopes to impart to readers the importance of the intersection between agriculture and community service — often overlooked and underappreciated, even at a school known for its environmentally-conscious student body.
Brody Fernandez
How do Millennials connect? It might not be through an abundance of sex, according to third-year communication major Brody Fernandez. And if we are connecting, Facebook and Twitter and text messaging make it clear that we're not connecting intimately. Fernandez will be looking at how members of Generation Y interact with each other. With an eye for how culture evolves over long periods of time, Fernandez hopes paint a picture of Millennial interpersonal relationships .
Noah Pflueger-Peters
If there's a genre of art or film that can best help contextualize our political environment, fourth-year English major Noah Pflueger-Peters would argue it's science fiction. Dystopian governments, rising seas and oppressed mutants all in some way reflect the anxieties shared by Americans in this critical moment in history. Pflueger-Peters wants to show how it's not a coincidence that science fiction has become one of the world's most popular genres in a time that might best be described as surreal.
Written by: Eli Flesch — ekflesch@ucdavis.edu