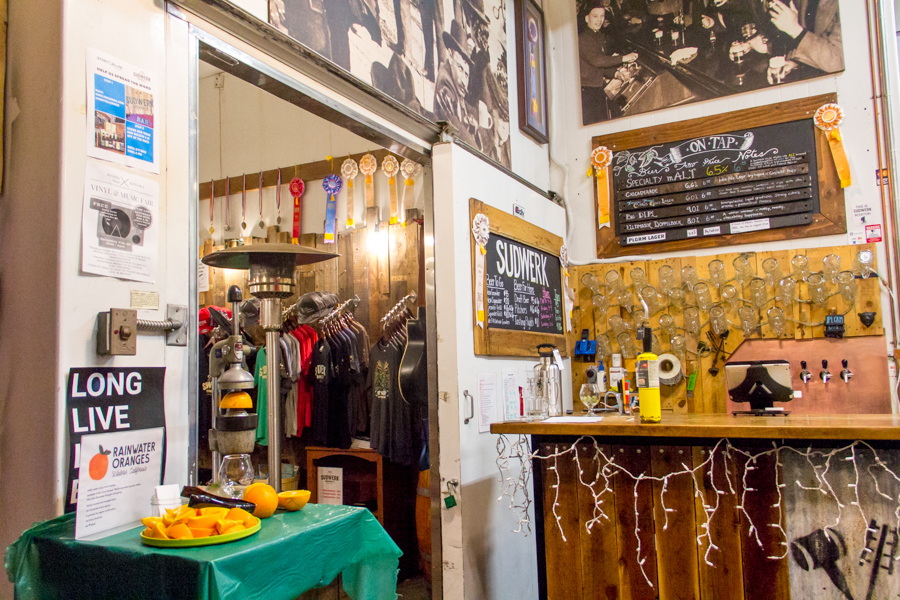 Celebrate the arrival of spring with activities, food, beer
When UC Davis' Anthropology Museum coworkers Greg Wada and Kathleen Brandl grabbed a beer to bounce event ideas off each other, they knew that they'd struck gold with their brainchild — bringing the traditional Japanese Cherry Blossom Festival to Davis and hosting it at Sudwerk Brewery. Brandl is the dock store manager at Sudwerk Brewing Co., and Wada is a first-year anthropology graduate student who has been involved in the Japanese percussion art form of taiko for five years, which made this partnership a match made in heaven.
"We got together and thought that it would an awesome idea if we did this, because we're both passionate about the work we do," Wada said. "But the greater impact of this — at least for me as an artist and a person of color — is the diversity of the American experience and highlighting that through a festival where you get to experience different cultures just coming together and enjoying each other's company."
Sudwerk held the first Davis cherry blossom festival last year.
"We are trying to make it even bigger and better this year," Brandl noted.
This year's festival will feature a variety of performances, exhibits, game booths and food vendors. There will be exciting Taiko performances by UC Davis' own Bakuhatsu Taiko Dan group, UC Berkeley's Cal Raijin Taiko, Stanford Taiko and Jiten Taiko as well as a mini taiko lesson for the community. Local percussive finger style guitarist katgrüvs will be providing background instrumentation for Ikebana International, which will be demonstrating the Japanese art of flower arrangement, and the Anthropology museum will host an exhibit of Japanese artifacts.
There are many more activities and performances throughout the day as well as a variety of food options. Sacramento's Roaming Spoon will have vegan eats, Koizora will offer a more traditional Japanese sushi experience and Puros Churros will be offering some sweet desserts. And of course — who could forget the beer?
Those who are 21 and older have Sudwerk's two specialty beers to get excited about. Last year, Brendl helped brew a seasonal Sakura beer — which sold out in less than two hours — and she will be brewing this beer again, along with a special plum beer. With both cherries and plums being symbolic in the celebration of spring in Japan, these beers will help tie the whole festival together.
The Cherry Blossom Festival is a wonderful opportunity for the community to experience multicultural activities and to celebrate diversity in the Davis community. Janice Yamaoka Luszczak, who is a member of the Japanese American Citizens League, a civil rights and cultural organization, will be tabling at the festival and ready to answer any questions in hopes of fostering an open dialogue. She is concerned with the recent string of events concerning minorities and immigration, referencing the inhumane internment of Japanese Americans during World War II.
"We've been trying to get more and more involved in terms of some of the things going on with the national issues that have been coming up recently and doing what we can to support other organizations and communities that might be threatened," Luszczak said. "Our organization has been more of a cultural rather than a political organization, but I think the time is right to be changing that as much as we can because the more people that speak out for people who are being targeted, the better."
Wada expressed a similar opinion.
"Genuine human interaction is an important part of the process to overcome social prejudice, and the broader impact of it is this: can we get people together to have fun and witness parts of different cultures that they haven't experienced before," Wada said.
So for those who'd like to start the new quarter by celebrating the arrival of spring in the traditional Japanese spirit and appreciating the diversity of the Davis community, stop by Sudwerk's free Cherry Blossom Festival event on Saturday, April 8  from 2 to 8 p.m. to enjoy various activities, performances, food and beer! For more information, check out the event page.
Written by: Pari Sagafi — arts@theaggie.org