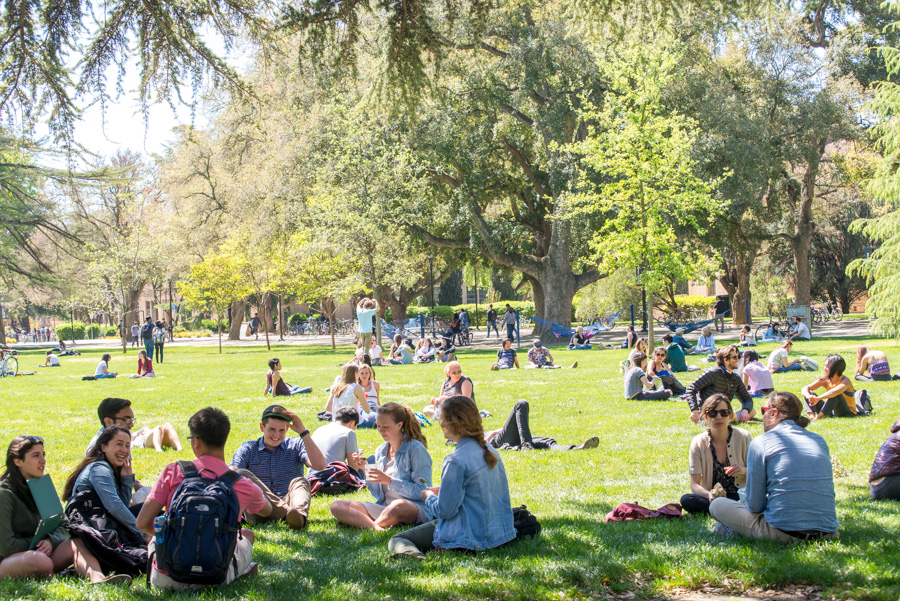 After storms, clouds and finals, we're walking on sunshine and listening to this burning playlist
As the wise Katy Perry once said, "after a hurricane, there's a rainbow." What better way to celebrate the rainbow that is Spring Quarter than by soaking in the sun on the Quad with a hot playlist?
"Paradise Waiting" — Vacationer
The last few weeks of Winter Quarter chaos bring daydreams of the beauty that is Spring Quarter hangout seshes on the quad. Times when all of us can "unwind/don't worry [our] mind[s]." But no need to worry now because "paradise is waiting for us."
"Hit the Quan" — iLoveMemphis
Now it's finally here — the sun is out after a quarter of hibernation. It's time to "hit the [quad]." The bustle of conversation is muted by the serenity of the scene and the calm expressions on everyone's faces. What better way to complement it than with a trendy dance, song and a sweet pun?
With the transitional stage of Fall Quarter and the insanity of Winter Quarter, you almost forget the sweet taste of Spring Quarter — your past life of sunshine, happiness and naps under a canopy of trees, squirrels and iconic duck couples. Our almost-forgotten love for the quad during the spring "is deeper than the oceans of waters."
 "Salad Days" — Mac Demarco
There's something special and nostalgic about the ease of sitting on the grass, bliss and nothingness that make you remember the beauty of youth. Moments of simplicity on the grass are your salad days, moments to remember when older and "just to tell 'em 'so long.'" Introspection aside, salads from the neighboring CoHo are scientifically proven to taste better while sitting outside on grass.
"Open Your Eyes" — STRFKR
The warmth of the sun seems to have a hypnotic hold on those enjoying the quad. It's true, it seems harder to get anything done when beautiful weather and friends await you outside. It's easy to give in, to "let it take me." It also seems to have a physical hold; sunburns suck.
"Ultralight Beam " —  Kanye West
Feelings about the Quad can only be summarized as such: "an ultralight beam," "a god dream," "Hallelujah." Word.
"The Only Place" — Best Coast
It's clear at this point: springtime on the quad is one of the best things about Davis — it's "the only place for me."
Written by: Caroline Rutten — arts@theaggie.org