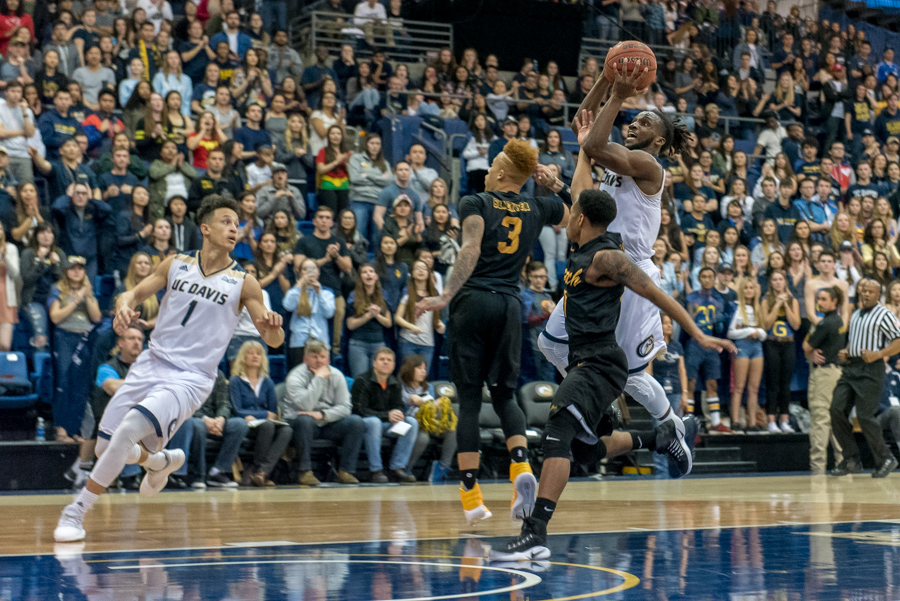 Players rap, film, write poetry and more
The UC Davis men's basketball team has some serious skills on the court. However, many may be unaware of the various artistic talents these players also possess. This year's NCAA Tournament competitors don't just play ball — they rap, film videos, edit photos, host fashion blogs, crack jokes and write poetry.
"My hidden passion is fashion," said Garrison Goode, a second-year economics major. "I always grew up loving accessories and putting random pieces of clothing together and making cool outfits."
The 6'7" forward takes fashion inspiration from several sources, ranging from musicians to people he finds on social media.
"Kanye West is really stylish," Goode said. "Honestly, anybody in the hip-hop industry inspires me. Especially NBA athletes too. You can just see them walking into the stadium wearing really cool things […] I find a lot of inspiration on Instagram and Tumblr too."
Goode has put his passion into fruition by collaborating with teammate Georgi Funtarov, a fourth-year communication major, to start an Instagram account featuring photos of art, fashion and nature.
"It is called double.g.lifestyle," Goode said. "It's our thing."
Funtarov, a forward on the team, also enjoys photography and shooting videos in addition to being a member of double.g.lifestyle.
"I love taking photos, making videos and editing them to tell a story," Funtarov said. "I do everything from filming, editing, audio, color grading, visuals and music."
Funtarov takes inspiration from family and friends and has found time in his schedule to learn how to use cameras and editing software. He has done projects ranging from recording the basketball team in Costa Rica to shooting a music video for his hip-hop class, and has recently created a blog to showcase his work.
"My mom has been an interior designer for over 20 years, so I have always been about the visuals since I was little, " Funtarov said. "I learned everything online. I started with iMovie, and little by little I started using professional programs."
Other members of the team, such as Chima Moneke and Brynton Lemar, also have some artistic passions up their sleeves.
"If you are talking about hidden talents, I can rap and beatbox too," said Moneke, a third-year communication major. "I write about whatever is on my mind. I wrote about a breakup, being doubted, even about hating basketball at one point."
The Australian-raised forward is influenced by his brothers as well as popular rap and hip-hop artists.
"I have five older brothers, and two of them were in a rap group back in Australia," Moneke said. "I took after them because I thought they were dope […] J. Cole is my favorite artist by far. Every game day I listen to him, and every Wednesday on Twitter I post a J. Cole lyric."
Moneke has posted some of his rap online, including his "So Gone" beat challenge on Twitter. Lemar, a fourth-year communication major, enjoys rapping as well.
"I made a mixtape my freshman year and that is when I started writing lyrics," said Lemar, a guard on the team. "It's not like we did this professionally, we just did it for fun. We didn't do it in the studio or anything."
Lemar has put out his work online and is working on new material for this upcoming season.
"I have one single where we got a real rapper and everything which is on Soundcloud," Lemar said. "For the most part I rap to myself and write alone in my room, but I am working on some stuff for this spring, and I ask my friends for their honest opinions."
Friends, family and authority figures all seem to be huge influencers in the players' lives. AJ John, a third-year sociology major, takes inspiration from several sources in his poetry.
"One of my teachers in high school inspired me to do more with my writing," said John, a forward for the Aggies. "I write a lot about my grandfather. One of the things we talked about was this affinity he had for flying […] he believed that when you die, your spirit can do all of the things your body couldn't do in life, so I wrote a poem about it. "
John believes poetry is a great way to get out emotions and loves to hear other's poetic works as well.
"I'm not some master poet, but I really do like poetry," John said. "I have been to a few open mic nights here at Davis. It is cool to experience other people's stuff and put yourself out there."
Written by: Myah Daniels — arts@theaggie.org