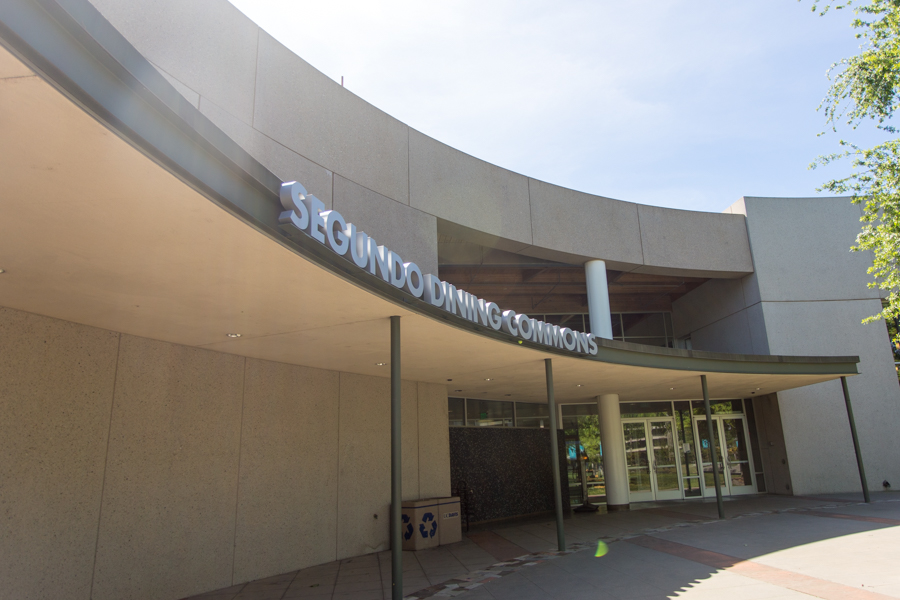 Dining Commons to get rid of swipes starting this fall
In an effort to make the Dining Commons (DC) more accommodating to students' busy schedules, UC Davis will introduce a new meal plan option during Fall Quarter of 2017 that will give students unlimited access to the three DC's all day.
In July, UC Davis will gravitate away from its 40-year management contract with Sodexo and move toward self-operation of the DC's. Though students will not see much of a change in the management of the DC, there will be significant changes to the meal plan structure.
The new design offers a seven or five-day plan from either Sunday through Thursday or Monday through Friday. Kraig Brady, the director of Hospitality and Dining Services, said new DC hours will make meal plans more flexible for students.
The DCs will each be open Monday through Thursday from 7 a.m. to midnight and Friday from 7 a.m. to 7:30 p.m. Additionally, Segundo and Tercero will have weekend hours from 9:30 a.m. to 7 p.m. on Saturdays and 9:30 a.m. to 8 p.m. on Sundays. Cuarto will be open on Saturday from 12 to 7 p.m. and Sunday from 12 to 8 p.m.
These changes cater to student meal time preferences as they won't be restricted by established serving periods.
"It basically makes our dining facilities like our students' kitchen at home," said Brandon Petitt, the director of Student Development. "It allows them to come in and out, grab something from the 'refrigerator' and be able to eat [at] any time without what we would perceive to be regular breakfast, lunch and dinner meal times."
In the past few years, Petitt said the DC management has been working with consultants and student focus groups to review the plans and provide feedback. Though there are no finalized rates yet, the projected meal plan prices for 2017-2018 residence hall students are similar to the price of the 150 swipes plan, but students will automatically be allotted $200 in Aggie Cash. This gives students a greater value for their money since the plan will have unlimited access to the DC.
"Students wanted more flexibility using their Dining Commons, and they didn't want to be charged for the amount of times that they went, but rather the amount of days that they used the DC," Brady said via email.
Rather than living an unhealthy lifestyle by stuffing themselves to get their money's worth, students can simply grab a quick snack or bigger meal at their convenience without being concerned about their swipe balance. Thus, the plan aims to remove the stress of whether students will have enough swipes to get through the quarter.
"It keeps it more casual so [students] can focus more on their studies versus what their meal balances are," Petitt said.
Brady said faculty as well as incoming, transfer and returning students will be able to purchase a plan. Instead of swipes, students can use Aggie Cash to admit their family or friends to the DC, buy meals at the convenience stores and purchase items from the food trucks. The plan for students in the residence halls will not roll over into sequential quarters; however, students, staff and facility can purchase meal block plans that will roll over until depleted.
Petitt hopes to show parents of prospective students that their kids will be well fed as they can access the DC as frequently as they wish. During non-typical meal hours, Petitt ensured that there will always be hot meals available, and the weekly traffic will be assessed to determine a routine for providing more food items at certain times. Nevertheless, the DC will always have a rotating salad bar, soups, pizza and a specialty item.
Similar to the current rules, students will be permitted to leave the DC with an ice cream cone, baked good, fruit or a filled student housing water bottle. However, the food to go program will no longer exist at the DC.
"The switch really accommodates the student's lifestyle and supports their eating patterns," Brady said. "The new model will allow a student to eat lunch when they want to, or come into the DC to grab just a banana or a quick snack before class."
Stephanie Low, a second-year biology major, attends the DC every day on a 150-swipe plan and intends to switch over to the new plan next year.
"I don't plan on seeing too many changes," Low said. "If you find your worth in it, then I guess it [works]."
The 2017-2018 meal plan rates will be reviewed by the UC Regents for approval in May.
Written by: Jeanna Totah — campus@theaggie.org