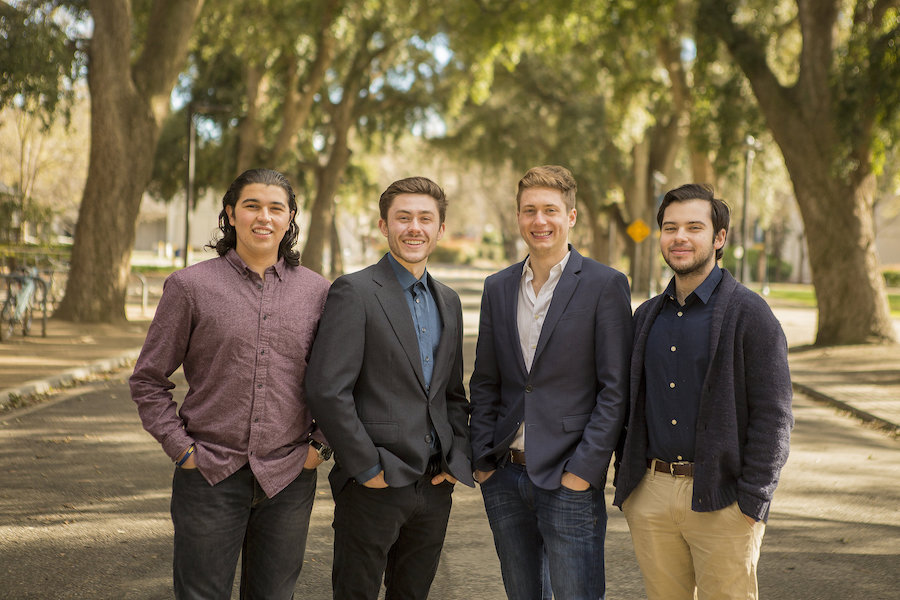 "Marble" aims to create a new way for UC Davis students to connect
For a group of six UC Davis students, two years of hard work and dedication recently came to fruition as their social media app, "Marble," hit the app store on Thursday, March 30.
Marble, which is currently available on iOS for students with UC Davis email accounts, started as an idea of UC Davis student Will Finch, a fifth-year managerial economics major, who set out to create an app that would make finding and connecting to groups and events easier and more efficient. Finch found that current social media platforms still lacked some vital components.
"I was inspired to make this app when I realized that there wasn't a good way to share large amounts of photos and video on a mobile device in a format that was both enjoyable to look at and told a story," Finch said in an email interview.
After showing some simple mockups of the app to friends and students around campus, Finch realized that Marble would be perfectly suited for Davis students.
"I decided to make the app UC Davis exclusive and cater to student groups since it was a niche I thought the app would be well suited for and other people weren't catering to," Finch said.
Ted Mumford, a fifth-year community and regional development major and co-founder of Marble, was intrigued by the idea of the app as soon as Finch showed him the basic concepts and page layouts. Like Finch, Mumford realized that it could provide a much-needed service to UC Davis students in particular, as the immense size of both UC Davis and its student population often led to on campus clubs being less accessible.
"As a Davis student (especially as a freshman), it was unfortunately very common to hear students groaning about Davis being boring and nothing going on," Mumford said via email. "As you probably experienced just as I did, the longer you're at UCD and the more people you meet, the more events and groups doing cool stuff you discover. Then, you walk outside the CoHo and you see 15 clubs all looking for new members or trying to tell people about their upcoming performance. We saw a problem we thought we could fix: groups need more members and event attendees, and students want to know what's going on around campus and how to get involved."
Along with a friend who helped develop the app and three friends who helped with marketing, Finch and Mumford set out to make their idea a reality. Described by Finch as a hybrid between Instagram and Snapchat, the main goal of Marble is to create a platform through which people can locate and discover groups and events that might appeal to them. Its unique approach to covering social groups and events make it potentially appealing to numerous students who feel frustrated by other social media platforms. Noah Diamant, a second-year political science major and Marble beta tester, can attest to the convenience and accessibility Marble provides.
"When I was a freshman I spent hours searching on Facebook for the cross country club," Diamant said via email. "I knew I wanted to be on a cross country team but I didn't know anyone on the team or their exact name on on Facebook. On Marble all someone has to do is go to the sports category and all the sports clubs will be there for you to view the profiles of […] The ease of access is astonishing and exactly what incoming freshman, as well as current students looking to get more involved, need."
Marble incorporates a mosaic design which allows group members, event organizers and attendees to post pictures, videos and text to their group's mosaic in order to show what their group did that day. The photos and videos posted to mosaics disappear after 24 hours in order to encourage a constant stream of content and ensure that students can see the most up to date happenings of specific groups. The mosaic design also serves to expand the scope of what students can see on the app.
"The main advantage for students is the scalability of the mosaic or in other words how many groups they can follow and view posts from," Finch said. "UC Davis is a huge school with many groups. The mosaic allows a student to view hundreds of photos and videos quickly without swiping or tapping for long periods of time."
Another main function of the app is to help groups gain exposure. This is achieved through a discovery screen which offers three additional platforms to the user. The "suggested groups" tab shows specifically tailored groups to students based on elements of their personal profile information such as major and year. The "categories" tab allows students to sift through different types of college groups such as academic, cultural and Greek, and the promotion tab allows student organizations to have their mosaics prominently featured on users' feeds on specific days.
The Marble team is constantly looking toward the future of Marble's long term usability and scope, and hope that the app can become an integral part of UC Davis social and recreational life.
"We're hoping Marble will become a virtual campus hub and an indispensable tool for every UC Davis student," Mumford said.
While it remains too early to project Marble's success in the distant future, many have high hopes.  
"I honestly think Marble will catch on," Diamant said. "It is essentially free advertising for clubs and a much easier platform for finding clubs compared to anything students had access to in the past. The app also feels and looks great, making it fun to use and see what other people and groups are doing even if you aren't necessarily searching for a new group to join at the moment."
Finch and Mumford hope to start spreading the app to other college campuses as well.
"Eventually, I would like to open it to the public and use it as a platform for viewing large amounts of ephemeral photos and photos from events, people and groups around the world," Finch said. "So for example, you could look up a sporting event or concert and view all the photos and videos taken at the event."
Mumford believes that Marble has the potential to make it big in the social media world.
"We're hoping to hit the jackpot with Marble," Mumford said. "We really believe we've got something special. We're trying to take it slow and steady at the beginning to make sure Marble can grow sustainably without any critical flaws, but we hope to eventually knock Snapchat off their throne. This is a long way out, but it could happen."
Written by: Eddy Zhu — campus@theaggie.org