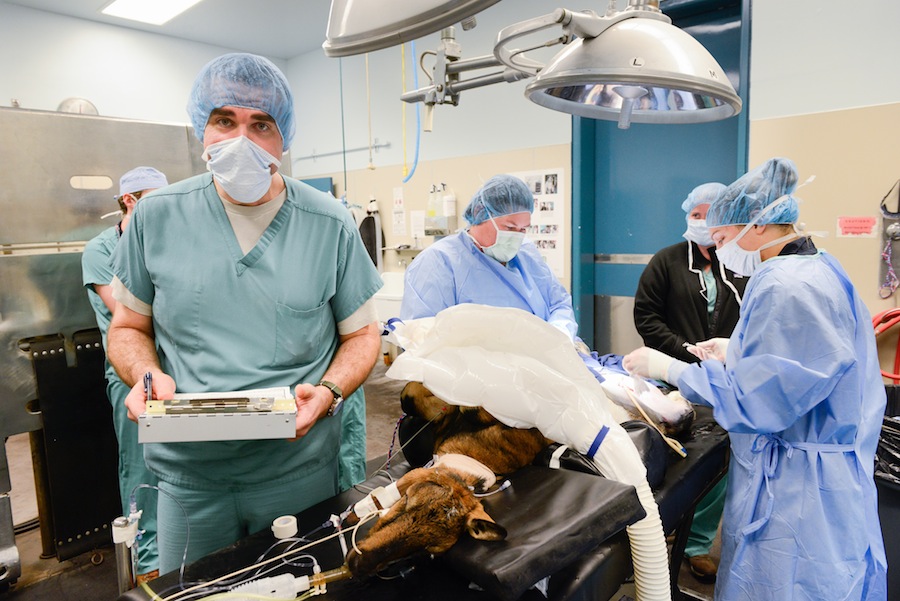 QS World University Rankings lists university as second in agriculture and forestry
QS World University Rankings ranked UC Davis' School of Veterinary Medicine first for the second year in a row on March 7. QS rankings are based on reputational surveys and research citations. This year, QS evaluated 4,438 universities, then qualified 3,098 and ranked 1,117 institutions. For the fifth consecutive year UC Davis has also ranked second as a top university in agriculture and forestry.
UC Davis has held the top spot in QS World University Rankings since the inclusion of the veterinary sciences field in 2015.
"The energy, passion, knowledge and skills that the UC Davis veterinary medicine community brings to their jobs every day is the secret to our success," said Michael Lairmore, the dean of the UC Davis School of Veterinary Medicine, via a press release. "Our future, supported in part by generous philanthropic partners, will be shaped by our combined efforts as we push the boundaries of research discoveries, provide innovative educational opportunities for our students, bring advanced clinical services to our animal patients, and serve our communities by advancing the health of animals, people and the environment."
The veterinary program, which is also ranked first by U.S. News and World Report, houses a prolific research program. Last year alone, the research program totaled nearly $76 million in research funds.
"We have ranked first mostly because of the success of our faculty in getting research funding, more than most of our competitors," said Alan Conley, the chairperson of the population, health and reproduction department within the UC Davis School of Veterinary Medicine, via email.
With the enormous research funding UC Davis receives, the school annually treats more than 50,000 animal patients in 34 specialty clinical services. UC Davis also serves as a strong leader in veterinary medical education with a curriculum built on sound educational theory designed and delivered by prominent faculty members annually.
Samantha Fousse, a Ph.D./DVM student in the Veterinary Scientist Training Program (VSTP) in the Integrative Genetics and Genomics graduate group, and a recipient of the 2017 AVMA/AVMF 2nd Opportunity Summer Research Scholarship, believes UC Davis' veterinary medicine education provides both optimal research and a well-rounded curriculum.
"I believe that UC Davis veterinary medicine consistently​ ranks first because it is a program focused on conducting research to better the lives of animals and the people that interact with them," Fousse said via email. "Additionally the program provides hands on training, community outreach opportunities, and a well-rounded curriculum that is consistently seeks feedback from its students."
As a student in VTSP, Fousse believes that the veterinary medicine program helped to identify and support her research goals.
"The VSTP program helped me to succeed because it provided multiple networking opportunities, research rotations, and workshops that helped me identify a research project that I am interested in pursuing further," Fousse said. "It is a program full of supportive mentors that want the best for their students."
Conley emphasized how UC Davis fully supports the research and teaching of the high ranking veterinary sciences program.
"Faculty are recruited to an environment that attracts the best and the brightest," Conley said. "No one can stay on top without a teaching program that ranks with the best, and that attracts the best and brightest students. Ours does. Our administration supports these efforts, both research and teaching and we would not continue to be successful without that support."
Additionally, QS World University Rankings ranked UC Davis highly in other subjects: 13th in environmental sciences, 27th in biological sciences, 28th in anatomy and physiology, 29th in earth and marine sciences and 47th in development studies.
"Whether or not we are in fact the very best vet school in the world, the faculty in the School together with a raft of fantastic faculty across this campus, the DVM and graduate students, our residents and the administration that supports the entire enterprise, make it a place to want to be," Conley said via email.
Written by: Yvonne Leong — campus@theaggie.org