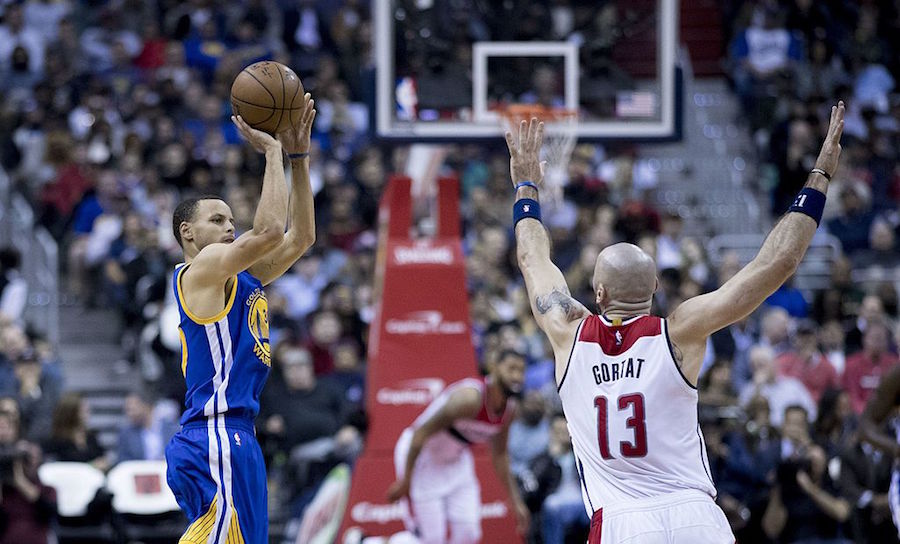 Sports columnist Michael Wexler's start-of-playoffs predictions
The NBA Playoffs are back, meaning the NBA regular season is over and the real stuff begins. I, along with many other basketball fans, have complained in the past about the elongated format of of the NBA playoffs, but instead of ranting like a senseless fool, I'm just going to dole out my round-by-round predictions.
Eastern Conference
Boston Celtics (1) vs. Chicago Bulls (8): Boston in 6
At first glance this series looks like it should be an easy one for Boston, as Chicago has had an incredibly underwhelming and disappointing season, but the Bulls have actually played relatively well over their past 10 games (7-3). Despite its talent, Boston is not a true 1 seed, and the Bull's star power and playoff experience with the likes of Rajon Rondo, Dwyane Wade and Jimmy Butler should make this series interesting.
Cleveland Cavaliers (2) vs. Indiana Pacers (7): Cleveland in 6
Cleveland has looked wildly inconsistent in the final stretch of the regular season and hopefuls believe that, like always, they will turn on "the switch" once the playoffs roll around. I am a little skeptical this time. The switch turns on more willingly when LeBron is well-rested, but that is not the case; he has averaged 37.8 minutes per game this season, the most since his return to Cleveland. Indiana is riding a five-game winning streak — including wins over the Raptors, Bucks and Hawks — to close the season and Paul George has been playing out of his mind in March and April, so I anticipate a closer series than expected here as well.
Toronto Raptors (3) vs. Milwaukee Bucks (6): Toronto in 5
I love Milwaukee's core with Antetokounmpo, Middleton, Brogdon, Maker and a healthy Jabari Parker, but it is not their turn yet. Toronto, on the other hand, has a very balanced and deep roster capable of making a big playoff run with the return of star point guard Kyle Lowry.  
Washington Wizards (4) vs. Atlanta Hawks (5): Washington in 6
Never trust the Atlanta Hawks in the playoffs. It's hard to bet against the likes of John Wall and Bradley Beal, one of the most exciting young backcourts in the NBA. While Atlanta's solid defense has kept the team afloat, its offensive woes have continued and Washington has been one of the better teams in the NBA since its slow start.
Western Conference
Golden State Warriors (1) vs. Portland Trail Blazers (8): Golden State in 4
I would've given Portland some love had mid-season acquisition and godsend Jusuf Nurkic remained healthy, but a fractured fibula has kept him sidelined since March 30. Nurkic may or may not get the green light to play in the opening round, so his questionable health is reason enough to choose a completely healthy and dominant Golden State in a quick sweep. Sorry Dame.
San Antonio Spurs (2) vs. Memphis Grizzlies (7): San Antonio in 5
This is a pretty uninspiring series with the nature of Memphis and San Antonio's play styles, so this matchup may not get a lot of fanfare. Memphis has given San Antonio some trouble in the past (an upset in 2011), but this Memphis team just isn't the same and has lost seven of its last 10.
Houston Rockets (3) vs. Oklahoma City (6): Oklahoma City in 7
First upset alert! This is primed to be the best matchup of the first round. Harden vs. Westbrook makes for some incredible entertainment, as the two have been pretty much pitted against each other in the MVP debate. I never like betting against Russell Westbrook, and OKC's physicality, mental fortitude and playoff experience will give them the narrow edge against Houston.
Los Angeles Clippers (4) vs. Utah Jazz (5): Clippers in 7
I like the Jazz so much more than the Clippers, who always seem to falter come the second round of the playoffs. But, in this case, I'm going with the Clippers, the team that has been to the playoffs every year since the 2011-2012 season. This young Jazz team has yet to see playoffs since that very same season under very different pretenses. The Clippers will endure, but don't expect it to last.
Stay tuned for second round predictions.
Written by: Michael Wexler — sports@theaggie.org