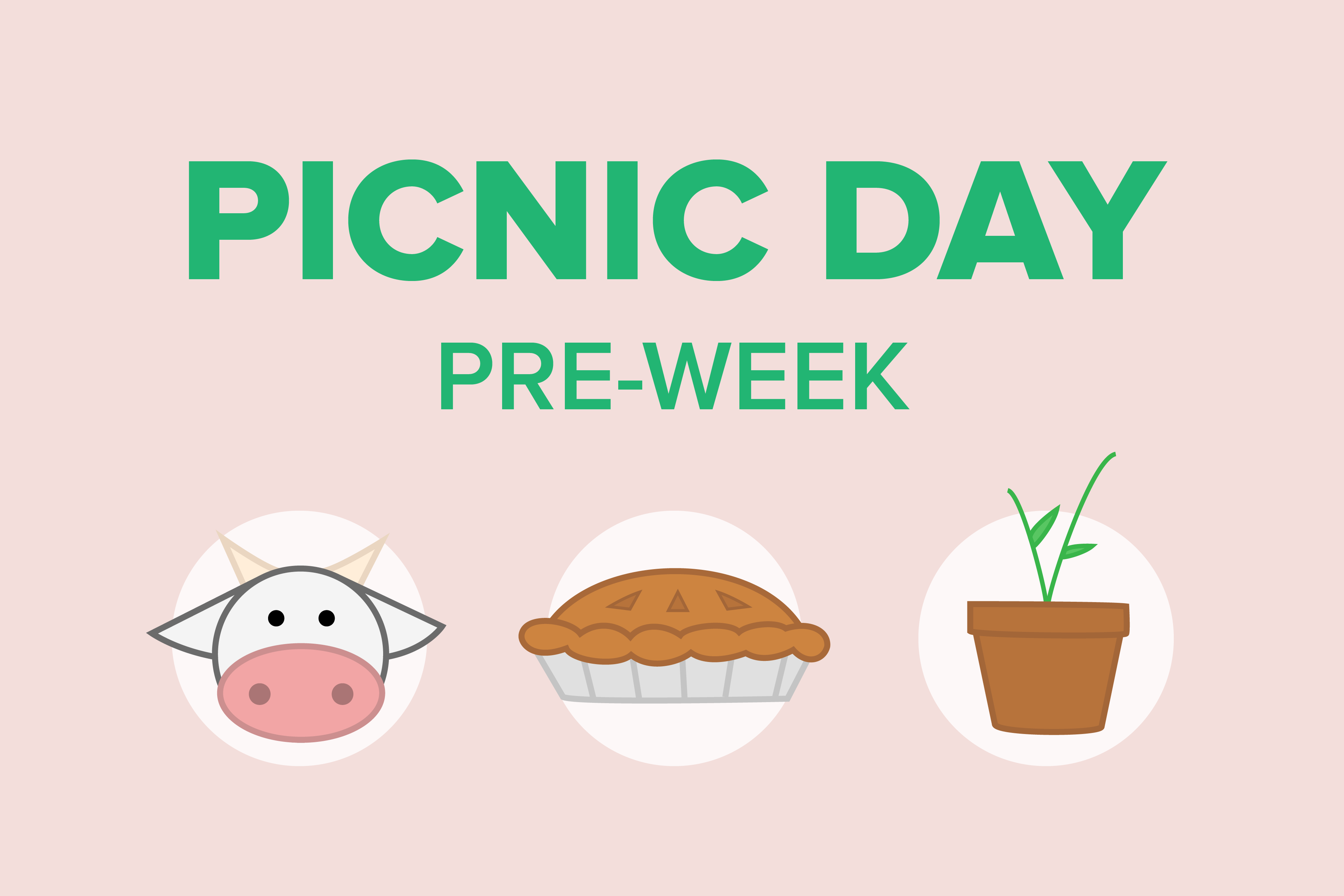 Students can participate in activities the week leading up to Picnic Day
Picnic Day Pre-Week is happening this week, from April 17 to April 21.
Monday, April 17, from 12 to 1 p.m. at the MU Patio was "Pitch Pie-fect," the annual pie-eating competition. The Aggie Band-uh! and campus a capella groups provided entertainment during setup and clean-up.
Tuesday, April 18, from 12 to 1 p.m. on the Quad will be "Plants and Recreation," a plant sale to support the UC Davis Botanical Conservatory. There will also be two performers performing throughout the hour.
Wednesday, April 19, from 12 to 1 p.m. on the Quad is "Cowchella," an opportunity for students to play and take photos with cows, puppies and Bunrock the bunny. A photo booth will also be provided and DJ Karnazion played music.
Thursday, April 20, from 11 a.m. to 1 p.m. "Spring Into Involvement" will be hosted at the Segundo Services Center, an involvement fair for student organizations to promote events and recruit new members. 50 clubs are tabling throughout the hour and there is also a photo booth. The event is a collaboration with the UC Davis Center for Student Involvement and UC Davis Student Housing.
Friday, April 21, from 1 to 3 p.m. on the Quad will be "Games with Greeks," an afternoon of food, games and fun hosted by the Davis Greek Councils. The event is intended to promote the positive well-being of the Greek community. There will be a food-eating contest, banner-making competition, volleyball and tabling by various sororities and fraternities.
Picnic Day director of Special Events Grace Cheng, a fourth-year managerial economics major, said that the purpose of Pre-Week is to promote Picnic Day to students. Cheng started planning Pre-Week in September and brought together a team of 10 people to work on the events. The events of Pre-Week depend on each year's special events director. Cheng wanted fun events that would encourage people to come out and also go along with the Picnic Day theme of "growing together."
Manda Lam, a fourth-year managerial economics major, started working on Pre-Week in January.
"Working on Pre-Week has been a very unique experience because we have a committee of about 10 students that are trying to brainstorm and come up with events to spread the word of the nation's largest student run event," Lam said via email. "The tasks that I personally worked on was finalizing the events that are occurring throughout the week, and ensured that all the appropriate groups were contacted so that the events throughout Pre-Week can run smoothly. In addition, I contacted student organizations to see whether they would be interested in tabling in the quad so students can also gain awareness about the different organizations that are on campus."
This is the first year that the Greek councils are holding a single day of events to include members of all Greek chapters, as opposed to the Greek Week that took place in previous years. Representatives of all six Greek councils have been meeting since the beginning of Winter Quarter to create an event that will have a greater attendance and increase excitement for both Greek life and Picnic Day.
"The council representatives that have been [planning Games with Greeks] have been meeting with members of the Picnic Day committee to involve our event as a part of Pre-Week," said Lindsey Shrout, a third-year managerial economics major. "Our joint goal has been to increase the Greek community's involvement in Picnic Day and the Pre-Week events."
Lam explained that, since Picnic Day is the nation's largest student-run event, with a board of around 90 students working to ensure its success, Pre-Week is an important part of promotion. Cheng agreed and explained some new features of Pre-Week this year.
"Something new that we're doing this year is the prizes that I'm giving out," Cheng said. "If you go to three of the pre-week events, people can get a small prize. That can be a Picnic Day button, ice cream gift cards or old Picnic Day gear. If you go to four events, you can get a Picnic Day fast pass. If you get a fast pass, you can go the front of the line or however the exhibit agrees to do it. The four exhibits that agreed to do that this year are Davis Dance Revolution, Doxie Derby, the plant giveaway and the Aspire fashion show."
Stamp cards are being given out Monday through Wednesday and prizes will be given out starting Wednesday. Anyone who attends all five days can contact the Pre-Week board for a special prize. Picnic Day will be held on Saturday, April 22.
Written by: Jayashri Padmanabhan — campus@theaggie.org