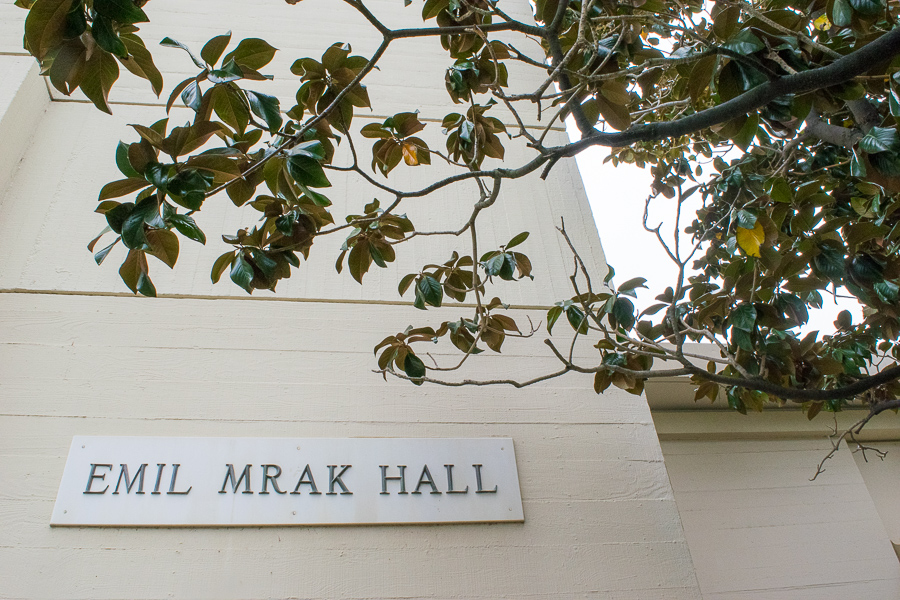 Students appreciate Mrak Hall for aesthetic qualities, though rarely enter building
Between two parallel walkways leading up to Mrak Hall stands an upside down egghead facing away from the building with an eye on its back. According to Cole Caceres, a fourth-year environmental science major, this egghead was carefully placed and has symbolic significance.
"The egghead is called 'Eye on Mrak'," Caceres said. "It was created by Professor Robert Arneson. There's an eye that faces Mrak so […] it's supposed to symbolize how students keep an eye on the administration. [The students are] making sure [the administration is] making decisions in our best interests, that's what that stands for […] which I think is pretty cool."
Built in 1969, Mrak Hall was named after Emil Mrak, the second chancellor of UC Davis. The building stands south of Shields Library and west of the Arboretum on campus.
Mrak Hall is typically one of the first buildings prospective students see while touring the campus. It was created for the school's administration, including undergraduate admissions, vice chancellors, the chancellor and other administrative staff.
"It's definitely one of the nicer parts of campus being that a lot of administration works there," said Nicole Garcia, a third-year communication major. "The area is really well tended to and it's […] a really nice background for […] portrait photos."
While Mrak Hall holds historical significance on campus, it is not typically a building in which students spend very much time. Nonetheless, many UC Davis students choose to have their senior portraits taken in front of Mrak. According to Garcia, students and photographers choose that location for portraits because of the aesthetics that the building and surrounding area provide.
Madison Williams, a fourth-year political science major, believes that the area around Mrak provides a snapshot of the UC Davis campus.
"I actually really like the walkway at Mrak because of all the trees," Williams said. "I think it's really beautiful and kind of […] like a postcard of what the rest of the campus looks like."
Coming from inside of campus, the parallel walkways leading up to Mrak Hall are surrounded by stretches of grass and trees.
"It's one of the eggheads that's much easier to photograph," Garcia said. "Being that it's right in front of the actual building […] as opposed to some others which are angled […] certain ways."
Williams was drawn to Mrak Hall on one of her first visits to UC Davis before she became a student.
"Actually one of the first photos I ever took at Davis was at Mrak Hall," Williams said. "When I visited for Picnic Day I took a photo on the steps."
What Williams thought was just a photograph to remember one of her first visits to Davis now has significant meaning after discovering more about Mrak Hall.
"I didn't know, at the time that it was the Dean's office," Williams said. "I just happened to stumble across what I thought was a really pretty building, but […] I'm pretty sure that's where they approve your acceptance, […] so I was like 'oh, it's a good symbol'."
            Mrak Hall is located on campus specifically so that the administration is accessible to students. According to Williams, it is important that more students know the history and significance of Mrak Hall.
"I think people don't realize what a significant part of our history Mrak hall is," Williams said. "That's where our chancellor's office is and that's where some major events have happened."
Emil Mrak himself believed that student voices should be heard by the administration. He believed the the success of UC Davis came through the success of the students, once saying, "the students are the end, the goal and the very purpose of our university."
According to Williams, many student-led movements have happened within or outside of Mrak Hall because it is the access point for students to reach the UC Davis administration and this adds to its significance.
"There was a sit in to get Katehi fired [and] there was a Black Lives Matter forum held last year," Williams said. "There's just been a variety of very pivotal events that happened there because people essentially lobby for the attention of the chancellor. I really think more students should know where Mrak is. A lot of the historical events that have occurred in UC Davis have been centered at Mrak."
Written by: Elizabeth Marin  — features@theaggie.org