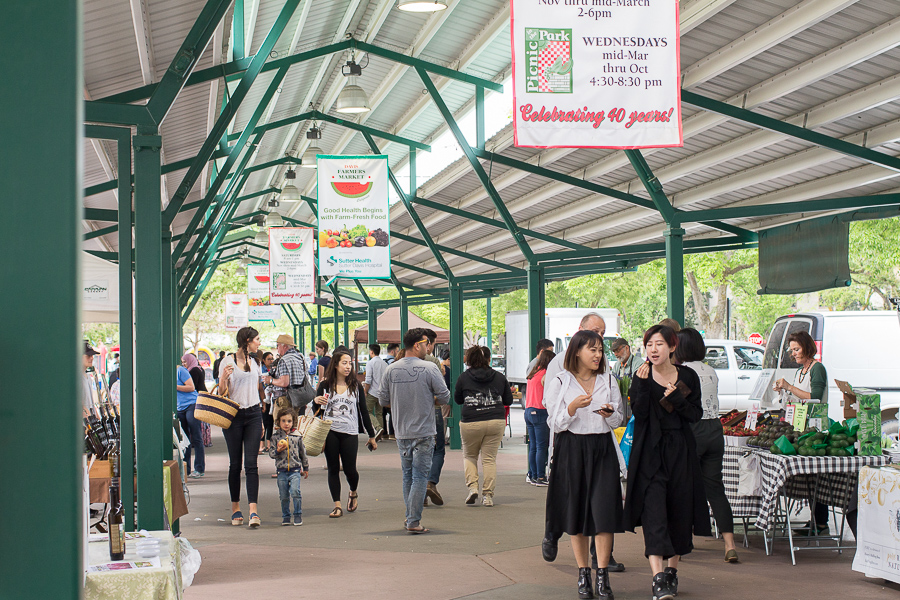 From live music to tasty food
The Davis Farmers Market is the place to be during Spring Quarter. There's always live music playing on Wednesdays, fresh food to eat and the guarantee of running into people you know. Below are a few tips on how to master the farmers market!
Bring a blanket to sit on, because the grass might be wet and most likely all the benches and tables will be taken. Bring a jacket for later, because, even though it's springtime, once the sun goes down, so does the temperature.
On Wednesdays there is always live music, all performed by local bands and ranging from blues to jazz to surf music. There will always be at least five little kids dancing and some older folks who most likely went to Woodstock in the '60s.
There is an abundant number of food options. All the different food stands make it easy to meet up with a big group of people because everyone can pay separately, and people don't have to worry about the hassle of splitting the check like you would at a restaraunt. The tamales are always a big hit and so are the corndogs. At the Saturday farmers market, the breakfast sandwiches are sure to cure any morning blues. Visitors should make sure to bring cash, because many vendors do not accept credit cards. There is an ATM located at the park, but generally there is a long line to access it.
Check out all the different produce vendors before you buy. The apple juice is one of the best things about the farmers market, so make sure to try some. Also, most vendors give samples if you ask. All of the produce is either grown or made by the seller. Finally, don't forget to look at all the interesting crafts people make.
The magic of the FarMar during Spring Quarter can be felt with the mere sight of Central Park covered with people, from college students to families all mixing together. This is a great place to take pictures, laugh with friends and soak up the sun.
The Wednesday farmers market hours are from 4:30 to 8:30 p.m., and the Saturday hours are 8 a.m. to 1 p.m.
Written by: CaraJoy Kleinrock — arts@theaggie.org