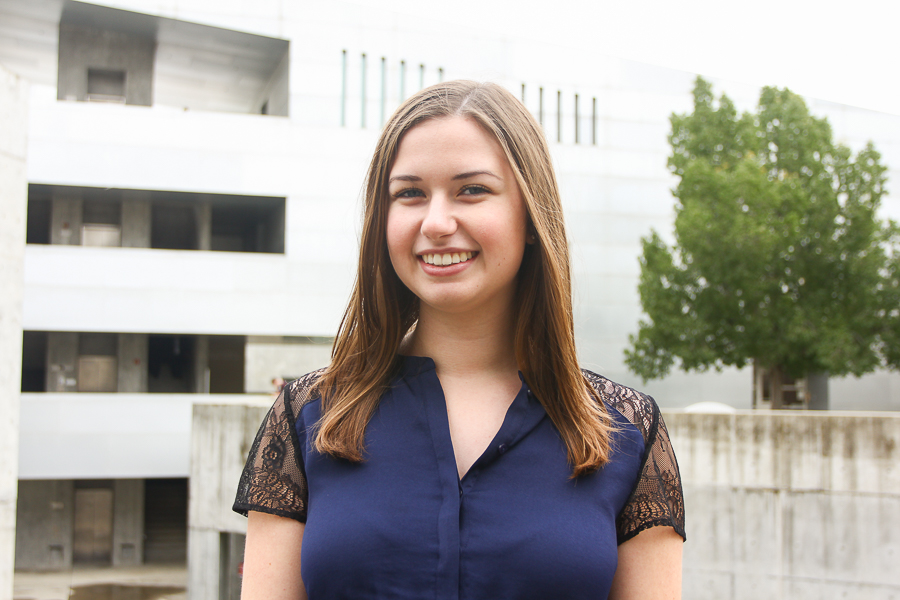 ASUCD Senator Sofia Molodanof's term ended at the end of Winter Quarter 2017 after a year in the association. She ended her time as senator with a senate voting record of 69 yes votes, 3 no votes and 14 abstentions.
"Being on Senate was such an amazing experience for me," Molodanof said via email. "I learned so much more about the incredible units, commissioners, and individuals who make up ASUCD and grew so much as a person. Being a Senator has truly made my time at UC Davis unique and unforgettable. I would like to thank everyone who elected me and supported me throughout my time in Senate."
Molodanof, a third-year English major, ran on platforms related to mental health advocacy, efforts to display nutritional information in the CoHo and increasing amenities on campus.
During her term, Molodanof helped to organize a Student Mental Health and Wellness Fair, worked with the CoHo's food services director in trying to provide nutritional information and was able to secure an additional microwave for the CoHo as well as a hydration station on the first floor of Wellman Hall.
Molodanof also authored Senate Bill 85 in Spring 2015 and Senate Bill 3 in 2016, and she co-authored and introduced Senate Bill 34.
ASUCD President Josh Dalavai, who served two terms in Senate with Molodanof, said that Molodanof showed persistence toward the issues she cared about.
"She was very dedicated to her platforms and to the mental health community," Dalavai said. "I think she put her best foot forward in achieving her platforms and she was good at what she did. She was never afraid to voice her opinion, and it was good to have very vocal people on the table like herself, offering various viewpoints."
On senate resolutions, Molodanof retains a record of 12 yes votes, 0 no votes and 0 abstentions. Regarding her platform, Molodanof said that she was pleased to have followed through with most of her promises, and she said that she will continue working to complete some of them.
"I'm happy that I was able to accomplish most of my platforms," Molodanof said. "A few are still in the works, but I know that with a little time, students will hopefully be able to benefit from them. Through my experience as a Senator, I learned that things don't change overnight and it takes time to make real progress. Although my term as a Senator has ended, I am committed to making sure that I implement all the changes I ran on."
Maria Wong, a fourth-year pharmaceutical chemistry major and unit director of The Pantry, one of the units that Molodanof adopted during her term, said that Molodanof was supportive when it came to a number of issues.
"I do remember one instance during budget season that she was very supportive of the Pantry, and she supported us all the way even though the Senate wanted to make really big cuts," Wong said. "She stood by our side all throughout. That was one of the main things that I remember about her as a senator."
During her term, Molodanof was absent for three meetings and arrived late for one. These instances led to most of her abstentions, including five on May 5, 2016, when she arrived at 9:41 p.m., four on Dec. 1, when she was absent and three on Feb. 2, when she was absent.
Molodanof also authored a constitutional amendment during her term. Constitutional amendment #48, which passed with a vote of 10-0-1, changed the ASUCD constitution to allow the Chief Justice of the ASUCD Court to replace an Elections Committee chairperson as a member of the Interviewing Committee for ASUCD Court members.
Most notably, Molodanof was the only "no" vote on two other constitutional amendments, #49 and #50. Constitutional Amendment #49, which passed with a vote of 10-1-0 and moved to abolish the Judicial Branch, was approved during the Fall 2016 elections. Constitutional Amendment #50, which passed with a vote of 9-1-1 and moved to create a replacement for the Judicial Branch, was subsequently vetoed by former President Alex Lee.
"Sofia was a wonderful Senator," Lee said. "She was always courageous and spoke her mind, even when it wasn't popular with the Senate. She voted her conscience and did not follow like sheep during most topics/votes — not something I can say of most senators. She pursued her goals diligently, despite even being mocked for her platforms during the election. Overall I would say she admirably represented students and was reliably open minded."
Molodanof said that she is grateful to have served as a senator for ASUCD.
"It has truly been an incredible experience serving as one of your ASUCD Senators," Molodanof said. "Thank you again to all those who supported me and were there for me the entire journey."
Editor's note: Molodanof also served as an adopted senator for The California Aggie during her senate term.
Written by: Ivan Valenzuela — campus@theaggie.org