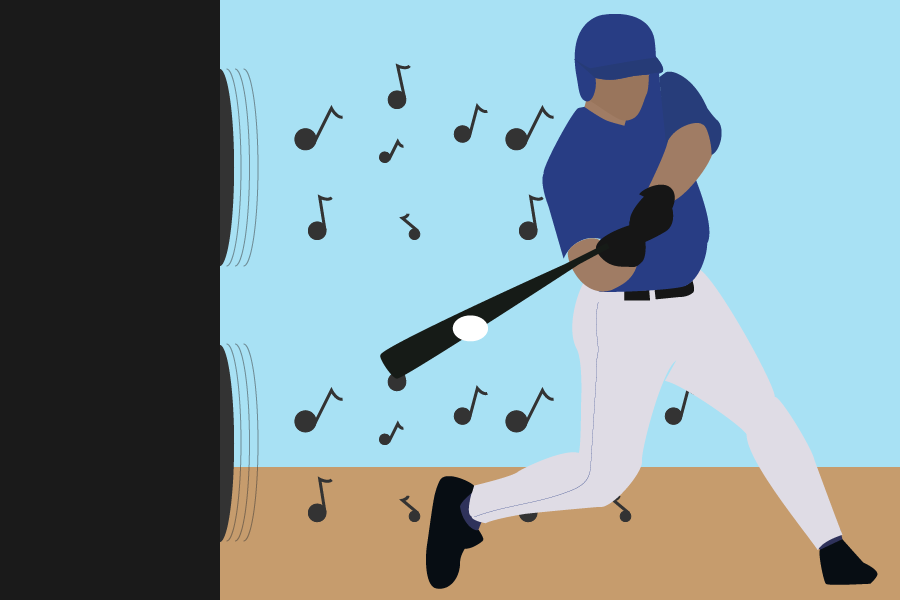 Before at-bats, baseball players choose songs to prepare them for competition
Before a batter steps up to the plate and his name is announced, a ten-second snippet of a song blasts from the speakers. Every player's walk-up song is different, with the genres ranging from country to R&B to chart-topping pop hits. The Aggie sat down with the UC Davis baseball team's captains to talk about their walk-up songs and some of the traditions behind them.
Redshirt junior pitcher Zach Stone has Kid Cudi's "Dat New 'New'" but that wasn't always the case. Per team tradition, newcomers to the team don't always have the luxury of choosing their own song. For Stone's first year on the team, his walk-up song was "Blow" by Ke$ha, which he stresses that he did not pick for himself, but rather the team picked for him.
"The fans liked it," Stone said. "You could see some of the them singing along every once in awhile."
A walk-up song can have a big affect on a player's psyche, and players will often change their song if they're not hitting well. Senior first baseman Cameron Olson recently changed his walk-up song to "Country in My Soul" by Florida Georgia Line.
"I had to change up the mojo," Olson said. "I just try to pick a song that I enjoy."
Redshirt senior first baseman Mason Novak, whose walk-up song is "Danger" by Mystikal, knows that a walk-up song can really set the tone for a solid at-bat.
"I picked it because it's kind of funny," Novak said. "It kind of starts out goofy because it just yells 'Danger!' and I think it's kind of funny. I'm not a big guy on getting charged up, so it's all about staying loose."
His teammate Stone agrees.
"I didn't want something that was too aggressive," Stone said. "I just want to stay calm out there. In the past, I've had a little bit faster paced stuff and this year, I just wanted something that was a little more mellow and [to] try and stay relaxed."
Dobbins Baseball Complex has been the host to some rather unusual walk-up songs, but if they work, they work. Most memorably, a few seasons ago, former redshirt senior infielder Nick Lynch had "The Circle of Life" from the Lion King as his walk-up song.
Walk-ups songs, regardless of which song the player chooses, are an integral part of the game, and they're beloved by both fans and players.
"I love having a walk-up song," Novak said. "I think it's part of the game [and] I think it's kind of funny seeing different guys and what they like. I don't think any song will get you too charged up because it's only ten seconds long, so it's kind of just a fun part of the game."
Written by: Liz Jacobson — sports@theaggie.org