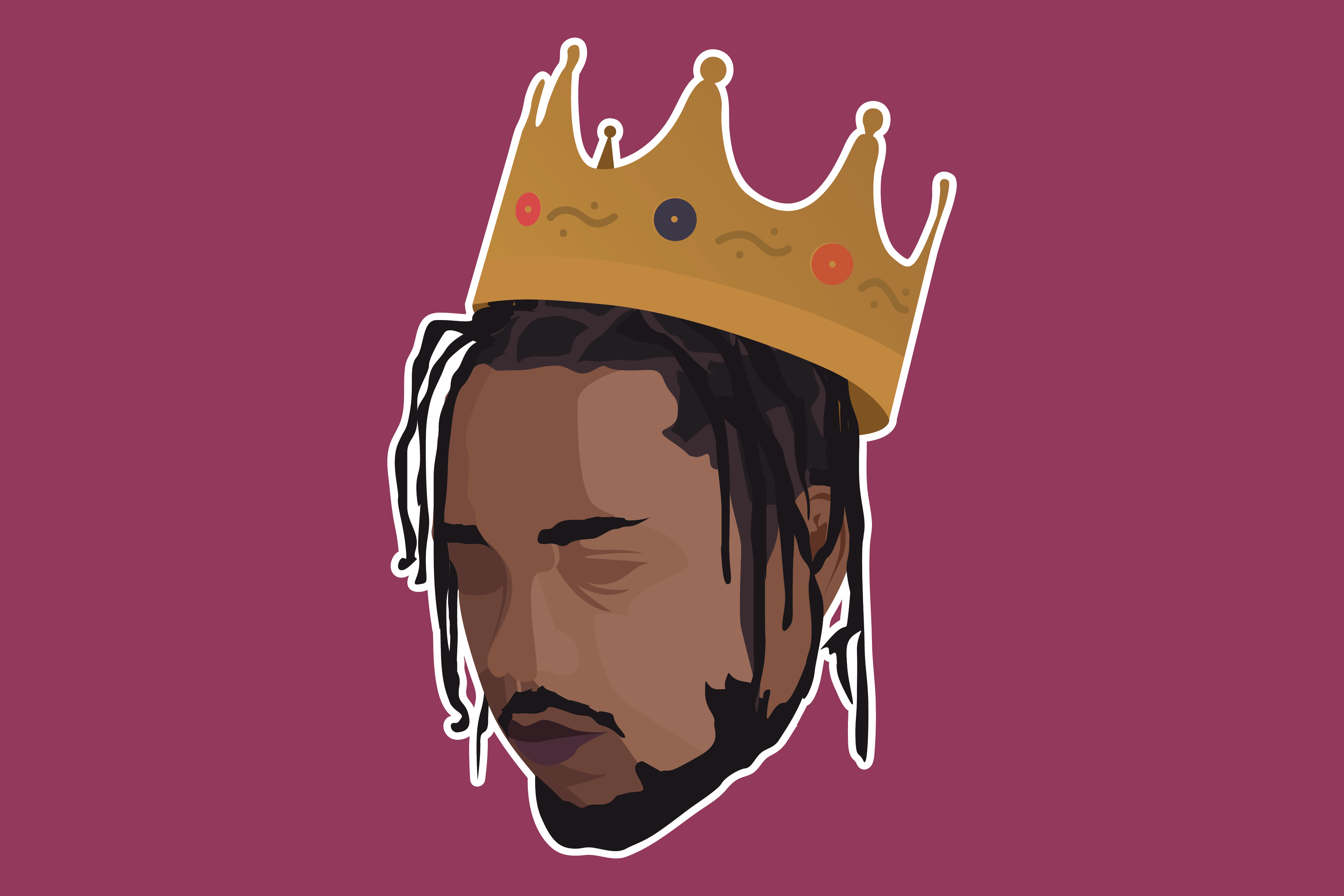 Lamar tackles subjects of anti-blackness, religion, politics
DAMN. Definitely my first reaction to hearing Kendrick Lamar's latest album, released on April 14. Lamar gives nothing less than expected in his work. The album follows similar themes as his other works, tackling right-wing politics, anti-blackness, religion, mental health and even feminism. And this is what makes Lamar so brilliant. His album is nuanced and the layers are complex, with jazz interludes and audio bits, all intertwined with his impassioned messages.
Right off the bat, Lamar doesn't hold back, calling out Fox News for its criticism following his performance of "Alright" at the 2015 BET awards. He uses an audio sample from Fox News commentator Geraldo Rivera, who states that "hip-hop has done more damage to young African Americans than racism." Lamar hits back at the disapproval on his third song "YAH." as he raps, "Fox News wanna use my name for percentage."
Throughout the album there is also a focus on the juxtaposition of struggles Lamar faces in addressing his identity as a Black man and how the world views him. In "YAH." Lamar says "I'm a Israelite, don't call me Black no mo' / That word is only a color, it ain't facts no mo'."
Through this biblical reference Lamar tackles the theme of anti-blackness and the labels that have been placed as barriers to how he feels he personally identifies. He follows this up in "XXX." as he references Little Johnny, a character that represents a child who gets caught up in the violence and "street life" surrounding him. Lamar speaks on this by saying Little Johnny "said books aren't cool no 'mo/Johnny want to be a rapper like his cousin."
In "FEAR." anti-blackness is again touched upon as Lamar delivers the chilling predictions of how he'll die. Reasons he gives are "because these colors standin' out" and later "I'll prolly die from one of these bats and blue badges," as he references police brutality.
This duality continues with Lamar's struggle to remain humble in a world of fame. Three tracks — "PRIDE.," "HUMBLE." and "LUST." — accurately capture Lamar's internal struggle to both acknowledge his success and remain modest. In the second stanza of "PRIDE.," Lamar asks "happiness or flashiness?" alluding to his grapples with materialistic items over true happiness. In the following song, "HUMBLE.," Lamar references his "humble" beginnings by saying "I remember syrup sandwiches and crime allowances" and then follows this by saying "now I'm countin' this parmesean where my accountant lives." In "LUST." Kendrick raps about "wak[ing] up in the mornin' / thinkin' 'bout money kick your feet up." Throughout the song, he creates the image of a stereotypical "rapper lifestyle" full of drugs, money and women. Yet at the end of the song Lamar speaks on a deeper subject: the recent election of Trump. He urges his listeners to resist, as he says, "parade the streets with your voice proudly," and after times passes "revertin' back to our daily programs, stuck in our ways; drones."
Lamar features a variety of artists including Rihanna, Zacari and U2. Each brings their unique sound to the album. Rihanna on "LOYALTY." adds depth to the song as she backs Lamar up and ends the song with a powerful message: "It's so hard to be humble." Zacari is an up-and-coming artist and his feature on "LOVE." is definitely one of the most notable. The track brings all the feels, and Zacari's smooth vocals compliment the song perfectly. U2's contribution to the album was one of the most anticipated, and "XXX." does not disappoint. Its unique sound is nicely accompanied by Bono's voice in the second part of the song, as it slows down.
In the last song, "DUCKWORTH.," Lamar's legal last name, Lamar talks about how "Top Dawg," who signed 15-year-old Lamar, almost robbed his father at a KFC drive-through where Lamar's father worked many years prior. But Lamar's father wins him over by giving him free chicken. Through this personal history, Lamar illuminates a greater lesson: one of compassion and forgiveness. "Who would have thought the greatest rapper would be from coincidence?"
Throughout this album, it is clear that Lamar rightfully owns the title of best rapper alive. The layers that are provided both musically and lyrically reveal sentiments that are so important to acknowledge. Lamar gives us much more than music — he provides audiences with a way to heal and a lense to criticize the institutions that defy us. All hail King Kendrick.
Written by: Abigail Wang — arts@theaggie.org