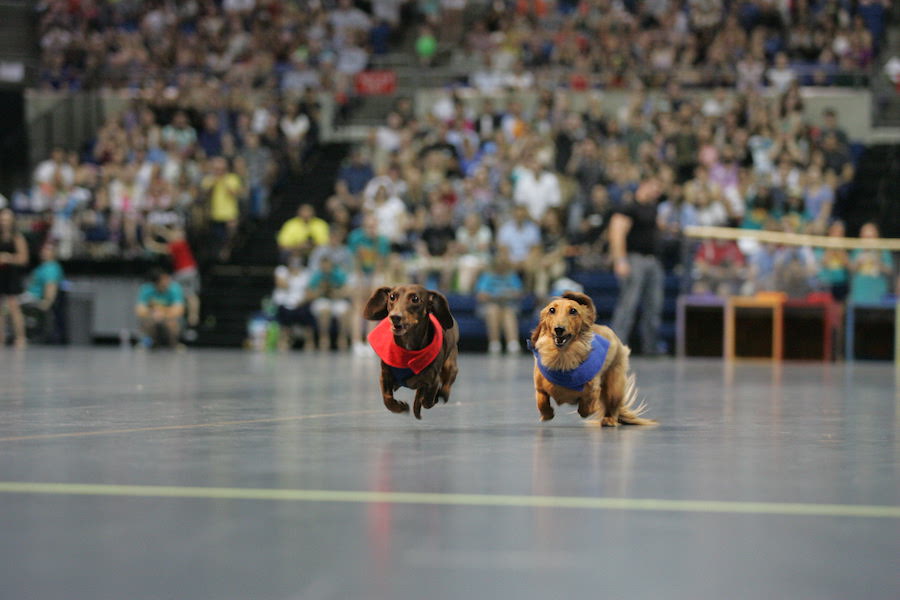 An Aggie Tradition for everyone
One of the most iconic and popular Aggie traditions is finally here: Picnic Day. This year, April 22 is a celebratory day that honors not just this UC Davis classic, but also the City of Davis' Centennial as well as Earth Day.
To encompass the significance of these events and holidays, this year's Picnic Day theme is "Growing Together."
"We wanted to honor that it's on Earth Day and the commitment this university has to sustainability," said Chelsea Hernandez, a fourth-year design major and chair of the Picnic Day Board of Directors. "We also really wanted to incorporate the City of Davis Centennial — I mean, that's not going to come around obviously any other time — so that was really important to us, especially because […] the relationship that the university has with the city is very unique. There's also […] all the construction going on around campus, and just seeing the university grow — I feel like that's something we also reflected on."
Picnic Day started more than 100 years ago in 1909, only a year after the university was established, when the Student Farm showcased the new dairy barn to the community.
"In 1912 it became student-run and has been student run since," Hernandez said. "It's grown immensely since then, […] it's really just to showcase what UC Davis has to offer. We publish it as a UC Davis open house. What I love hearing are the little stories that people use it as a family day as well — we have families coming back and using this day as a family reunion opportunity."
Only about 2,000 people showed up that first year with their picnic baskets to enjoy the exhibit, coffee and milk provided by the university, but Picnic Day has evolved over the century into one of the largest student run events in the nation — hosting roughly 70,000 people last year.
"The only year I'd really gone around was my first year. I remember walking and seeing the plant sciences when they were doing the plant giveaway," Hernandez said. "I think I was just amazed that it was so big. Stepping out your dorm and all of the sudden seeing thousands of people at your school is pretty cool."
The Picnic Day Board of Directors is made up of 16 students, and Hernandez estimates there are between 200 and 300 volunteers for the event. No matter their major, all students are encouraged to be a part of Picnic Day preparation, an endeavor that begins about a year in advance — new board members are elected after the last Picnic Day ends.
"Just like [Hernandez], I began [volunteering] freshman year," said Noeru Sasaki, Hernandez's assistant and a second-year communication major. "I actually found out through the ASUCD fair, and I really wanted to get involved with the community and the school, and I heard about Picnic Day and how it's a huge tradition, so I decided to sign up for the assistant director position."
Together, these students coordinate both Pre-Week, the week of events leading up to the notorious Saturday, and the day itself. Picnic Day is packed with fun events for people of all ages, with some of the most popular ones being the Battle of the Bands, the Fashion Show, the Chemistry Magic Show and the Doxie Derby Race.
"Honestly, my favorite part of Picnic Day is just going from side to side of campus and having there literally be an event at every corner and turn," said ASUCD president Josh Dalavai, a third-year economics and political science major. "But if I had to pick, it's the Doxie Derby. I'm a classic man, it's the Doxie Derby."
Classic indeed — even first time Picnic Day attendees have heard about the Doxie Derby race and can't wait to see it, including Shireen Olyaie, a third-year transfer student and clinical nutrition major.
"I'm pretty excited, I heard that there's fun events going around the campus," Olyaie said. "I think the Doxie Derby sounds really cute. I am going with a few friends, [we…] might just walk around and explore campus and see what it has to offer. I've heard it's like a giant open house and that always sounds fun."
One of the highlights of Picnic Day that has grown in its hundred years is none other than the parade. Every year, the Board of Directors selects Parade Marshals who are special members of the community and who embody the spirit of the chosen theme. This year's marshals are UC Davis professors Bryan Enderle and Isao Fujimoto, who are both active and inspiring members of the Davis community.
One of Enderle and Fujomoto's responsibilities will be to judge and vote on the best float from the parade. For Rahi Suryawanshi, a third-year international relations major and ASUCD senator, riding on the float of her Japanese drum team Bakuhatsu Taiko Dan will definitely be one of this year's Picnic Day highlights.
"We perform usually at Picnic Day and we will be performing this Picnic Day too," Suryawanshi said. "We will be in the parade as well, and I'm very excited to perform, it's a lot of fun. This year is the first year we're doing the parade actually — we built our own float! It's super exciting."
Whether on the Board of Directors, participating in the Parade or simply walking around campus as an attendee, there is something new to learn about this vast university for everyone.
"I think my favorite thing changes each year," Hernandez said. "There's also so many things that I don't know are happening because there's so many events. I learn more about the campus, I think that's the craziest thing for me. I think I know, but then there's so many opportunities at this campus that I had no idea of until Picnic Day."
Written by Marlys Jeane — features@theaggie.org