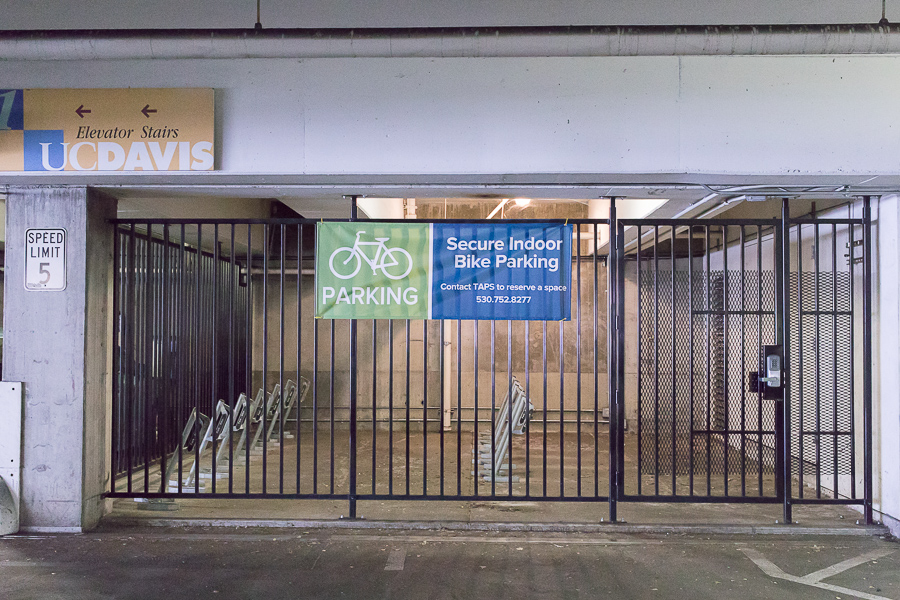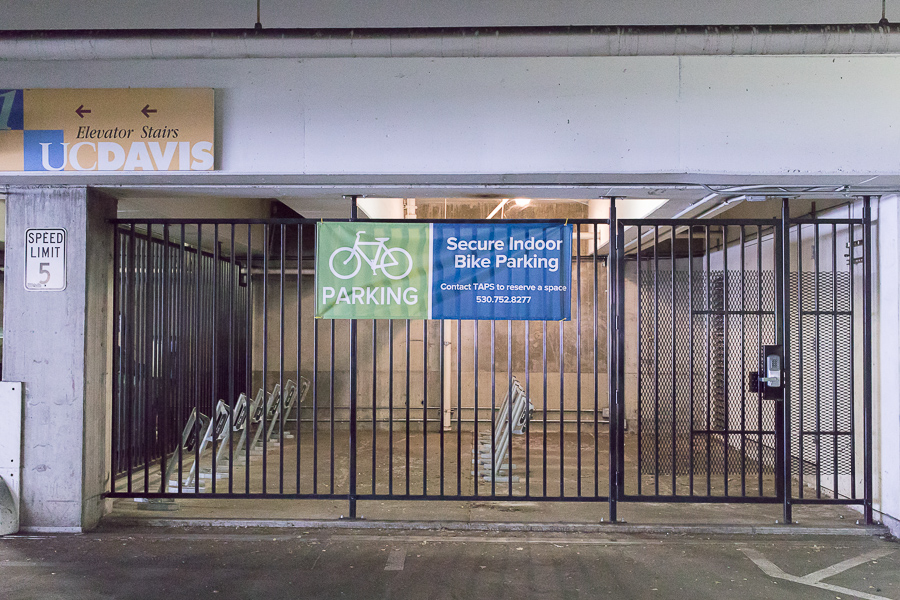 Faculty, staff, students can now safely park their bikes overnight for a fee
In an attempt to make bike parking safer and more efficient, Transportation Services (TAPS) opened a bike cage in the Quad Parking Structure near the Memorial Union (MU) on March 27.
All UC Davis faculty, staff and students are able to access this service through annual payments. For access for the rest of the 2016-17 year, the cost is 30 dollars, and 24 dollars for goClub members. Starting July 1, access for the 2017-2018 year will cost 120 dollars , and 96 dollars for goClub members. Both of these payments require a $20 deposit.
After the initial payments, customers will have complete access to the cage 24 hours a day, seven days a week, and are able to leave their bikes in any of the 26 secure bike racks within the structure.
Timothy Bustos, the Bicycle Program Coordinator for TAPS, said that the price is worth the protection the bike cage offers.
"A bike cage would make it much more difficult to steal a bike from than a conventional bike rack," Bustos said via email. "Bicycle access is much better protected with a bike cage because you get much more restricted access to your bike."
The bike cage was placed near the MU due to high traffic in the area, in addition to the convenient walk to the Unitrans Memorial Union Terminal. However, TAPS does not plan for this to be the only bike cage on campus.
"There are at least 2 other bike cages already planned: one in the Pavilion parking structure on the west side of campus; and, one in the Gateway parking structure on the south side of campus," Bustos said via email.
Even though the cage offers more security and allows for students to keep their bikes at school instead of transporting them home, some do not think it is worth the cost .
"I think this service is great," said Kristina Ivanova, a first-year biochemistry and molecular biology major, via email. "As somebody who drives to school every day from Sacramento, it gets exhausting having to constantly lift my bike onto my car, at school and at home. Unfortunately I don't know if I would be willing to pay that much  […] I would use this service only if they made more bike cages and lowered the price a bit."
Kennedy Walker, a first-year English major, echoed this sentiment, highlighting the issue of the cost.
"I think the service is a good idea, especially for students who don't live super close to campus, but I think the cost will turn a lot of people off to it," she said. "Personally, I live close enough to campus that biking is the easiest option, so I wouldn't use the bike cages. The only things that would change my mind about it would be if the cages were free or if i lived farther from school."
Despite concern over the cost of the cage, Bustos urges students and faculty to use the service due to its many benefits, based off personal experience.
"I've used a bike cage for some time now to get from the UC Davis Medical Center in Sacramento to my job at the UC Davis main campus, and it's the best fit for me," he said via email. "It's easy, safe, and secure. Another ancillary benefit is that bike thieves can't get to expensive bike components (e.g. handlebars, seats, pedals) which are vulnerable to being stripped and stolen."
Written by: Emily Shintani — campus@theaggie.org