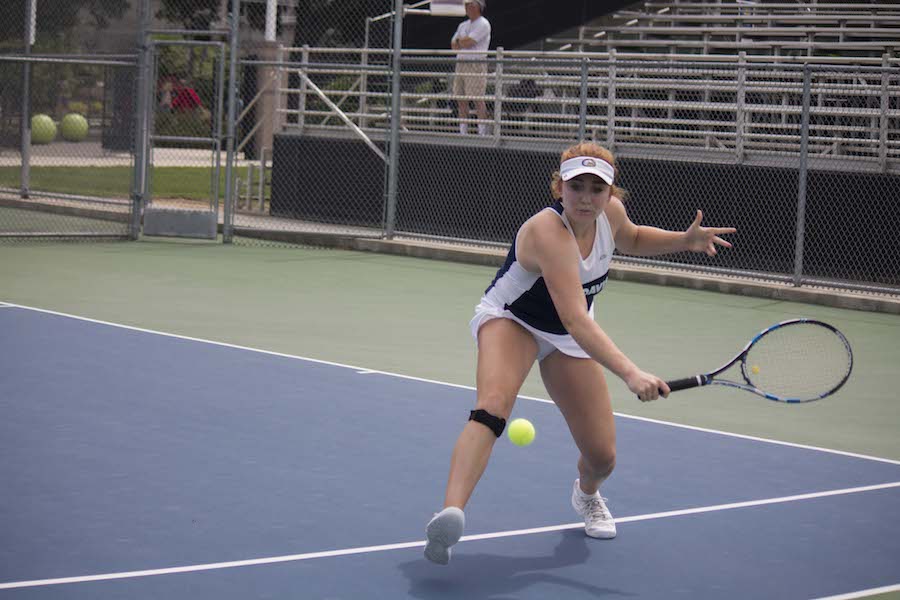 UC Davis women's tennis cap season off with 6-1 victory
The UC Davis women's tennis team played their last match of the year on Saturday, April 22, with seniors Kamila Kecki and Samantha Martino being honored for Senior Day and UC Davis Picnic Day in full swing as well. Amidst a busy day, the team looked to finish off strong, doing just that with a 6-1 victory over UC Riverside.
It was an emotional game for those who are not returning next year to the courts, but head coach Bill Maze applauded the team's duo of outgoing seniors, noting that their impact does not simply end when their playing career does — it stays long after they are gone.
"They're certainly great tennis players, but it's really more about how they treated everybody day in and day out," Maze said. "Considerate, kind young women. Kami and Sam: We were very lucky to have them."
Right from the get-go, the Aggies sent a message to UC Riverside by dominating in doubles. According to Maze, it was an easy game to prepare them for, despite all the would-be distractions around them.
"I think that they all wanted to play great in the last match of the year and Picnic Day," Maze said. "These are not the types of matches where I need to give an inspiring speech. They're all just reeling to go."
In singles, the Aggies gave UC Riverside zero margin for error, winning five out of six matches in a decisive fashion. All five victories came in the first two sets. The victory was the perfect way to end the season, though Maze was not going to let them dwell on it, as there is still more tennis to be played.
"We celebrate the win today and then we get back on Monday and get back to work," Maze said.
The Aggies will enter the Big West Tournament in Indian Wells, Calif. with a 15-9 record overall and 3-5 conference record. The six-seed Aggies will face Long Beach State, the third seed, on Friday, April 28. Their middling conference record has matched the Aggies against a team with a stronger record, but the seedings will mean nothing once the first serve is in the air. Until then, preparation will be key as the UC Davis women's tennis team looks to extend its season for as long as possible.
Written by: Bradley Geiser — sports@theaggie.org