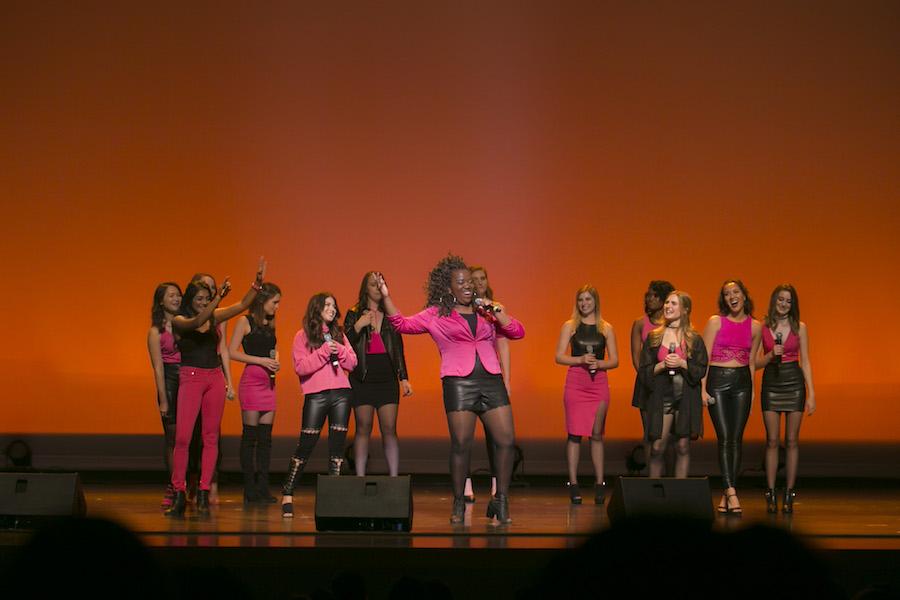 A cappella premier showcase features West Coast's best college choirs
The Spokes, UC Davis' first all-female a cappella choir, held their 13th annual HellaCappella showcase at the Mondavi Center on Friday, April 21. The night featured several well-known college choirs from Stanford, Berkeley, USC, UC Santa Cruz and Oregon.
The nearly sold-out 1,800 seat show took several months of advanced planning to put on. The Spokes spend most of the year fundraising and practicing for the show.
"We start planning in September as far as reserving the Mondavi Center goes," said Amanda Beardsley, a fourth-year psychology major and president and choreographer of The Spokes. "We also try to find groups we want to perform, as well as find a repertoire of songs we want to perform for this year's show."
Between singing, dancing and coordinating the event, the past few weeks have been extremely chaotic for the group.
"The past two weeks has been a lot of cramming all of the choreo we have learned," said Mary Grafilo, a fourth-year neurobiology, physiology and behavior major and the musical arranger of The Spokes. "I think we've been losing sleep, but as much as we are scared, we are having lots of fun."
The Spokes is made up of 13 female singers, all of whom juggle academics and extracurriculars along with preparing for this annual showcase.
"I've had at least three nightmares about HellaCappella and it's my first one," said Sarah Kadlec, a first-year undeclared humanities major and new member of The Spokes.
Students, faculty, staff, families and friends from all over Davis and surrounding areas attend the event every year.
"We work really hard to get a lot of the student population to see our show, and also the Davis community," Beardsley said. "That is one of the cool things about HellaCappella, we are able to have so many people come, and at the same time we are able to do it with just 12 to 14 girls year after year."
Two of the Spokes' boyfriends M.C.'d the night. After opening with a few jokes, the female powerhouses took the stage, wearing their signature black and hot-pink attire. Starting in a tableau, the group opened the night with a version of "Move Like U Stole It," originally done by ZZ Ward. The crowd went wild with clapping, screaming and cheers.
With The Spokes' saucy take on modern hits, Berkeley's classic jazz tunes, Stanford's original compositions taking stabs at Cal, Oregon's rendition of Earth, Wind and Fire, Santa Cruz's quirky takes on indie tunes, and USC's Indian twists, it was a night full of variety. Even within The Spokes' set, styles varied from song to song.
"This year we have four different arrangers, so each song you hear a different kind of style," Grafilo said. "Not only in genre, but with the person arranging it."
After intermission, the show continued with more amazing back-to-back performances from each group. The Spokes ended the night with a sweet farewell to their senior members. They rejoiced about the good and bad times they have gone through over the years, and how they have been there through it all. They made it apparent just how close the group is.
The Spokes finished the night off with a performance of "Freedom" by Beyonce, arranged by senior member Mary Grafilo. It was a strong performance full of confidence and enthusiasm.
This year's HellaCappella performance brought energy, passion and love to the stage. The night portrayed just how close and hard-working the college a cappella community is on the West Coast.
Written by: Myah Daniels — arts@theaggie.org