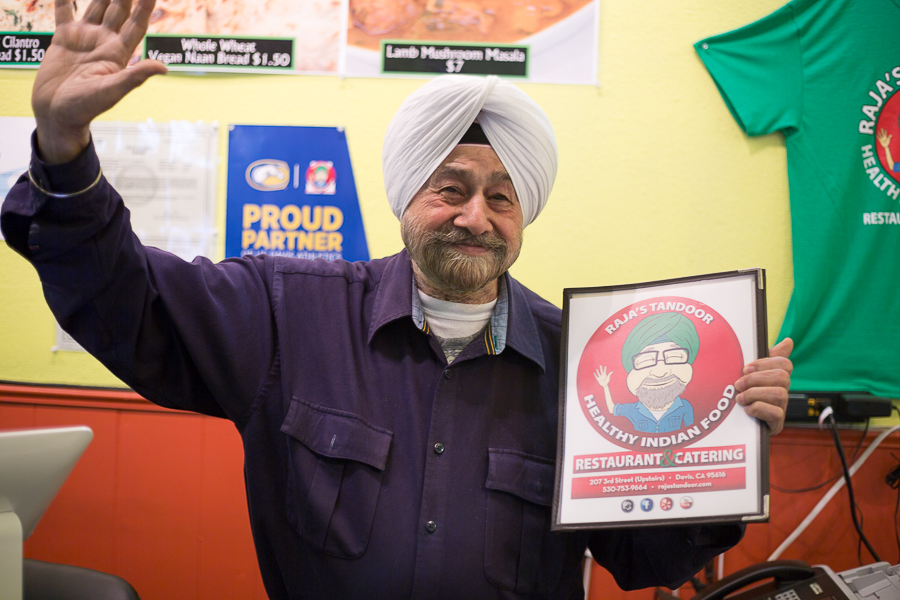 The smiling face of Raja's Tandoor
On a busy Thursday afternoon during lunch hour, a young woman approached the cash register at Raja's Tandoor and was immediately greeted by the warm, welcoming smile of Taranbir Chowdhury, the establishment's owner. Chowdhury asked how she was and, after she returned the question, he seemed visibly moved, and clasped her arm appreciatively.
"Everybody raves about his hospitality," Chowdhury's son said. "Everybody loves it. It's just the icing on the cake — on top of the good food and the good vibes."
At Raja's, Chowdhury engages with every customer, which keeps him constantly occupied. Chowdhury has a weakened voice due to medical complications, so Chowdhury's son, who preferred not to be named in this article, spoke on behalf of his bustling father.
On Yelp, TripAdvisor and Google Reviews, Raja's is predominantly characterized by the hospitality of its owner — even the official logo of Raja's is a caricature of Chowdhury, fittingly displaying a wide, gracious smile.
Chowdhury grew up in a small town in Punjab, a state in North India which borders Pakistan. Chowdhury's son said that the appeal of Davis as a place of residence and business is due in part to it being a small town akin to the place where his father grew up.
One of four children, Chowdhury's father worked as a police officer in India and his mother was a stay-at-home mom. Chowdhury's son said that, even at a young age, his father's dream was to come to America, which he accomplished at the age of 32.
"His sister was already living here," Chowdhury's son said. "My mom went [and] my dad decided to come here too, for the school district, for us."
Around 2011, Chowdhury saw another dream turn to reality after he took over Raja's Tandoor from a family who had previously owned the business. Raja's Tandoor translates to "King's Clay Oven."
"Purchasing the restaurant and being able to start that up, that was his dream," Chowdhury's son said. "He always wanted to be in the restaurant business. He wanted to have the community try what he grew up on and bring the flavors to the local community."
Though Chowdhury himself does not do any of the cooking, Raja's uses his mother's homestyle recipes.
"He's gradually made it more authentic, like what he had at home," Chowdhury's son said. "[In] homestyle cooking, we don't use so much cream and oil and butter. That's what he wanted to implement in this business — the same type of food he grew up on."
Raja's markets itself as a healthy dining option, which is largely because of the recipes used to make the food.
"It's healthier than other restaurants because we're not using MSG, no artificial coloring [and] no artificial flavors," Chowdhury's son said. "We're not commercializing it, it's homestyle cooking — that's why it's healthier."
The famous all-day buffet, which runs around $7 from 10 a.m. to 9 p.m., is an attractive option to college students, keeping Raja's busy around the clock. Chowdhury can be spotted from across 3rd street making his rounds to the tables inside and outside on the elevated wooden patio to check in with customers.
The buffet serves 17 options, 13 of which are vegan. Until recently, Chowdhury himself was vegan, but after suffering a stroke within the last year, his doctor recommended that he include more animal-based protein in his diet.
The Raja's Tandoor Facebook page uploaded a photo of Chowdhury during his first return back to the restaurant after his stroke. The photo received over 140 likes and comments filled with well-wishes and stories.
One anecdote left on the post by a UC Davis student recounted the student's "accidental dine-n-dash" at Raja's in the midst of pre-midterm stress. The student returned to pay after realizing his error, and Chowdhury clasped his arm and told him that the student's chaos "would soon pass, and that the meal was on him."
The community support shown in Chowdhury's time of need meant a lot to him, according to his son.
"There were a lot of good comments from people who were concerned," Chowdhury's son said. "It was nothing but love, which was nice."
Chowdhury's son said it is important to his father to interact with and give back to the community. Raja's partners with organizations on the UC Davis campus for over 100 fundraisers a year. However, what Chowdhury loves most is interacting with students.
"He loves the students, they're like his kids or grandkids," Chowdhury's son said. "It keeps him young, keeps him going."
Chowdhury's family lives in Davis and his first grandchild is on the way. His future plans are "nothing major," though Raja's is planning to open a new location in Sacramento to cater to the UC Davis alumni who have settled nearby, according to Chowdhury's son.
"It's important to give back and […] bring good food to the community at a reasonable price," Chowdhury's son said.
And, with regard to his father, Chowdhury's son said "he's the greatest host in town."
Written by: Hannah Holzer – features@theaggie.org