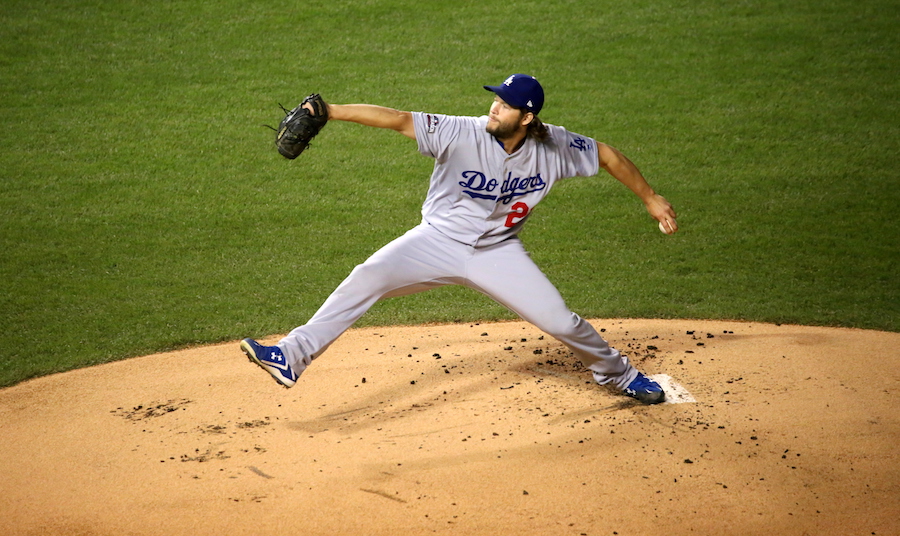 A call to protect MLB pitchers from hard-hit comebackers
In Major League Baseball (MLB), many scouts and pundits have begun to place extreme emphasis on the exit velocity — how fast a baseball is hit off the bat. Exit velocity is an important determinant of a player's talent because, intuitively, if you hit the ball harder, a fielder has less time to react. Last year, the highest average exit velocity for a single player was 96.8 mph. This hitter goes by the name of Aaron Judge. Granted, he only played in 27 games and had 95 plate appearances and is by no means a household name, but if you look at Judge, you would understand that the sample size of his exit velocity statistics is no fluke.
Aaron Judge is a 6-foot-7, 282-pound goliath. When you see him standing next to other players, he genuinely looks like a grown man playing against tee-ballers. Aaron Judge is the reason Bigfoot is in hiding. Aaron Judge put King Arthur's Excalibur in the stone, before he drew it out. Aaron Judge has been prohibited from sitting in the first row of your local movie theatre.
Just a few weeks ago, Judge hit a line drive that almost took the head off a pitcher at a ridiculous 116.5 mph. This was the third hardest-hit ball of the 2017 MLB season, and it was just inches away from hitting Tampa Bay Rays pitcher Jumbo Diaz square in the head. Had this happened, it would not have been the first time a batter has struck a comeback liner to the head of an opposing pitcher. It has occurred countless times at all levels of play. Two current Major League starters, Brandon McCarthy and Matt Shoemaker, have both been struck in the head by comebackers and had to undergo emergency brain surgery after. This is scary stuff, and Judge's powerful line drive is a careful reminder that this could happen at any moment, to any pitcher.
Major League Baseball would surely have to take action if a pitcher died as a result of a comeback liner. It would be absolutely devastating news if this were to happen, and it would be ignorant to suggest that it is not possible because it has not happened yet at the Major League level. In 2003, Aaron Patch, an 18-year-old kid, was hit in the chest by a line drive playing American Legion Ball and later died due to subsequent injuries. This tragedy highlights the importance of protecting pitchers, especially now that we have been able to understand and quantify exit velocity in the last couple of years.
Why should we wait until disaster strikes to have mandatory protection for Major League pitchers?
Ray Chapman, a shortstop for the Cleveland Indians back in the early 20th century, died as the result of an errant pitch that hit him in the head in 1920. 17 years later, another player, Mickey Cochrane, suffered a near-fatal and career-ending injury as a result of another stray pitch. After these incidents, calls for the batting helmet grew louder and louder. By 1941, both the American and National Leagues had adopted the batting helmet as a requirement. Though this sequence of events occurred decades ago, the MLB should learn from its past and take preemptive action to ensure that nobody is fatally injured before the requirement is put in place.
Alex Torres, a relief pitcher who last pitched in the bigs in 2015, is a shining example of someone willing to sacrifice his aesthetic in order to protect his dome. Many pitchers have tested padded caps that provide them extra protection, and while pitchers such as Clayton Kershaw and Brandon McCarthy have been impressed by the technology, they do not think the bulky design will sit well with the players.
Who cares? Make it mandatory.
Do we ever think about how funky an MLB helmet looks?
Do we even think twice when someone wears a football helmet?
If these "ugly" hats become the norm, then there will be no reason to stigmatize a pitcher for wearing one. Implementing this rule will preemptively save a life, and that is reason enough to make it a league-wide mandate.
The hardest thrower in the MLB, Aroldis Chapman, can hit 105 mph on the speed gun, and the batters he faces are forced to wear batting helmets. The hardest hit baseball since exit velocity has been recorded by MLB's Statcast has reached 125.2 mph, yet pitchers still somehow go unprotected. I may not be a mathematician, but my calculations tell me that 125.2 mph is a lot faster than 105 mph. With sluggers like Aaron Judge around, it's time to protect the guys on the mound.
Written by: Michael Wexler — sports@theaggie.org