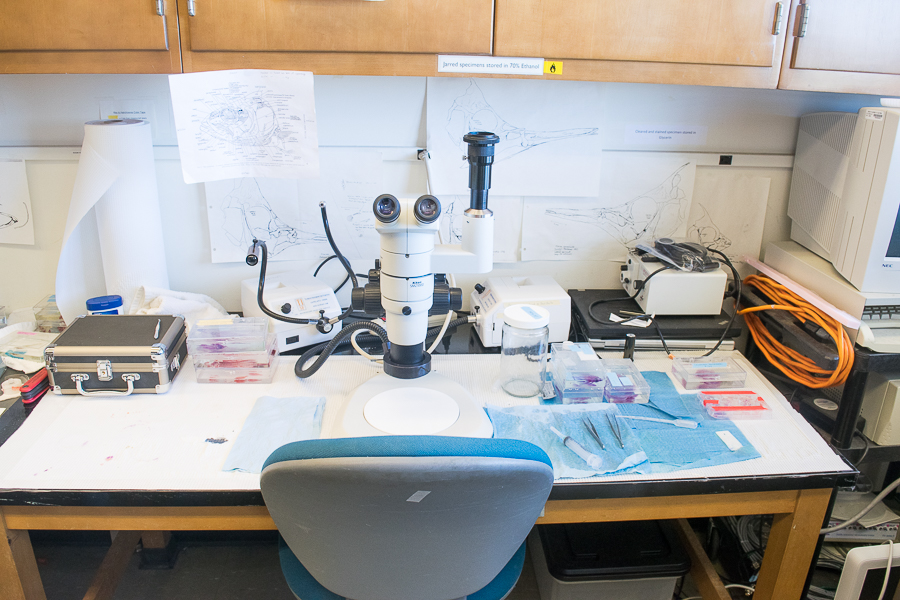 Funding given up-front for second year of equipment replacement plan
With new instructional equipment arriving for the 2017-2018 school year, an effort by UC Davis to upgrade, replace and purchase entirely new equipment is already underway.
What was initially planned to be a two-year program has been condensed into one year, with millions of dollars being funneled into equipment purchases.
"The estimated cost for all equipment requested totaled $3.4 million, of which $2.3 million was the proposed campus share and $1.1 million was the proposed unit match," said Interim Provost and Executive Vice Chancellor Kenneth Burtis in a letter to college deans and vice deans. "Given the significant needs identified, I am pleased to announce that the campus will provide up to $2 million, allocating two years of funding up-front, to support the replacement, repair, and addition of specialized instructional equipment."
The letter from Burtis also explained who served on the committee to make the decisions about funding allocations. The goal, Burtis wrote, is to serve as many students as possible.
"Funding requests were reviewed by a committee, chaired by Associate Vice Provost [Matthew] Traxler of Undergraduate Education, and consisting of an Associate Dean, Assistant Dean, and a representative from Procurement," Burtis said in the letter. "The committee recommendations focused on the goal of providing the greatest benefit to the most students and addressing the highest priority needs. The result is that all first priority requests submitted, totaling approximately $1.5 million in campus funds, will be funded. The remaining $500,000 in campus funds will be allocated based on the prioritization level and the number of students served. In total, courses serving over 40,000 enrollments (i.e. total number of students enrolled in each course) will benefit from the use of new equipment, reaching a significant portion of our undergraduate students."
Traxler, when further explaining the allocation process, described the effort to impact as many students as possible.
"How many students each request would likely affect [was a criterion]," Traxler said. "All things being equal, we gave higher priority to requests that would provide opportunities for more students. If there is a course that 1,000 students a year take, we would consider that a higher priority than a course that 100 students take."
An exception to the strictly-numbers criterion is that if a course is required of all students in a particular major, that course could also receive high-priority.
        Little detail was given about the funding sources for this effort.
        "The campus is investing two million [dollars] in state funds and tuition revenue in instructional equipment," said Sarah Mangum, the director of UC Davis' academic budget and policy.
        Carolyn Thomas, the vice provost and dean for undergraduate education, is excited to see the new and better experiments that students will be able to run using the new equipment.
        "This is a very exciting investment that the colleges and central administration are making in our undergraduate teaching laboratories," Thomas said via email. "[…] The investment in new laboratory equipment — across several fields — will allow our undergraduates to run the strongest experiments and see the best results. This is important because undergraduate research is one of the things that makes a UC Davis education exceptional. We always want our students to be learning at the cutting edge of their fields."
Echoing Thomas, Traxler hopes that this new equipment will give UC Davis students the best opportunities to succeed in their undergraduate careers.
"The mere existence of this initiative, it's important to me personally that students on this campus have the kinds of equipment they need to succeed in mastering their undergraduate disciplines," Traxler said. "I'm just really excited that we are able to improve, in a tangible way, the experience that students are going to have in their lab classrooms."
Traxler spoke about what purchases he is especially looking forward to: mass spectrometers for use in chemistry and gene transport equipment for biology.
"What's cool to me might not seem cool to other people, but the mass spectrometers seem to be, this is a very interesting piece of equipment," Traxler said. "You can determine the chemical composition apparently of substances by running them through these things. The gene transport equipment I think is fascinating. You can actually go in, and apparently students will be able to manipulate genes inside of cells. That to me, and again I'm not an expert, I'm a layperson, but that just seems like a really interesting and exciting capability. I'd be really interested to hear what biology students themselves had to say about that."
Written by: Kenton Goldsby — campus@theaggie.org