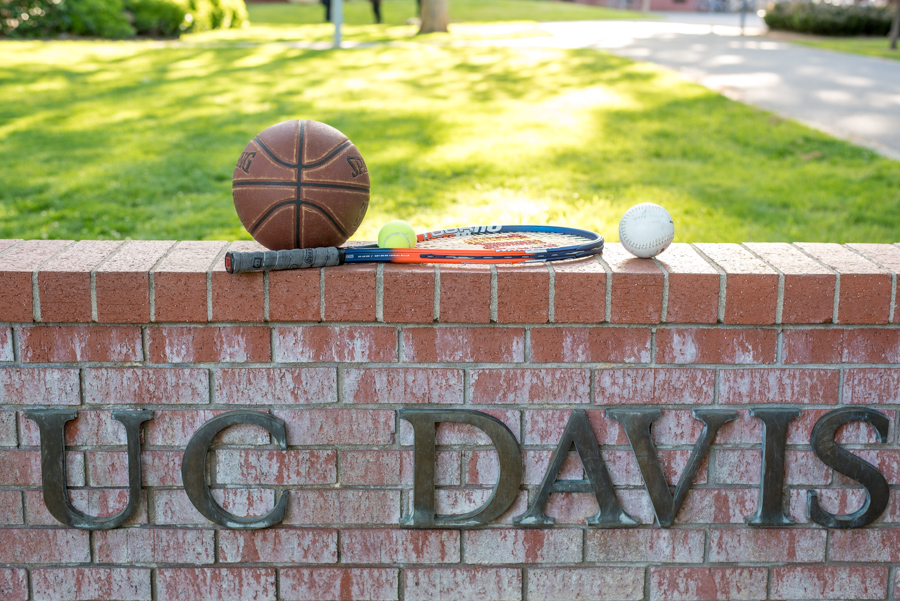 A look at UC Davis athletes who played first at junior college level
A handful of UC Davis' athletes have not spent their entire collegiate careers at UC Davis, instead competing for their first two years at a junior college (JC). Although each athlete has different reasons for taking the path from a JC to a UC, oftentimes their experiences prove similar.
Senior quarterback Brock Dale first played football at Long Beach City College. After not getting enough looks right out of high school, Dale chose to go the junior college route and was later recruited to UC Davis by former assistant coach Kevin Daft.
"For me, it was that I wanted to play Division I football," Dale said. "I wanted to play with the best talent I could possibly play against, whether it was Division I, DII, DIII, whatever it was, but I always thought that I could play at this level […] It ended up being a really good choice."
Dale was attracted to UC Davis for multiple reasons, one of which being he loved the campus.
"I came up for a visit and loved what I saw," Dale said. "So I decided that this was the best option for me, especially with academics and the football side. I knew the program was on the up and up, we're getting better everyday, and with the academics paired with that, you know you're going to have a successful career after you're done here with all the connections, the alumni and all that."
Baseball's senior catcher Ignacio Diaz was recruited out of Napa Valley College. After sustaining an injury that didn't allow enough at-bats during his senior year of high school, Diaz had to compete against 75 other players for a spot on the community college's 35-man roster. Like many other JC athletes, it was up to him to catch the attention of a four-year university — in this case, UC Davis.
"It's actually pretty funny because my best friend […] called Coach [Matt] Vaughn and we made a video together, and the next day Coach Vaughn was at my game," Diaz said. "I remember having a pretty good game. I guess he liked it! In a couple weeks, [former assistant coach Tony Schifano] was there, and that's when he was like, 'yeah, you're on our team.'"
UC Davis women's water polo senior attacker Emily Perry and senior goalie Avery Dotterer were both recruited out of American River College (ARC). The teammates have been playing together since high school and were friends for years prior, although their motivations for playing water polo at ARC differed.
"I have always planned on playing water polo at the collegiate level," Dotterer said. "I just felt like it would be silly not to since […] I had worked really hard in high school and I really wanted that hard work to pay off somewhere later down the road. I thought that going to a JC and training for two more extra years was going to give me the edge that I needed and it also gave me time to think about what I wanted to do and what I wanted to study."
Perry was planning to attend a four-year university and not pursue a collegiate athletic career, but her coach at the time convinced her otherwise.
"My high school coach, who was going to coach at the JC that I ended up going to, convinced me that I would regret not playing water polo in college and going this route would be better for me in the long run and I would get to go to UC Davis, which is where I wanted to go for academics," Perry said.
Both Perry and Dotterer echoed Diaz, saying that they had to present themselves as options for the UC Davis women's water polo team.
"They don't really look at community colleges, so you really have to advocate for yourself," Perry said. "Luckily we had two really great coaches at ARC who really advocated for us."
Despite playing different sports for UC Davis, each athlete has noticed differences in the caliber of playing, but maintain that the game is the same game no matter where an athlete plays.
"First, it was the playbook," Dale said. "There's a lot more complexities, more control for the quarterback as far as making checks and making audibles and all that. Other than that, same game […] A little bit bigger guys, a little bit faster, but nothing you can't handle. It's a little bit of a bigger stage."
For Diaz, the most noticeable difference wasn't the game, but rather the academics. The transition to UC Davis also included transitioning to a quarter system.
"The biggest [difference], I want to say, is the school," Diaz said. "At Napa, you don't really have to worry about school. And then here, you actually have to be at school every day, you have to study, every day homework. And then just the level, [it's a] day and night difference."
Transferring to UC Davis for their junior years, all four athletes had to make both the athletic and academic transition.
"For me, it was always a God thing," Dale said. "He has a plan for us, so I'm on that. I trust in His process in my life."
Perry, like the other athletes, doesn't regret the path she chose.
"I think financially and academically, even athletically, it was one of the best decisions I could have made," Perry said.
Written by: Liz Jacobson — sports@theaggie.org