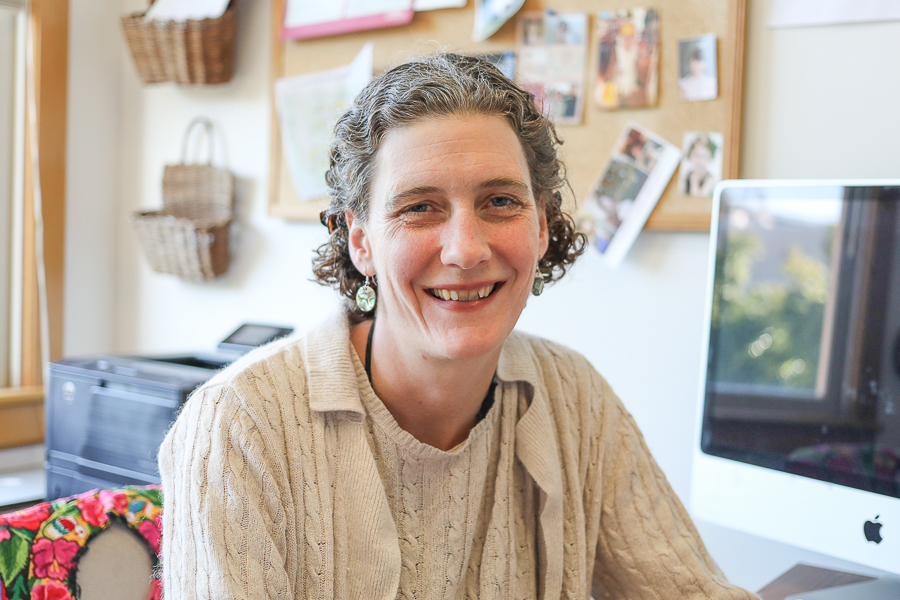 Liza Grandia's research will merge social, environmental sciences to study the intersection of toxicology, rights of indigenous communities  
Liza Grandia, an associate professor of Native American Studies, recently received a $270,000 New Direction Fellowship from the Mellon Foundation for her research proposal entitled "Toxic Trespass."
In her proposal, Grandia detailed the goals of her research.
"[I'll work] at the interstices of environmental justice, Native American and indigenous studies, and cultural anthropology […] for building new transnational alliances based on mutual vulnerabilities to environmental hazards," Grandia said.
Grandia will begin her research by spending a year at UC Davis taking toxicology and environmental epidemiology courses.
Zoila Mendoza, a professor and the chair of the Native American Studies Department, expressed her appreciation for the topic that Grandia's research focuses on.
"UC Davis and the department of Native American Studies are fortunate to have among the faculty people like Professor Grandia who is a committed and engaged scholar who works closely with indigenous communities that rely on informed and effective interlocutors like her in order to fight for their rights and a better future," Mendoza said via email.
The intersection of different educational spheres particularly interests Grandia.
"At UC Davis, there is an aspiration to bring the humanities and social sciences together with the hard sciences, and I hope to do that," Grandia said to UC Dateline.
This opportunity will enable her to become "a more productive interlocutor" between indigenous communities and the environmental health sciences.
Mendoza conveyed the same sentiments regarding the importance of an intersectional understanding of socio-cultural and scientific circumstances when approaching issues of human-induced environmental hazard.
"It is certainly crucial in the case of any kind of community, because science and understanding of human and social behavior have to go hand in hand in order to develop strategies that work and that are sustainable," Mendoza said via email. "Indigenous communities around the world need to have access to knowledge such as that which will come out of Professor Grandia's interdisciplinary research in order to fight for their lives and rights which are constantly threatened by corporate interests."
Although some of the courses Grandia will be taking are out of her field, she is nevertheless excited to learn material that will ameliorate her knowledge about toxicology.
"I need to put some organic chemistry where my mouth is," Grandia said. "In a world in which corporations have released 85,000 chemicals into the environment, I'm interested in looking at the chronic impact it has on our everyday life and rais[ing] awareness about the greater injustices suffered by indigenous people and people of color from environmental hazards."
According to Grandia, the acquired knowledge from the science courses will "enhance the scientific rigor" of her ongoing research with the Q'eqchi' Maya people and also help her start her ethnography project on "ordinary people's cultural perceptions of the risks associated with toxic chemicals in everyday life."
Grandia further elaborated that in her role as a "translator" between anthropology and environmental science, she strives to know enough about the assumptions behind the science in order to learn the cutting edge environmental health research. By doing so, she aims to connect researchers with indigenous communities.
"In a complex, corporate-dominated world we have to understand the forces of globalization and nationalism that are pinging on the sovereignty and wellbeing of indigenous people," Grandia said.
Grandia's attempt to acquire an intersectional understanding of the social and hard sciences sheds light on the importance of a holistic perspective when approaching issues like the construction of the Dakota Access Pipeline and the Standing Rock Sioux tribe.
"The kinds of environmental injustices that indigenous people routinely suffer through the hemisphere and that the native people in America have suffered for a long time just made news this time," Grandia said.
Grandia recounted her time in Guatemala when a Palm Oil company deforested the rainforest and exuded one of the very few illegal pesticides into the river. This contamination action resulted in the accumulation of several dead species which cost $10 million.
"No one bothered to measure the pesticide in the water," Grandia said. "It would be helpful to provide the hard data to be used in legal settings but also in political and social movements to validate the citizen science that indigenous people have long had as they compare stories and take note of the health impact in their own lives. In certain political and social jurisdictions [the scientific data] is needed to validate the local understanding of pollution."
Grandia's proposal states that she will use a legal principle called "free prior informed consent" (FPIC) from the 2007 UN Declaration on the Rights of Indigenous Peoples in order to "draw attention to the non-consensual presence of synthetic chemicals in the bloodstreams of indigenous peoples […] and virtually everyone else on the planet."
This inspiration stemmed from an unfortunate turn of events when Grandia was unexpectedly diagnosed with lymphoma. As a result, she was required to go through chemotherapy, which sparked her idea to investigate toxicology.
"To commit to chemo is an act of voluntary poisoning," Grandia said. "Somewhat consensual, but somewhat not. […] Pumping poisons into my blood that were damaging to my health […] [made me think about] the body burden we are all carrying around, with hundreds of synthetic chemicals in it without permission."
Grandia is interested in an unconventional approach to the regulation of chemicals in the human body. She would like to explore the interactive effects of the many chemicals that are present in the bloodstream at low doses.
This approach would contrast the single chemical regulation method that measures blood for a particular exposure.
"[This idea is] very new in the environmental sciences, and I think it's very provocative," Grandia said. "[I]t has the potential to mobilize new constituencies around environmental chemicals."
According to Grandia, her efforts for environmental justice take place during a critical point in history when it is important to not only be environmentally conscious but also politically active.
"I think the discourse about eliminating two environmental regulations […] is quite insidious and an ideology we're going to have to contend with for a long time," Grandia said. "For every personal defense mechanism that we do to protect our environmental health we need to take steps to protect that civically […] so if you commit an act of green consumerism you should write two letters to Congress at the same time because otherwise we're not going to push back the anti-regulatory tide."
Mendoza believes that Grandia's research will be very successful in bringing attention to environmental and health-related issues.
"Professor Grandia's research will contribute greatly to bridge tremendous gaps between the knowledge that exists in different disciplines, specifically in our campus, and the results will be a well-argued and well-researched corpus of knowledge that will be appealing for large audiences and that will have effects in policies and actions," Mendoza said.
Written by Kimia Akbari — campus@theaggie.org