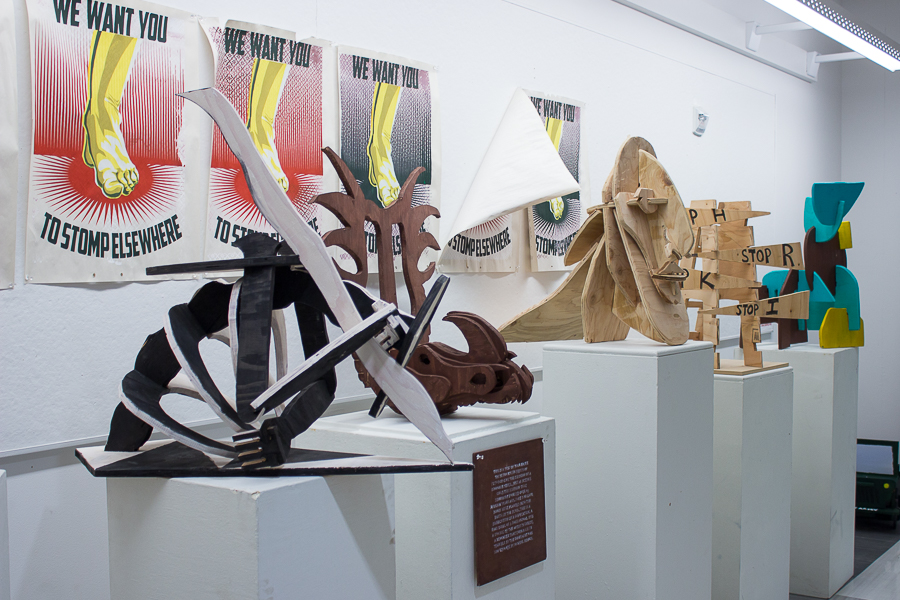 MFA's "Field Notes" exhibition showcases eight first-year students' artwork
The eight first-year students pursuing a Master of Fine Arts (MFA) degree whose work will be featured in the upcoming "Field Notes" exhibition were brave enough to indulge their talents and pursue a post-graduate education in studio art.
While the first year of their two-year degree is coming to an end, they assure that they have learned so much about their craft and simultaneously learned about themselves.
"I was working several years in marketing, and I came to [the] realization that that's not what I want to do for the rest of my life," said Ryan Meyer, a first-year student in the MFA program. "This other curiosity had to manifest itself."
As he engaged more in his art and education, Meyer found himself "always bouncing from one idea to the next [because] there's so much beauty in life and curious things that happen all day long, all around us — I can't imagine sticking to just one thing."
The program's first year also impacted Doug Loree, a first-year MFA student, who started out painting but, because UC Davis' MFA program is interdisciplinary, was able to shift gears and try something new. He is very excited by the way the program encourages students to be artists without monetizing their work. Loree is also grateful to be a part of a program which allows him to view his art without exchange-value and focus on the exploration of his heart.
"We're not making art as product," Loree said. "We are allowed to be experimental with our work. We do what we feel is true to ourselves."
For Tavarus Blackmon, post-graduate education was always on his mind. Coming from a family in which his mother has a doctorate in education, he knew that he wanted to get a terminal degree. Blackmon believes that it melds the practical with his passion.
"MFA education provides the opportunity to establish myself as a professional in the field," Blackmon said. "I've had a lot of jobs, but having a studio practice is the only time when I want to go to work every day."
These artists have very different relationships with their art, but all of them try to attend to the human perspective.
Meyer "[tries] to get a better understanding of the world through the aesthetic." Loree's art explores the digital age, and his current project is to identify the relationship between the online life and real life. He is looking to explore the concept of control in the context of our very digital time, and he wants to know how much power is given to the online parts of life.  
When asked where he draws his inspiration from, Blackmon responded, "the world: sunshine, flowers, beautiful people, sadness, elation, curiosity — I would say a lot of curiosity because if I knew what I was doing or what it's supposed to be, I probably wouldn't even do it."
And Blackmon's advice for potential MFA students?: "Make it, do it, be it, live."
The UC Davis first-year Master of Fine Arts students will exhibit their work at the "Field Notes" exhibition, held from May 5 to May 25 at Beatnik Studios in Sacramento. For more information, please visit the UC Davis art studio website.
Written by: Akaylah Ellison — arts@theaggie.org