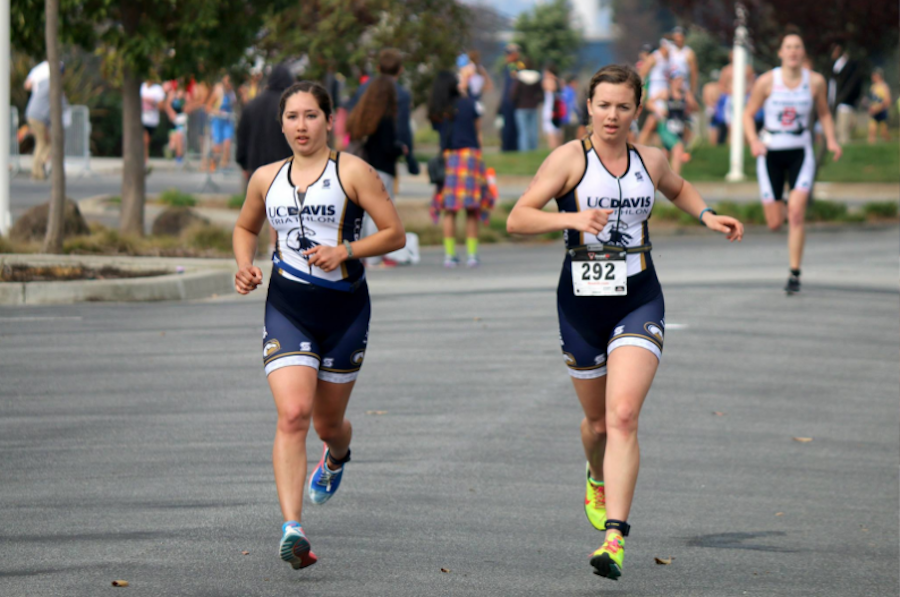 UC Davis club triathlon team places 11th at nationals
The men and women of the UC Davis triathlon team are pretty talented at what they do, and what they do is a continuous race that consists of a half-mile swim, a 12-mile bike ride and a 5,000-kilometer run — this being considered the shorter race. Not surprisingly, constant training and stamina-building are essential to running these triathlons which, depending on the athlete, can take upwards of three and a half to four hours to complete.
The triathlon team is one of the many successful UC Davis club sports programs and one that arguably requires the highest level of raw endurance. On April 21 and 22, 16 of its members traveled to Tuscaloosa, Ala. to compete in the national championships, where the team placed 11th overall.
"[Nationals] were awesome," said Simone Federici, team president and a fourth-year communication major. "We got second at regionals, and we are known to have the strongest conference out here on the west coast. So second [place] was a big deal for us–"
"–Second by two points!" interjected Michael Brooks, third-year biomedical engineering major.
The team indeed nearly placed first in the West Coast Collegiate Triathlon Conference (WCCTC) in the race at Cal Poly, San Luis Obispo back in late March. Two fourth-year neurobiology, physiology and behavior majors led the way for UC Davis: Meghan Nesbit and Jeremie Showa. For the women, Nesbit finished in sixth place with a time of 2:16:21, and Showa placed 14th overall with a time of 1:58:55 for the men. Showa and Nesbit's performances in the Olympic-distance events — 1500-meter swim, 25-mile bike, 10-kilometer run — were combined with points from the three next-best finishers in each gender, placing UC Davis second overall.
"[At nationals] our girls team got sixth and our boys team got 14th, so it averaged out to 11th, which is the same place that we got last year," Federici said. "We've been consistently moving up as our team evolves, so we were really hoping for top 10 [this year]. I don't think we are that far off but as we're developing as a team, other teams are also developing, so we're happy with 11th."
It's the goal of any team to continue to improve upon past finishes, but 11th in the nation is not so bad a place to be, especially considering the fact that there are over 100 teams competing. On the individual level, Showa and Nesbit were again the stars of the team in Alabama. Nesbit finished 10th in the nation among all female athletes and Showa finished 28th among all male participants. Even more remarkable was that UC Davis battled larger teams like Cal, which brought over three times as many athletes.
"For us, we always bring 16 people," Federici said. "There's four scorers, four displacers [in each gender]. It's not necessarily predetermined who is what, but you kind of know. Other schools – like Cal brings 54 people. We don't do that just because travel logistics are insane even for 16 people, so 54 people – we don't even want to go there. But [schools that bring more athletes] do have an advantage because they have way more people displacing."
The club's continued success on the national level is even more impressive, considering how the team is formed. What makes the triathlon club so unique is that it draws athletes from diverse sporting backgrounds, the majority of whom are not experienced triathletes. New members can be swimmers, like Nesbit, or cross country and track athletes, like Federici, who was introduced to triathlon by one of her high school coaches. There are only a few members, like Brooks, who have competed in triathlons prior to attending UC Davis.
"Here's the thing with triathlon: everyone comes in with different skill sets," Federici said. "I am not a swimmer, so in a triathlon, I'm not very good at the [whole] triathlon, but I can bike and run pretty well. So each type of workout that we do will bring out people's skill sets."
On top of the varying athletic skill sets, there is also a wide range in terms of the level of involvement in the club. During the regular season, which begins in September and lasts until March, the team holds one-hour swim workouts every weekday, coupled with two-hour runs on Tuesdays and Thursdays. On the weekends, the team does what are called "brick" workouts, a combination of biking and running, that last nearly half of the day.
"We cater to people of all different levels," Federici said. "We have people who pay dues but we never see, or maybe they'll come to a swim practice or two or a track practice or get on the bike once — all the way up to people who are trying to go pro. You get out what you put in. We have lots of practices — you can come to all of them, you can come to none of them."
Flexibility is a key element of the club, and members can train as hard or as often as they would like. The team has no set diet or meal plan, either, although the athletes tend to enjoy one meal in particular when it comes to fueling up before a race.
"Half our team eats chicken, potatoes and broccoli," Nesbit said. "It's so weird."
Triathlons are quite lengthy, so maintaining a high level of energy during competition can be challenging for the athletes. In order to keep energy running high during the races, the team harbors a strong preference for eating Gu – packages of sugary energy gel.
Sharing similar tastes in cuisine is just one aspect that binds the team together. The triathletes also possess a deep love for racing and for each other.
"I went to the first campus run-around and I met like eight other freshman girls that wanted to join too," Federici recalled. "A lot of us came from running backgrounds and we just had no idea what we were doing. Sometimes I still feel like I don't know what I'm doing. But I liked it, and I just started doing it and then you start buying all the equipment and then you get invested, and then you love it. I joined right away and I've never looked back."
Brooks also shares Federici's affinity for racing.
"You do one race and you just fall in love with it, which is pretty universal across the team, I think," Brooks said. "You do that first race and you're like 'Okay, let's see how this goes,' and then you're like 'Okay, I wanna do another one. When's the next one?'"
For Nesbit, her interest was sparked by a lot more than just the racing; it is the people she has met and the friendships she has made that really drew her in.
"I definitely was not going to join the swim team here, but I grew up swimming so I didn't want it all to go to waste," smiled Nesbit. "I met Simone and all my really close friends on literally the first day of school, so I haven't really branched out much. We're a really tight-knit team."
The races are just the centerpiece around which the members of the UC Davis triathlon team have built a solid community of friendship, as well as a talented core group of athletes.
Written by: Dominic Faria — sports@theaggie.org