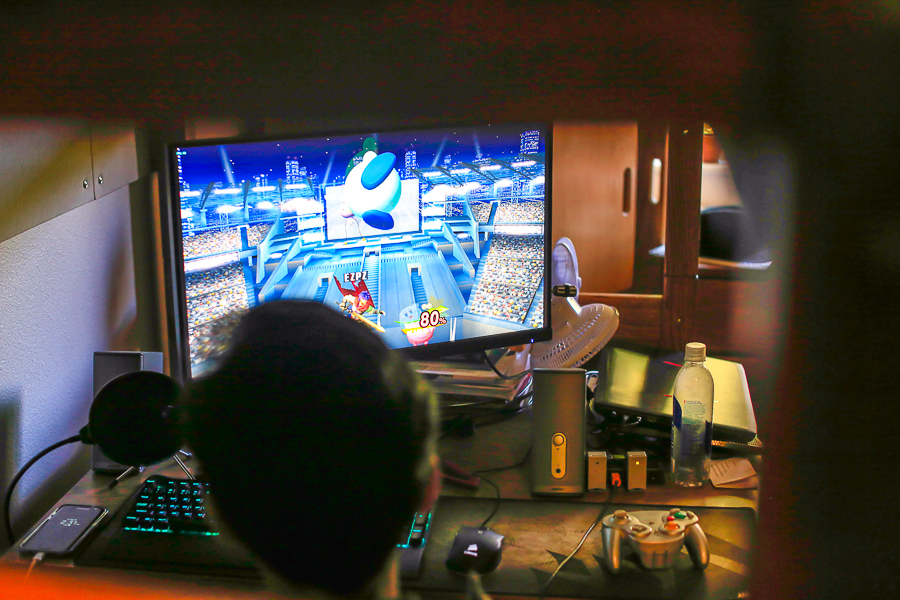 Aggie Gaming club provides community for competitive online gaming
In the world of college sports, staples such as football, baseball, basketball and soccer tend to dominate the headlines. However, over the past few years, a new sport has swept college sports. It isn't played on a field or in a gym but instead in front of a computer or television screen. eSports are some of the fastest growing enterprises in the sports and entertainment industries, and is the focus of Aggie Gaming, the UC Davis gaming collective founded by fourth-year computer science major Michael Chan.

"Aggie Gaming at UC Davis was founded under the premise of fostering a gaming community at UC Davis," Chan said. "We see a lot of gaming organizations at other campuses across the UC system and the greater collegiate scene throughout the United States, and we wanted something that replicated that."

It started with the League of Legends (LoL) club. A strategic combat game, LoL is one of the most popular games on the eSports scene due to its team-based structure and online following.
Raphael Opon, a fifth-year international relations and sociology double major, serves as the vice president of the LoL Club, an extension of Aggie Gaming. He has been hooked ever since he first picked up the popular game three years ago.

"League of Legends is a Multiplayer Online Battle Arena where you get to work with your teammates," Opon said. "You get to be frustrated, but at the end of the day, win or lose, you leave with a smile on your face."
While games such as LoL have a governing body called the CSL (Collegiate Starleague), other games are still gaining prominence within the competitive gaming world. Super Smash Bros. 4, a fighting game, does not have a governing body at the collegiate level.  Amos Gossai, a first-year religious studies and philosophy double major, is trying to bring Super Smash Bros. to a bigger competitive stage during his time at UC Davis.
While applying to schools, Gossai wanted to go where he could help establish a gaming culture where one may not yet exist. To him, Northern California was the idea place.

"I thought, 'How about I just go to NorCal for schools and bring the eSports up?'" Gossai said. "Create an organization, or get involved up there. Get to know the players and the community after having been a competitive player for so many years, myself. UC Davis was the only school I applied to up here, and I decided to come up for eSports."

Through Aggie Gaming, games like Smash Bros. and LoL (as well as other titles such as DoTA and Overwatch) have found a home at UC Davis. Students — and alumni, in the case of Smash Bros. — can compete with other schools that sprawl across the entire country. According to Chan and Opon, there are upwards of 120 schools across the country, with UC Irvine leading the pack in terms of gaming innovation. They hope to bring UC Davis up in the world of competitive gaming.

The teams have a vetting process just like any sport, but they try to make a space for those who are willing and dedicated to put in the required work.

"Our collegiate team is looking for members," Opon said. "There are no rank restrictions. As long as you keep an optimistic attitude and you are coachable, there is a place for you in our team."

As a club organization, Aggie Gaming gets some base financial support from the school, but is entirely student-run. Should any of its different teams need extra funding, it is up to them to pay for transportation to events or, should the opportunity present itself, fees for entering large-scale tournaments. Having just opened its doors in September of 2016, the club is still working out everything that goes into bringing eSports at the UC Davis campus to the next level, with hopes to one day reach a Division I status, the highest competitive level in the e-sport community.

E-sports are still rather new, but the popularity behind the phenomenon continues to grow year after year. It takes people like Opon, Chan and Gossai to get the ball rolling. Future generations of collegiate gamers will have people like Opon, Chan, Gossai and many more to thank for its inclusion in the world of UC Davis competition. The blueprint is there, and as eSports continue to flourish, so should the team itself.
Written by: Bradley Geiser — sports@theaggie.org