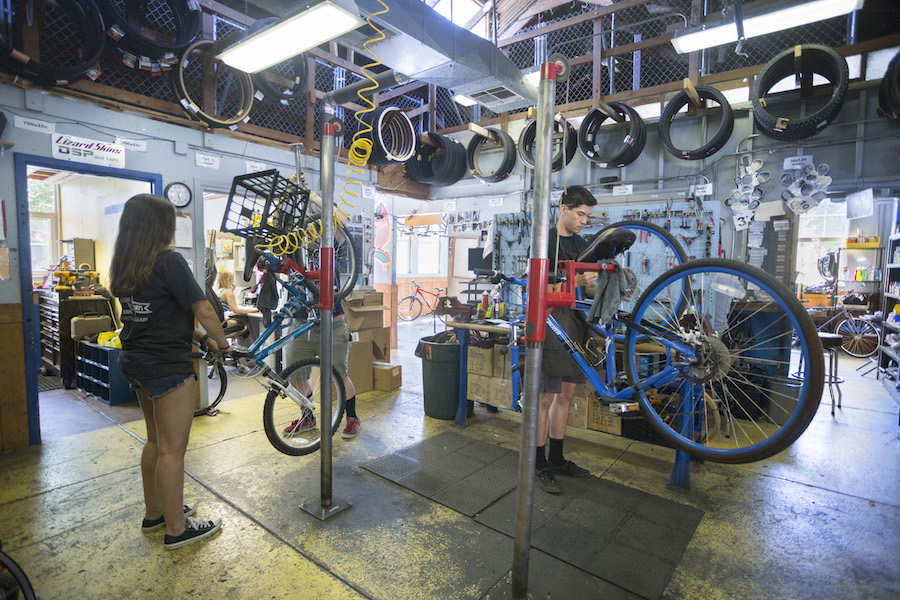 Behind the scenes of Bike Barn culture
The ASUCD Bike Barn is located between the Silo and Rock Hall, its entrance hidden by a fleet of bikes. Upon entering the Bike Barn, one is greeted by a friendly face or two, usually someone working the register and another mechanic evaluating a client's bike. But what — or rather, who — is hidden behind that wall lined with bike accessories?
It seems that there is an eclectic group of bike experts working hard amidst the background sounds of Spotify playlists, saws and bike chains. Hustling about, the Bike Barn crew includes people from multifarious backgrounds that all share an ardor for bikes and working with their hands.
John Hancock, a third-year political science major, has found fulfillment through working at the barn.
"Right there I can create something — fix something — and see what I did with my own hands," Hancock said. "When I come home at the end of the day after a day's work, it's cool [that] I […] helped someone fix something.
Amid social science majors, art majors and science majors, a common ground seems hard to find, but the employees don't let that stop them. Many of them mentioned that music is something that has helped connect them together, even though each person seems to have very different taste.
"We all like listening to music while working," said Joseph Gondreau, a second-year electrical engineering major. "It's weird because we all have really different tastes. Sometimes a guy will play East Bay rap music, then someone will put on Taylor Swift, and then someone will put on Brad Paisley. It's [strange], but we all just enjoy each other's music."
Jacob Wagner, a second-year managerial economics major added that "angsty music" brings the entire crew together. The barn members also spend time hanging out and getting to know each other outside of their work, including at barbeques and dinners.  
"We go to music concerts together," Hancock said. "Everyone gets along pretty well. [They are] a cool little friend group that I have outside of my normal one […]  and [some are] even […] in my friend group."
Many of the crew members began working at the Bike Barn because of a long history of bike fanaticism and passion for active work. Wagner had been doing mechanical work since his childhood and Gondreau, having worked as a mechanic in construction, wanted to continue engaging that part of his interests. Gondreau found active work to be a necessary change from his routine especially when spending so much time bent over textbook pages.
"When I moved up here, with all the book work, I decided I needed kind of an escape and to work with my hands," Gondreau said. "I ended up working here, and in my spare time I just do some projects, work on my cars. Working with stuff, building things […] that's my jam."
Jamie Birgstron, a third-year neurobiology, physiology and behavior major is currently one of the Bike Barn's managers and head mechanics. Birgstron grew up loving bikes and couldn't help dreaming about attending one of the largest bike-friendly campuses in the nation.
"I moved into the dorms, and the same day, I started working here," Birgstron said. "I wanted to work [at the barn] before I started school here. The summer before [college], I drove down for an interview and drove all the way back home."
One would've expected mechanical experience or a strong knowledge of bikes to be one of the prerequisites to work at the Bike Barn, but their hiring process focuses mostly on a candidate's ability to work in a team and get along with the other members. Experience with mechanics and bikes becomes a decorative attribute to their resumes.
"The biggest thing, I say, is whether [applicants] work well with us," Birgstron said. "You don't have to be the best mechanic ever [… and] you don't have to be the most social person, but you need to work well in a team. Experience is very helpful — but it's not necessary."
The passion and dedication each person in the crew brings to work at the Bike Barn creates a truly unique space, where the members have turned the workplace into a home base. Oftentimes barn members will drop in between classes to hang out by the break table and greet their friends. After all, home isn't about a place — it's about the people.
"Everyone's working to better the shop," Wagner said. "Everything you doing is for a positive influence. It's not the kind of job where you just put your head down and do your thing. You're always asking questions. You are always involved with other people. [And] even though you're working on your own bike, if you have a question, there is someone there to help you right away."
The way each person exhibits an obvious desire to be there has served, as Wagner mentioned, to blur the lines between work and play.
"There aren't really any lolly-gaggers," Wagner said. "That's not the culture that's here. I think what brings us all together is that we're all really hard-working, problem-solving type of people. [We] are [all] willing to help each other."
Written by: Sahiti Vemula — features@theaggie.org