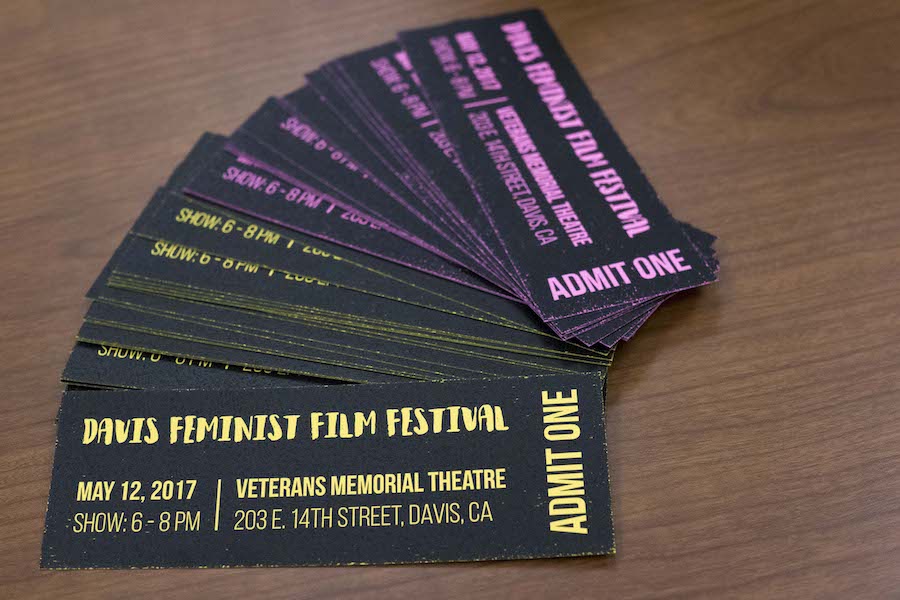 Davis Feminist Film Festival to feature films representing women of color, queer women, women with disabilities  
In 1991, acclaimed director John Cassevetes said, "I'm very worried about the depiction of women on the screen." Aren't we all, John?
It often seems that little progress has been made in how women are represented in mainstream media, with female characters lacking complexity, authenticity and being used as mere tropes. And what's most apparent is the lack of representation of different types of real women — queer women, women of color, women with disabilities. So, for those who have been feeling down about said lack of representation, it's time to get excited, because the Women's Resources and Research Center's (WRRC) 12th annual Davis Feminist Film Festival is just around the corner.
The process of selecting the 14 films that will be shown was a complex one; a 35-person committee made up of members of the community, faculty members and graduate students sifted through the astounding 923 short film submissions that had poured in from all around the world. Next, a group of 10 interns watched the top 60 of those films, meticulously discussed them and finally decided on the selected few finalists.
Lindsay Baltus, an English Ph.D. student and the director of the film festival, noted that it was important to "build a lineup that was diverse in the people that it represented, issues that it talked about, themes, countries of origin, languages and genres."
Baltus believes that film is a powerful medium for change and kept a broader community context in mind while curating the event.
"I feel that events like this represent some of the best things the university can do to address the inequities that women, people with marginalized identities and people of color are facing," Baltus said. "I think that the university has a responsibility to make a connection between the academic work we do on campus and the marginal communities, including the local community that the university is situated in. So I feel really inspired by this event as a place where we can do that — the festival is open to the community, we've done a lot of outreach in Davis."
The film festival is certainly the place to expand one's horizons for those interested in learning about the stories of all types of different women, as the varied lineup includes experimental films, documentaries, narratives, animation and dance films. Especially given the current political climate, it's important to represent different people's experiences in an open and empathetic way that will turn into a wonderful learning experience.
Mary Rasooli, a third-year international relations major who is working as a communications intern for the festival, said, "When we're fed so much rhetoric and people's identities are essentially being politicized — immigrants, refugees, queer peoples — it's important to bring all these identities together and to show an alternative to what we're watching and constantly being fed."
Through meeting with other interns weekly and discussing feminist films and subjects throughout the Winter and Spring Quarters, Rasooli realized the importance of being aware of who exactly is creating the specific art content that's being consumed.
"When I saw that a woman of color was making a film on women of color, that was something that was so much more special, and you could even see it through the film that there was so much for depth and beauty to it," Rasooli said. "So 'who's writing these narratives?' is definitely the question that I started asking myself a lot."
Angelica Garcia, a fifth-year psychology and Chicana/o studies double major, is also an intern for the festival. She stressed the need for a conversation surrounding feminism and its definitions.
"I think we feel like we're in a bubble in Davis, or we feel like it's really liberal, but we forget that harmful and hurtful things happen here too," Garcia said. "Our goal is intersectional feminism, so explaining that to folks is starting a conversation in places where we think 'oh, we don't need that here.'"
Creating an open dialogue between all members of the community is vital to growth, understanding and compassion, and for Garcia, the festival is about creating "a healing experience and creating a place for voices that aren't represented."
Community outreach intern Sabrina Lee, a third-year community and regional development and film studies double major, believes that "watching these films will break down a lot of that stigma, and break down a lot of the rigid definitions that people have created about what feminism looks like." Lee reflected on one of the films that she's looking forward to people seeing.
"One of the more lighthearted films we looked at is Jessica, which does take a more lighthearted look into what ability, and 'disability' looks like," Lee said. "I think oftentimes, we don't let folks tell their own narratives, or put these certain expectations and standards onto folks with different abilities, while this type of film changed that narrative and made it so much more lighthearted and really made you love the character on a much deeper level."
Experiencing a wide variety of eye-opening, beautiful, honest and moving films that represent real, complex women might just be the best way to go down a more accepting and healing road during these confusing and frustrating times. Don't miss this exciting event, which will be taking place on May 11-12. Tickets are now available to be purchased online and at the WRRC; suggested donations are from $5 to $7 for students and $7 to $10 for general tickets. Please check out the link below for more information, including line-up specifics: http://wrrc.ucdavis.edu/feministfilmfestival.html
Written by: Pari Sagafi — arts@theaggie.org