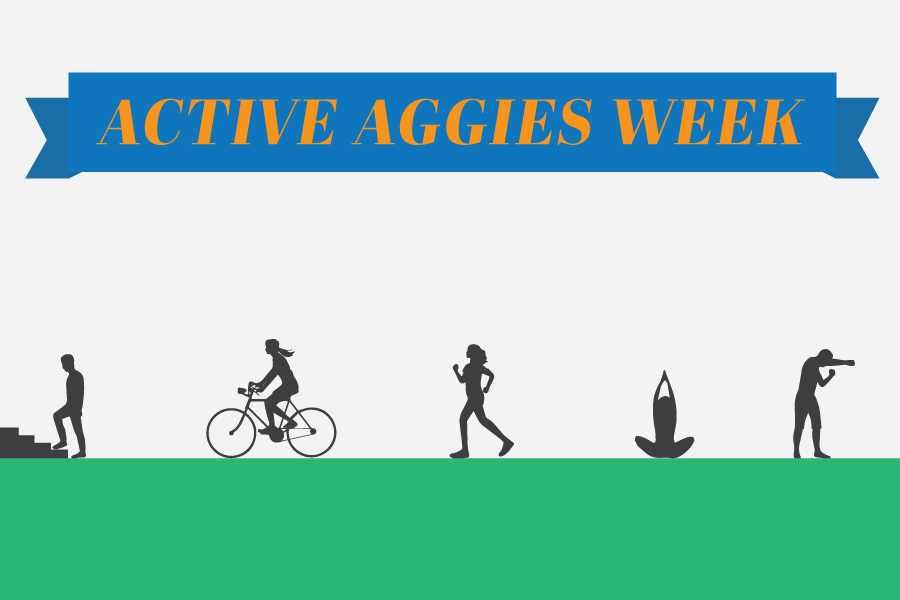 On-campus events held to encourage physical activity
Active Aggies Week, a weeklong, campus-wide celebration of moving and staying active, will take place from May 15 to 21. Multiple exercise based organizations, the Wellness Center and Campus Recreations and Unions (CRU) will participate.
"Active Aggies Week began as a way to celebrate May is National Physical Activity month and to provide students with fun and free opportunities to be active," said Shantille Connolly, a wellness education educator, via email. "There are so many way unique ways to move our bodies, so Active Aggies Week is hoping to encourage students to find a form of movement that they truly enjoy."
Connolly believes being active is important for both students' physical and mental health.
"It's important to stay active because of the positive physical and mental health benefits physical activity provides," Connolly said via email. "Even a short, 10-minute burst of movement can provide you with an energy and mood boost. Research has found that physical activity has numerous benefits for mental health and we know that 46.8% of students report that stress negatively impacts their academics."
On May 18, UC Davis Yoga Club will be offering yoga classes in 5 Lower Freeborn Hall at 6:30 p.m. Ana Elisa Skomal, a fourth-year food science and technology major and president of UC Davis Yoga Club, appreciates exercise because she uses it to connect with herself and her body.
"[Staying active] is an opportunity to connect with my body, with myself in a fun and enjoyable way," Skomal said via email. "Yes, there are also many health benefits that come along with staying active. However, I feel it is important to not look at exercise as a chore. We have brought together a group of students from all over the world to share their energy and love for yoga."
Reed D. Phinisey, a CRU fitness and wellness center coordinator, believes it is important that physical activity be done for one's own enjoyment. On May 17, CRU will host its first pop-up hip-hop dance class at the Memorial Union Patio at 2 p.m. Later that day, CRU will host a Zumba-Thon at the ARC four-court gym from 6 to 8 p.m.
"Physical activity might be one of the most influential tools when it comes to improving one's overall wellness," Phinisey said via email. "This can range from either general exercise modalities (strength training, aerobic exercise, yoga, etc.) all the way to ADL's (activities of daily living). It's important though that we feel motivated to maintain this mode of physical activity but also derive enjoyment from said activity."
Brian Luu, the Fitness and Wellness Center assistant director, said CRU is offering many different types of classes to inspire students to move and be happy.
"Campus Recreation and Unions contributes [to better quality of life] by offering a multitude of activities for our students to explore," Luu said via email. "For us activity does not need to be limited to just working out in the gym. It can be going on a hike, taking a craft class, tending to a horse at our Equestrian Center, swimming, etc. We want students to find what makes them happy and helps them move. Our students' well-being is what means the most to us!"
Other events happening during Active Aggies week include swing dancing with Davis Swing Dancers, a resistance band workshop, ballroom dancing with Davis Ballroom Dancing, Nerf-based games with the Davis Nerf Club and more.
Written by: Yvonne Leong — campus@theaggie.org