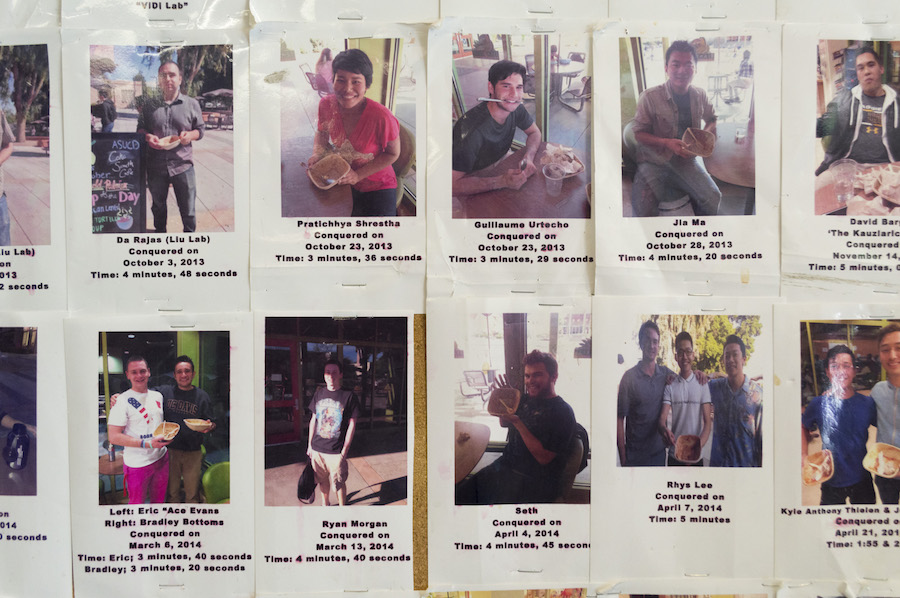 Food competitions around town test endurance
A myriad of beaming, proud faces fill up a wall at the CoHo South Cafe. These are the faces of daring challengers who have successfully completed the Quad Stack Challenge — a food challenge that requires competitors to eat around two pounds of cornbread and chili in five minutes or less.
"Someone orders the Quad Stack and then they have to say, 'I want to do the challenge,'" said Hayley Rappoport, a student manager of the CoHo South Cafe and a fourth-year genetics and genomics major. "They can have a glass of water if they want but nothing else to drink. They have five minutes to finish it […] and if they do, we'll take their picture."
The Quad Stack Challenge at the South CoHo is one of several different food challenges that exist within the Davis community. The staple of the South CoHo is the Chili Stack which consists of two pieces of cornbread, two scoops of chili and optional toppings of cheese or onions all heaped onto one plate. Variations of the Chili Stack include the Triple Stack, three slices of cornbread and three scoops of chili, as well as the daunting Quad Stack, four pieces of cornbread and four scoops of chili.
Rappoport, who has worked at the Cafe for over three years, said she has seen about 30 to 40 attempts of the challenge, but has seen only between 10 and 15 successful completions. She also said she has witnessed a few challenges gone awry.
"I saw someone choke," Rappoport said. "Her strategy was to pick up the cornbread and try to shove it in. I saw someone else who was trying to dig in and in the process they spilt their water with their elbow. We did pause the [clock] for him."
Though Rappoport herself has not attempted the challenge, nor have any of her colleagues, she has seen successful competitors finish the Quad Stack Challenge in a couple minutes and ask, "Is that it?" According to Rappoport, the record time for the challenge is around one minute.
However, ambition sometimes gets the best of hungry customers. According to Redrum Burger owner Jim Edlund, newcomers to the restaurant who ask for the "biggest burger" on the menu are met with the one-pound Aggie Pack Annihilator burger.
The Aggie Pack Annihilator burger, which is four sizes larger than the average Redrum burger, can be purchased as a meal with a large side of fries and a large drink for $13.49. Edlund said the Aggie Pack Annihilator burger, named in support of the Aggie Pack, was first sold in 1997.
"It starts out as two half-pound patties [with] double cheese on it," Edlund said. "We make it with the normal stuff we have — mayo, mustard, lettuce, tomato, onion [and] pickle. We also add bacon."
Edlund said Redrum Burger serves around 15 to 20 Aggie Pack Annihilator meals a day on the weekends and five to 10 meals on a weekday, or around 3,000 meals a year.
"About 10 years ago, a man and his son came in […and] ate an Aggie Pack Annihilator," Edlund said. "On his way out, his dad says, 'Well I don't think you can eat another one.' I interjected myself into the conversation and I said, 'If you can eat the second one and finish it, it's free. If you only eat a portion of it, you've gotta pay for it.' He ate both in 25 minutes."
Redrum Burger used to hold the Fastest Beef Eater in the West contest, during which competitors would attempt to consume just the Aggie Pack Burger in the shortest period of time; the record time for consuming the one-pound burger is one minute and 57 seconds. This July, to celebrate its 31st year in business, Redrum Burger will bring back the Fastest Beef Eater in the West contest in the form of three competitions — one for females, one for males and one for those 50 years and older, according to Edlund.
"The winner will get one month's free food, second place gets a week and third place gets a weekend," Edlund said. "We're trying to get belt buckles made."
Edlund himself said he has successfully finished two Aggie Pack Annihilators, after which he "went right to sleep."
Across town, Taqueria Guadalajara serves the arm's-length, three-pound Super Giant Burrito, which has been a staple of the restaurant since 2002.
"A lot of our students were asking, 'Do you have something bigger?'" said Rigo Hernandez, the manager of the business. "It first started out as a little game, [where] we would make this if you could eat it. We started making the Super Giant and we kind of started a little competition [where] you had to eat it in a certain amount of time and we'd take a picture and post in on a wall — a little wall hall of fame."
The enormous burrito is available for purchase for $13.99.
"The Super Giant Burrito [is] two, 13-inch flour tortillas side by side and the fillings are rice, beans, guacamole, sour cream, cheese, pico de gallo and your choice of meat," Hernandez said.
After polaroids of successful competitors were vandalized, the wall was taken down. Taqueria Guadalajara now holds a Super Giant Burrito eating competition once a year for their Cool Summer Days event in June.
"We throw a little party for the community, and that's when we do a burrito challenge," Hernandez said. "My cousin is in charge […] and he has a championship belt — like a wrestling belt – so whoever can finish it the fastest [wins]."
Woodland resident Carlos Bautista has won the competition once and placed second twice. The year he won, Bautista beat out five other competitors with a time of around four minutes. He will compete again this year with a new strategy.
"Someone told me to just open up the burrito and eat the meat first and then just roll up the tortilla," Bautista said.
Many have taken on the Super Giant Burrito, but, for Hernandez, it's "impossible" to eat in one sitting.
"I can barely eat the super burrito, but you'd be surprised," Hernandez said. "We've had some petite, young ladies that would finish that burrito in one sitting."
If the Super Giant Burrito seems an unconquerable feat, Hernandez said, "for parties, it's a great idea."
Written by: Hannah Holzer – features@theaggie.org