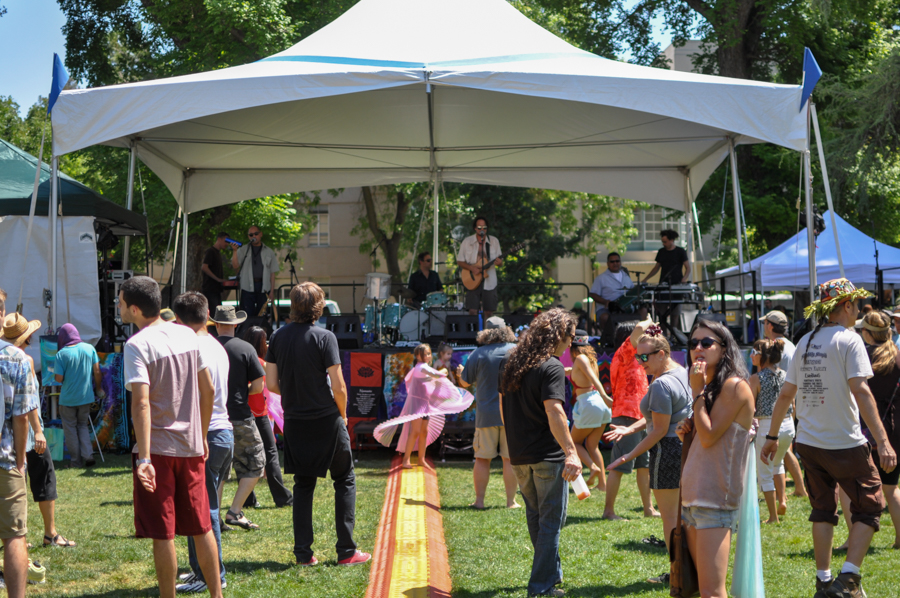 The Big Poppies, The Five Thirty among local talent
During Spring Quarter, entertainment isn't in short supply — from Picnic Day to KDVS' Operation Restore Maximum Freedom Festival, live and local music is around every turn. However, unlike the aforementioned events, Davis' annual Whole Earth Festival draws larger, more established musicians as well as a more eclectic sound. That being said, local favorites — including The Big Poppies, Pastel Dream, The Five Thirty, Tempura and Tha' Dirt Feelin' — will still be performing.
Jessie Wong, a fourth-year psychology major and Liz O'Neill, second-year managerial economics and psychology double major, are this year's entertainment directors for the festival. They selected this year's performers from over 100 applications. In fact, O'Neill and Wong hosted a staff listening party with fellow Whole Earth Festival members and volunteers, giving them a chance to hear potential performers before they were booked.
"We are very happy to say we booked everyone ahead of schedule," Wong said. "Usually in entertainment we're working until the last second to get all the contracts done, but we're around two weeks ahead of schedule in terms of booking."
O'Neill and Wong have selected some of this year's standout performances:
Geographer, Saturday 8:45 – 10 p.m. Quad Stage
As this year's festival headliner, Geographer's well-known dream pop sound is well-suited for Whole Earth vibes. His Saturday set will close the most well-attended night of the festival.
Nine Pound Shadow, Saturday 7:15 – 8:15 p.m. Quad Stage
This alternative rock group was recently booked at the local BFD festival. Hailing from Berkeley, Nine Pound Shadow will warm up the crowd before Geographer hits the stage.
Hibbity Dibbity, Friday 9 – 10 p.m. Cedar Stage
According to Wong, this self-defined "swamp funk" group is the so-called cousin of local band Big Sticky Mess. Expect some funky tunes and upbeat dancing.
Louise Benally, Sunday 1:35 – 1:50 p.m. Quad Stage
Benally will be speaking at the event, providing insight on Native American culture as one of the original resistors of relocation of the Navajo Nation.
"We were able to carve some money out of our budget to bring her here," Wong said. "Everyone is really excited, especially old members who recognize her from past years."
Tempest, Sunday 2:10 – 3:30 p.m. Quad Stage
This Celtic rock group is known for their large fanbase and for drawing large crowds. "I don't think people realize how big they are; they have their own tab at Amoeba Records," Wong said.
In addition to these directors' favorites are standout local talent. Among them is the blues/funk/rock group, The Big Poppies, who are making their return to the stage after a year-long hiatus, and the up-and-coming blues/soul/rock trio The Five Thirty.
The Big Poppies, Saturday 2:15 – 3 p.m. Cedar Stage
As the band prepares for their second Whole Earth Festival performance, The Big Poppies have plans to play some of their older content — but with a new twist.
"There will be some new stuff, and some jammin'. We're trying to get people to dance," said Ryan McBride, a vocalist, guitarist and harmonica player for the band.
"Old songs but played new. You wouldn't even be able to tell that they're old," added Ari Schwartz, the band's back-up vocalist and bass player.
Lead guitarist and vocalist Max Van Dyke emphasized their excitement to be back playing together. "To the people that usually come see us, you're going to be in for a big surprise," Van Dyke said.
The Big Poppies are not only frequent Davis performers, but also Davis locals. The band grew up attending the Whole Earth Festival, watching local bands hit the stage as young kids themselves. For them, the festival is more than another venue; it's nostalgic.
Make sure to check out their Saturday set and groove to some free-spirited funk.
The Five Thirty, Friday 6:05 – 6:50 p.m. Cedar Stage
Also born-and-raised Davis locals, The Five Thirty looks forward to kicking off the first day of the festival with their crooning melodies and soul-infused blues guitar. As brothers, Ben and Brian Simmons comprise the band's vocals, guitars and drums.
"Even though we all came into it with the same interests, we had some of our own personal musical interests and styles because we had all played for a long time before forming the band," said Brian Simmons, a student at American River College and the band's drummer and backup vocalist.
The Simmons brothers met their bassist, Alex Timmons, during a recording session at their in-home studio, which they used for personal recordings as well as hosting other musicians.
"We turned the loft of our parents' house into mini recording studio," said Ben Simmons, a student at Sierra College and the band's guitarist and main vocalist. "One of the people who came over was Alex. He was in a different band at the time. He was in a band called Audio Wave, and he came over and was doing stuff for them. And I was like this kid can play bass really well, so we asked him to play a Homecoming gig at Davis High, my senior year."
Drawing influence from musicians like Jimi Hendrix and John Mayer, you can expect a similar variety at The Five Thirty's set: some technical rock, some easy listening and certainly a good time.
View the full festival lineup and schedule.
Written by: Ally Overbay — arts@theaggie.org