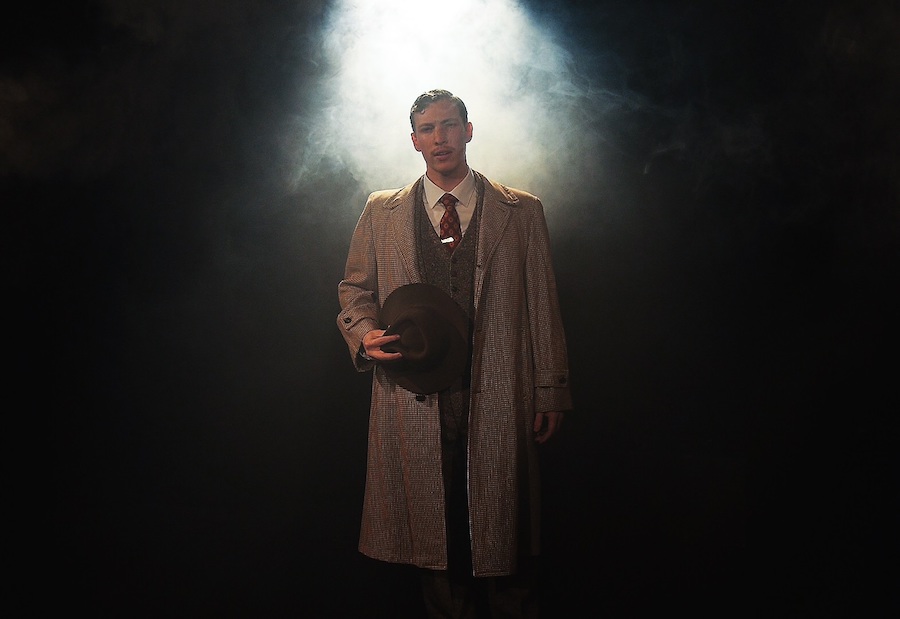 A rich blend of comedy, murder, mystery
After an expedited four-week rehearsal process, five UC Davis undergraduate students from the Theater and Dance Department are ready to perform their version of Alfred Hitchcock's The 39 Steps in the Wyatt Pavilion Theater. Starting on Thursday, May 11, audiences can watch these actors rapidly transform into different characters, perform melodramatic love scenes and execute intricate escape acts — all while speaking in a slew of European accents.
Based on Hitchcock's 1935 film, which was adapted from the 1915 novel The Thirty-Nine Steps by John Buchan, what was originally an action-thriller has transformed into a work of comedy.
"It is written as a straight drama, but it is definitely a comedy because it hasn't aged very well as opposed to Hitchcock's other works such as Psycho," said Cailtin Sales, a fourth-year theater and dance major who will be playing nine different characters in the show.
Besides the lead, each actor plays myriad different characters, going through rapid costume, accent and set changes constantly throughout the show.
"I am playing three different characters in the matter of one minute," Sales said. "I play characters ranging from a trenchcoat thug-type to a German Nazi."
Not only are actors physically jumping around on stage, but so is the set. Like the movie, the play bounces from location to location, a difficult scenic task to mimic, especially in Davis' oldest building.
"Wyatt is interesting. There is not a whole lot of space backstage for such a prop and scene-heavy show," said Bonnie Devon Smith, a fourth-year dramatic arts major and the stage manager for the show. "I am getting some exciting new toys though, such as cue lights and an infrared camera because the booth in Wyatt is really hard to see out of."
Smith makes sure the show happens. From rehearsal reports to communicating with each department of the production, she keeps things running smoothly.
Matt Skinner, a fourth-year theater and dance major, literally keeps things running as the lead actor in the show. A charming Englishman accused of murder, the main character Richard Hanays weaves through obstacles to dodge a group of spies who are after him.
"He is good at escaping sticky situations," Skinner said. "But he keeps his British charm throughout the show."
Skinner got up from his seat to demonstrate the various physical actions he will perform on stage. From hanging upside down to running around the entire theater in a wool suit, he is drenched in sweat by the end of the show.
"There are parts in the show where I have to run a lot," Skinner said. "I have to run through the aisles and everything. Oh gosh, I'm probably gonna step on people's toes or something."
Though it has been physically draining, these student actors are excited to showcase their acting abilities after a rapid and committed rehearsal schedule.
"When I'm not on stage, I'm running lines," Sales said. "When I'm not on stage, I am still working on the show."
The 39 Steps will run May 11 to 13 and May 18 to 20 from 7:00 to 9:30 p.m, with matinee showings from 2:00 to 4:30 p.m. on May 13 and 20. General admission tickets are $18.50, faculty/staff tickets are $17 and students/seniors tickets are $12. They can be purchased on the theater and dance website or at the box office before the show.
Written by: Myah Daniels — arts@theaggie.org