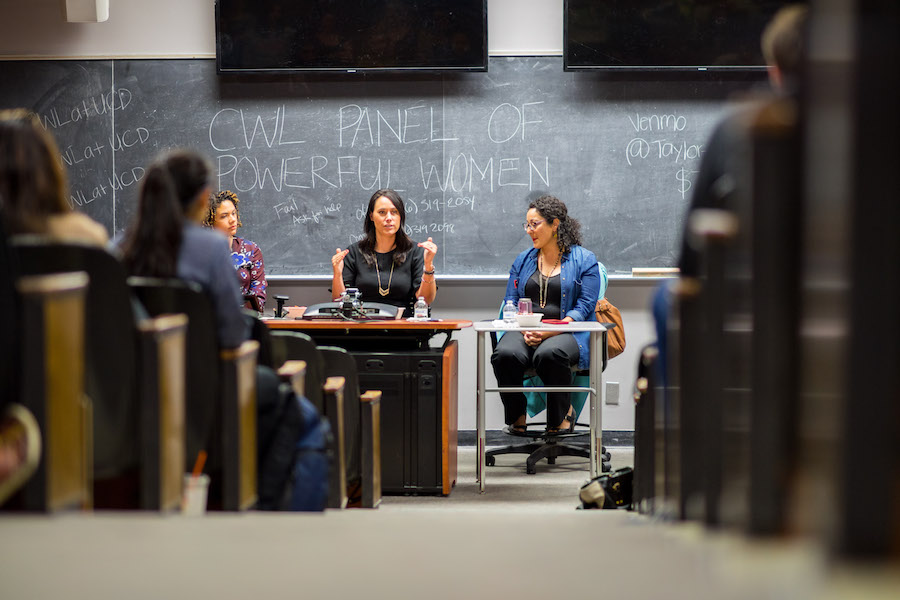 Event provides insight from professionals in racial justice advocacy, nonprofit work, state government
The Panel of Powerful Women event, a three person panel discussion, was hosted by the UC Davis chapter of California Women's List (CWL) on April 26.
The panel consisted of Assemblymember Cristina Garcia (D-58), the director of public affairs for Planned Parenthood Cheri Greven and the diversity and inclusion director for The Greenlining Institute Danielle Beavers.
Briana Mullen, an official CWL representative, moderated the panel. Discussion topics included concerns about entering careers in politics and advocacy, involvement in local politics, the importance of mentorship and how to navigate as a female in male dominated fields.
Greven addressed the issue of the lack of diversity in government offices such as congressional staff.
"[When] we are lacking diversity, we need to be thinking about how we can do a better job of not just having women's voices at the table but our LGBTQ and different faith community leaders also need to be involved," Greven said.
The discussion expanded toward policies affecting employees from marginalized communities.
Greven explained how members of Congress have autonomy when deciding policies such as parental leave or establishing laws about parental leave at a federal level.
She further expanded on how autonomy has been problematic in the past as certain congresspeople, including progressive ones, have implemented parental leave policies with miniscule benefits which have affected women employees as they entered motherhood and even a legislative director of a congressional office, a gay male, as they adopted children.
"It was speaking up and having more voices is what was effective in getting those policies changed," Greven said.
Garcia echoed the same notion with regard to actively speaking up about unjust issues.
"Sometimes you're going to be the only one in the room speaking and you're not going to have that support system […] but you have to have the courage to keep speaking," Garcia said.
In her continuous efforts to address issues surrounding gender inequity, Garcia, in collaboration with Assemblymember Lorena Gonzalez Fletcher (D-80), has authored Assembly Bill 479, the "Common Cents Tax Reform Act," in order to end the tax on diapers and female menstruation products and to recognize them as health necessities.
According to Garcia, eliminating the "tampon tax" would result in governments having a gender neutral tax code, since this is the only gender specific item that is taxed. Garcia claimed that the financial impact would be less than one one-hundredth of a percent of the state budget.
"This speaks to what our values are, do we value women's health," Garcia said. "I have talked to 300 women in my district […] that can't afford hygiene products because they have to feed their family."
Although the bill was a unanimous bipartisan bill, Governor Jerry Brown vetoed Garcia's bill because of the financial impact it would have.
Next, Mullen asked the panelists about navigating male-dominated spaces when young women are entering professional fields and how to find mentors among teachers and peers.
"Connect with others with whatever facet of their identity, be vulnerable and learn from each other," Beaver said.
Greven agreed that mentors can be found not only in professionals but also classmates and peers.
"Why reinvent the when you know there is people around you that have done amazing things," Greven said. "Ask them how they did it, lean on your mentor […] they can be someone you're in a club with, or play sports with and people you feel comfortable connecting with, a mentor shouldn't judge you."
Students in the audience asked about getting involved in local politics as university students.
"I recommend volunteering in a campaign," Garcia said. "Even if you never go back to campaigns it's important to see what that's like or volunteer at the office of an elected official, there are non-profit […] it's important to do what do you like […] first you have to identify what it is that you're passionate about so that you can deal with the part [that is] tedious but [recognize] this is something that's important so I'm gonna do it anyway."
Greven also stressed the valuable experience that can be gained from campaign involvement.
"[In campaigns] you learn how to work collaboratively with people, how to meet really tight deadlines, how to adjust your priorities on a whim […] meanwhile you get to learn about serious grassroots advocacy and how to mobilize people around an issue or candidate [so] that is definitely a great way to get your feet wet in political advocacy and we are in good time [because] congressional races are every two years," Greven said.
As a California-wide political action committee, CWL aims to bridge the gender gap in political office positions and elect Democratic pro-choice women to office.
Michaela Worona, a third-year political science and women, gender and sexuality studies double major and president of the Davis Chapter of CWL, expressed her goals for establishing the club.
"[In] our chapter at UC Davis we have been focusing a lot on increasing political literacy on campus […] we focus on voter registration and getting people out to campaign for state senate [through] fundraising and phone banking and [giving] candidates financial support," Worona said.
Worona continued on to explain more goals that she has for the club.
"We also like to take advantage of the unique position that we're in, in that we're not just a student club, we're an extension of a bigger organization that operates with a lot of professional and political organization," Worona said. "One big goal of ours is to show people the importance of state politics [because] I think sometimes federal politics takes precedence in people's minds, but really state and local politics affect our lives more than national laws do."
Written by: Kimia Akbari — campus@theaggie.org