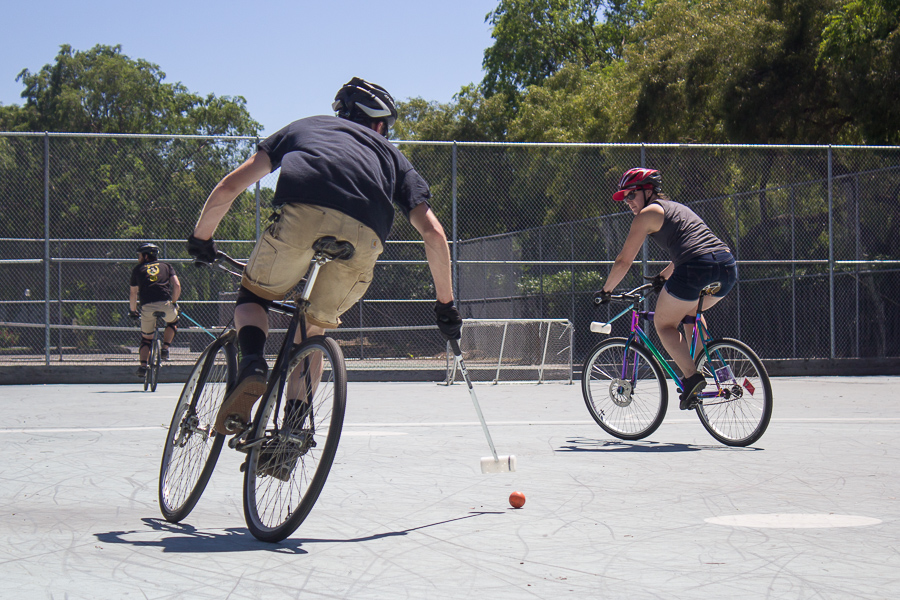 Only fitting for a city known for its bikes
West Manor Park not only serves as the Bike Polo Club's home, but also brings the community together through encouragement and friendly competition. This local co-ed club takes the concept of horse polo or hockey and makes it far more interesting — by playing on bicycles.
Although the concept of bike polo has been redeveloped throughout history, it was not until the 2000s that its roots were established in Seattle out of the bike messenger scene. This cycling sport continues to represent a new era of communities coming together as a way for people of all ages and backgrounds to have a good time.
However, regardless of its growing worldwide popularity over the years, clubs similar to Davis' continue to have difficulty in terms of gaining recognition.
The City of Davis may be known as the bike capital of the world, but its fails to provide its community with appropriate playing spaces. On the other hand, the team's commitment and love for the sport successfully allows for gradual growth through inclusivity and determination.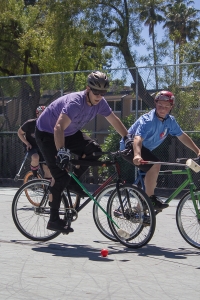 "My role is to help our club grow, recruit players and provide a healthy, safe and friendly environment for people to come together and play a fun sport," said Jennifer Kutzleb, a UC Davis graduate student and the club's representative, via email. "We are dedicated to being a safe space for women and other minority groups to feel welcome and safe to play."
The club members' belief that sports should be for anyone and everyone helps it to succeed and grow, as players develop new skills, meet new people and become a part of a dynamic family.
"As a club we are very positive and encouraging to all members," said Jennifer TyreeHageman, a UC Davis graduate student and member of the team, via email. "Rather than having a competitive environment, our club really supports each member (and new attendees) to grow and improve as a player. [Bike Polo is] a really good outlet to decompress after dissertating all week."
The team's overall support for each other and their undying love for the game is what Bike Polo is all about.
Able Kutzleb founded the Davis club in 2011 after stumbling across the sport when buying bike parts. He quickly became interested and decided to try it out with some friends.
"It was so much fun we just couldn't stop," Kutzleb said.
As for tournaments, the club as a whole agrees it is a learning experience as everyone works together to bring something they love and believe in to life.
"Polo is a fun sport, but when you have a dream in a cooperative community, it takes a lot of good, hard work from the whole crew to make things happen," said Aidan Gilhooly-Gage, a member of the club and a mechanic at B&L Bike Shop in downtown Davis, via email. "A cooperative community where love, friendship and the mutual enthusiasm for bikes take the reigns […] and anyone could see it as positive environment."
The Bike Polo Club is a true embodiment of the the cliche phrase that there is no 'I' in team. The club meets at West Manor Park every Sunday starting at 12 p.m. and Wednesdays at 5 p.m. until dark. Find more information about the club and players' profiles on its website and Facebook page.

Written by: Ray Ruano — city@theaggie.org