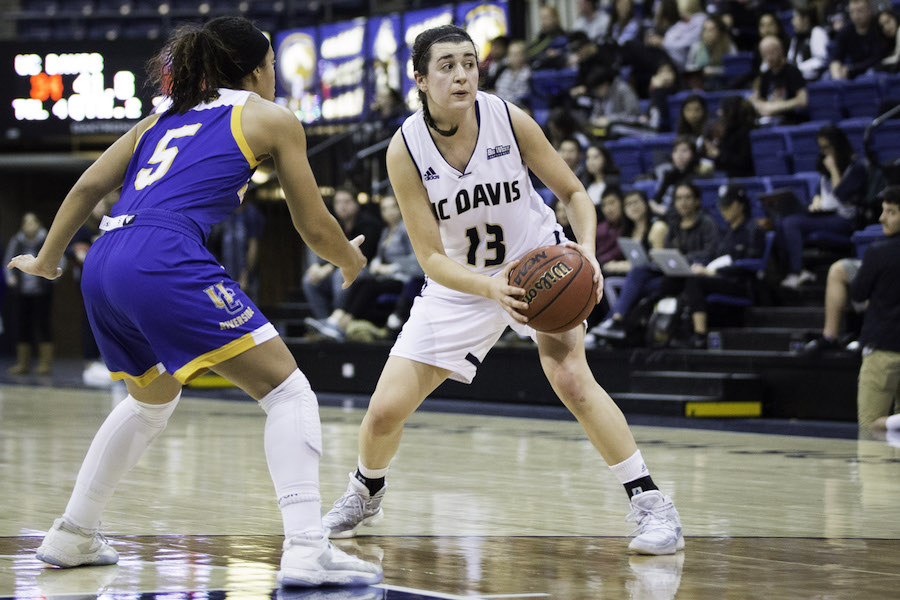 Aggies finish season off strong in Round 3 of Women's National Invitation Tournament
Just a month removed from its 2016-17 season, the UC Davis women's basketball team is already looking forward to the next one. After a brief, four-week hiatus from basketball activities, the athletes are back in the gym.
Since their Round 3 finish in the Women's National Invitation Tournament, the Aggies received recognition from professional sports teams like the Sacramento Kings and Rivercats, the California State Assembly and the Chancellor's dinner. Now, it's time to reflect upon the Aggies' year as they ease into the offseason.
Players like junior guard Rachel Nagel and junior forward Dani Nafekh are doing their best to simultaneously wind down from a long season while still working toward future competitions. As both entered their final years in Aggie uniforms, the grit and grind of the basketball season is nothing new to either of these players.
"We go the whole school year, minus the break we have for about a month," Nafekh said. "You're free for Summer Session I, and then we come back for Summer Session II and train."
The proper balance of relaxation and training is important in preparation for the upcoming year. Working too hard right off the bat will do no good. It is up to the players to know their limits and listen to their coaches and trainers in the offseason.
"We're still recovering from a really long season, and it's not going to be like, 'Think about the season right now and getting a championship!,'" Nagel said. "It's more [about] individual improvements and everyone focusing on one skill that they would like to master. Stuff like that."
It is at that time that the team gets to meet any incoming players, typically freshman, and let them ease into their roles as both students and team members. With only one senior leaving this year, forward Lauren Beyer, the team will go into the 2017-18 season looking largely similar to the one that played last year, save for the incoming players.
Building off such a successful year, this should bode well for the basketball team, as many of the values that head coach Jennifer Gross has instilled into the team should only improve with another year under the athletes' belts.
"We really bought into what the coaches were saying and we need to work hard every day," Nafekh said. "That's what's going to get us to the end."
This also means that juniors such as Nafekh and Nagel already feel like their roles as leaders are strong and can only get better with one more year. As seniors, their goal will be to help their team not only for next year, but for years to follow.
"I feel like we had to experience some types of leadership this past year," Nagel said. "Obviously it will be different being an official senior. A lot more responsibility and teaching the freshmen things."
Both Nagel and Nafekh agree that it is best to go in with a clear mind, body and spirit before going hard at next year's goals. The team begins their full-roster practices during the school's second Summer Session, and the intensity picks up even more so in fall when full practice begins.
Until then, the players are doing what they can to prepare for the next season — the final season for both Nafekh and Nagel.
"I'm honestly trying not to think about it right now," Nafekh. "I can't believe it. I don't want to think about it. I'm not ready to leave. So, right now I'm just trying [to] enjoy the time."
The basketball team will continue its light work for the remainder of the quarter, as the Aggies get a much-deserved break before starting the process all over again.
Written by: Bradley Geiser — sports@theaggie.org