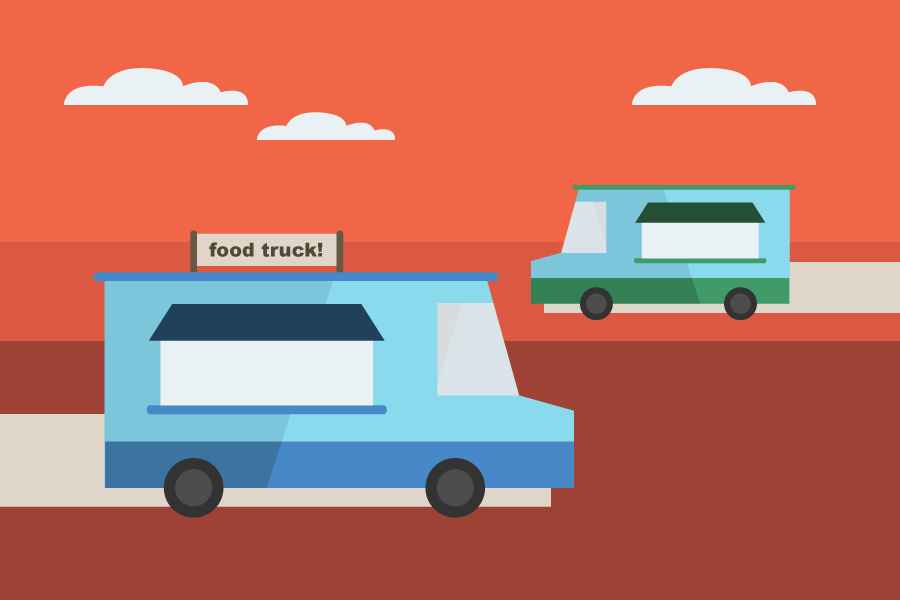 Spoon University to hold first food truck extravaganza on May 18
Spoon University at UCD, co-hosted by SactoMoFo, presents Food Truck Mania — an on-campus food truck extravaganza. This event consists of food trucks like Bacon Mania, Wandering Boba, Hefty Gyros, Cowtown Creamery and others. In addition to a DJ, expect a relaxed atmosphere that's perfect for sitting back and enjoying an endless supply of food.
Spoon University is an online international food publication with over 200 chapters at schools worldwide. At the Davis chapter, they write articles about anything and everything related to food. They also have a photography team, video team and marketing team.
Alyssa Wang, a fourth-year computer science and psychology double major, is the head of the marketing team for Spoon University at Davis. They invited 10 food trucks to come to the Quad.
"The food trucks are from the Sacramento area and a lot of them were here for Picnic Day," Wang said.
The club started back in fall of 2015 with no money and no name on campus. They have been fundraising furiously to make this event happen — something that, to them, initially felt impossible.
"We have been trying to plan this event for over a year because this school has a lot of regulations, and each permit for the truck is $500, which was an obstacle we couldn't overcome for a little while because we were just starting out as a club and didn't have the money," Wang said. "So we decided to partner with the food truck management company SactoMoFo."
SactoMoFo is already contracted with the school, making it easier to get the trucks to campus.
Joyce Luk, a third-year communication major and member of Spoon University's marketing team, is in charge of planning and promoting the organization's events on social media.
"Our job is to make sure everything is spread out on social media and it's doing a lot better than we thought it would," Luk said. "About 1400 people have RSVP'd that they are going and the food truck company was scared they wouldn't have enough food for all the people and would have to get more trucks."
The trucks will be on the streets adjacent to the Quad closest to Wellman and Dutton Hall.
Nadia Doris, a third-year nutrition science major, is the photography director for the club.
"I'm excited to see the unique style each food truck brings to the event," Doris said. "Each one seems to have its own story and personality so it'll be cool to see them all come together."
The event will be held on Thursday, May 18, from 5 to 9 p.m. on the Quad. Admission is free, but make sure to bring money to buy food from the trucks. For more information, please visit the Facebook event.
Written by: CaraJoy Kleinrock — arts@theaggie.org