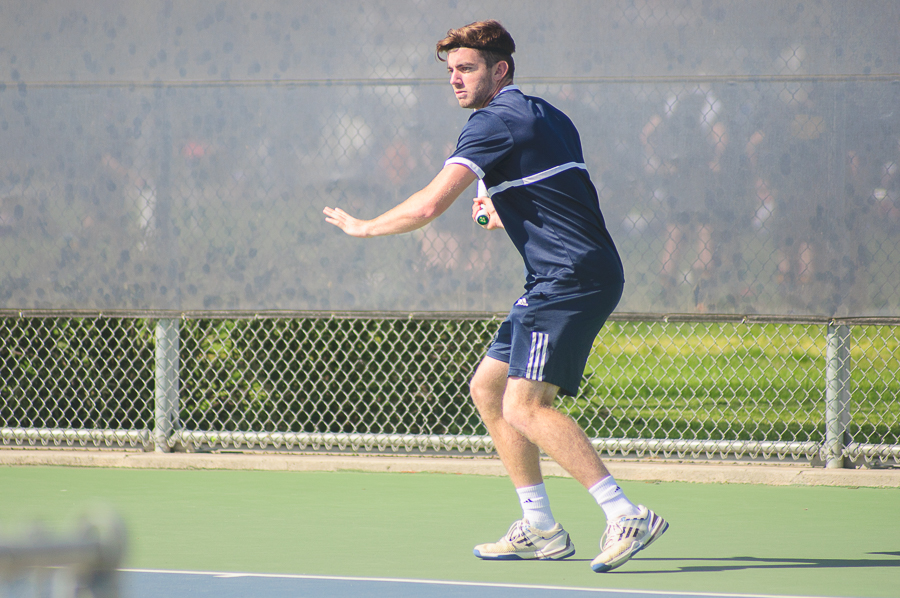 A look back at the 2016-17 UC Davis men's tennis season
The UC Davis men's tennis team concluded its 2016-2017 season on Friday, April 29. The Aggies finished another successful season under head coach Eric Steidlmayer.
"We had a good year," said senior Alec Adamson. "We finished second in conference regular season and we had some good wins over teams we'd never beaten before like [UC] San Diego, San Diego State and Fresno State."
The Aggies finished with a 14-7 regular season record and a 4-1 record in Big West play. Despite the regular season success, the Aggies' season abruptly ended in the Big West tournament semifinals with their eighth and final loss of the season against a nationally-ranked Cal Poly team.
The Aggies posted a series of big victories over the regular season, beginning with a 4-3 comeback win over UC San Diego, Steidlmayer's alma mater, in February.
"We were down in the doubles point, then we came back and [freshman] Max [Pham] and I clinched it in doubles," Adamson said. "We came [all the way] back and won 4-3. That was a pretty good win."
Fast forward to the beginning of Big West conference play in March; the UC Davis men's tennis team opened against Cal Poly, which began to take on a nemesis role after ousting UC Davis in last year's Big West Tournament semifinals. The Aggies set the tone for this year's regular season conference matches with a gutsy 4-3 win over the Mustangs behind the strong play of Adamson, junior Everett Maltby, senior Bryce McKelvie and senior Eli Whittle.
Unfortunately, the regular season success didn't quite transfer over to the Big West Tournament, as the Mustangs posted a 4-2 victory to oust the Aggies for the second straight year.
"They have a lot of talented guys on their team and they're known for being a pretty rowdy group," Maltby said. "They've proven to play pretty solid in the tough moments as it gets closer to the end of the year."
With the exception of Maltby, the Aggies were a senior-laden squad led by Adamson, McKelvie and James Wade.
"We had five seniors this year, most of them playing in the starting lineup," Adamson said. "We had a lot of experience."
Wade and McKelvie combined to form a potent doubles duo that led the Aggies doubles teams with 16 wins. They finished out their careers as number one and two respectively on the career wins list in UC Davis men's tennis history.
"Bryce and James have had a lot of big clutch wins over the last four years, they've held down their spots really well," Adamson said. "They're great guys, they work hard in practice and they're really good competitors."
Adamson is no slouch either. One of the most decorated UC Davis men's tennis players ever, he was honored as the 2015-2016 Big West Player of the Year and earned a trip to the NCAA Regionals. This year, he finished with his fourth straight first team all-conference honors in both singles and doubles play.
The seniors' success is a testament to Steidlmayer's work. He arrived in 2012 and his swift turnaround of the UC Davis men's tennis program has been a joint effort between his senior recruits and his coaching staff.
"He's taken the program a long ways," Maltby said. "We've now beaten teams that we weren't even contending with a few years ago."
With half the team graduating, the Aggies will need players to step up next year. As one of the team's two soon-to-be seniors, the other being current junior Tommy Lam, Maltby feels as though he can help fill the void.
"I want to be able to lead the team next year," Maltby said. "We're going to be a pretty young team, so I want [Lam and I] to take charge and get us to where we want to be, which is winning that tournament next year."
While it may be the end of a UC Davis men's tennis era, a strong freshman recruiting class is hungry for its shot in the spotlight. If Aggie fans need any indication as to the direction of the program, it was announced on the morning of May 4 that freshman David Goulak was honored as the first ever UC Davis men's tennis Big West Freshman of the Year.
Written by: Rowan O'Connell-Gates — sports@theaggie.org