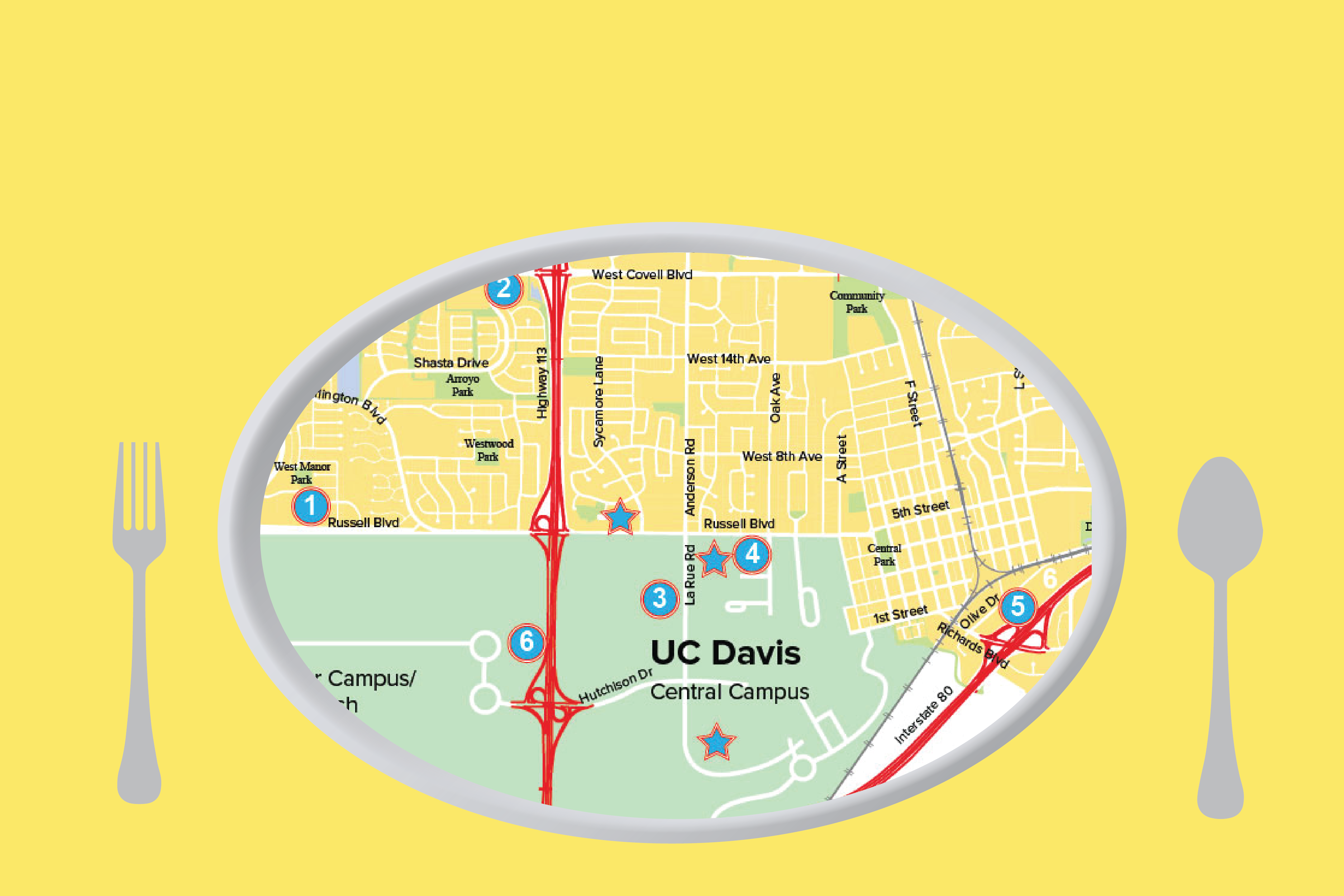 Dining Commons leads in sourcing food from local, organic, student-run farms
Ranking 18th on the The Daily Meal's Best Colleges for Food List, UC Davis goes above and beyond to provide students with tasty, sustainable meals through its Dining Commons (DCs). Davis' DCs exceed the UC Sustainability Policy goals for all UCs, but where does this seemingly limitless buffet of food come from, and what exactly does sustainability in food service mean?
UC Davis' Sustainability and Education Program, partnering with other student-led groups, informs DC patrons of the sustainable background behind meals on campus. A recent bulletin board of such information intrigued Justin Zhao, a first-year managerial economics major who eats at the DC daily.
"[The program] gives you information on […] the process of how this food is made," Zhao said. "You could eat unlimited food for this price so that's why it's interesting. How is it that I can swipe [in] once and then get 18 steaks?"
A complex chain of production lies behind every plate served in the DCs, and UC Davis Dining Services tries to make every step in this process eco-friendly. The DCs' advocacy of energy and water conservation, pollution prevention, solid waste reduction, green building and incentives for emission-reducing employee commutes certify it as a Sacramento Area Sustainable Business.
"About 50 percent of our produce is sustainable, meaning either local or organic," said Kiko Barr, the sustainability and education coordinator for UC Davis Dining Services. "We have a produce distributor and a lot of our local produce comes through them. They tell us what's local and what's available."
Ordering ingredients from sustainable farms accounts for a large reduction in UC Davis' environmental impact, as the university uses produce from environmentally-friendly farms instead of industrial farms that rely on harmful practices, such as the use of fossil fuels and pesticides. With 50 percent of produce coming from sustainable sources, UC Davis is ahead of the UC Sustainability Policy goal of having 20 percent of produce in all UCs from sustainable sources by 2020 and has increased this amount of produce in the past year by 23 percent.
Many of these green initiatives are driven by UC Davis' thriving community of environmentally-concerned students, some of whom are members of UC Davis' chapter of the Real Food Challenge. This national network of student food activists has successfully lobbied UC Davis' Dining Services to partially shift away from industrial farms and junk food toward "local and community-based, fair, ecologically sound and humane food sources."
The selection of ingredients used in the DC depends on guidelines like those adopted from the Real Food Challenge in addition to guidelines such as seasonal availability, pricing and taste profiles offered by UC Davis' food distributor, Fresh Plate.
However, special partnerships with select farms expand the array of ingredients DC chefs can consider using for their recipes. Rue & Forsman Ranch, an organic rice farm that has been owned by three generations of UC Davis graduates, provides all of the DCs' white and brown rice. Michael Bosworth, the latest owner, was an agricultural and resources economics masters student.
"[Bosworth] was a UC Davis graduate and is really passionate about organic rice and creating a habitat for wildlife, especially birds that need places to stay during their migration," Barr said. "California used to have a lot more wetlands and because they're disappearing, rice fields have taken [place] of that. A lot of migratory birds go north and they need resting places and places to get food."
Other student-led efforts promote campus-based food sources, such as Aggie Grown, an award-winning student group that works directly with DC chefs to order ingredients from the university's resources.The Meat Lab, run by the Animal Science Department, offers students hands-on opportunities in the animal and meat industry. The Olive Center, originally a creative solution to reduce the olives that would cause hazards on bike paths when they ripened and dropped, is now a world-renowned leader of research in the olive industry. Russell Ranch is a 300-acre facility that is part of UC Davis' Agricultural Sustainability Institute and partners with the university to perform agricultural research and provide field trips and internships for students.
The Student Farm's organic Market Garden, a production field on campus established in 2011, is staffed by a community of 40 to 60 students who work there daily to provide produce for the DCs.  
"[The garden] was created as an alternative agriculture space by a group of grad students who didn't like all of the conventional agricultural research that was going on around Davis," said Lexi Fujii, a fourth-year sustainable agriculture and food systems major and Student Farm community events organizer. "They really wanted a space to try alternative farming, which is really just a lot of organic farming methods."
The growth of the Student Farm's production has been rapid. Composed of only seven acres of land, it now grows about 3.8 percent of all of the DC's produce compared to only one percent last year. In spring 2016 alone, the Student Farm sold the Dining Commons 970 pounds of cabbage, 407 pounds of beets and 270 pounds of potatoes, and it is continually expanding production.
Despite these staggering quantities, the order and delivery process is simple and streamlined.
"We order from our student farm on Google Sheets, they pick it, and our students pick it up and deliver it," Barr said. "Sometimes it'll be [harvested] the day of […] and then it's served."
Close proximity of ingredient sources enable consistently fresh food shipments arriving  two to three times per week. To many UC Davis students, these sustainable food practices are a no-brainer, but finding out how food gets from the farm to the DC plates can enlighten even the most frequent of DC visitors.
"Maximize the location [by sourcing locally] for good food," Zhao said.  "I like it. It saves money, and it's fresher."
Written by: Kristen Leung — features@theaggie.org