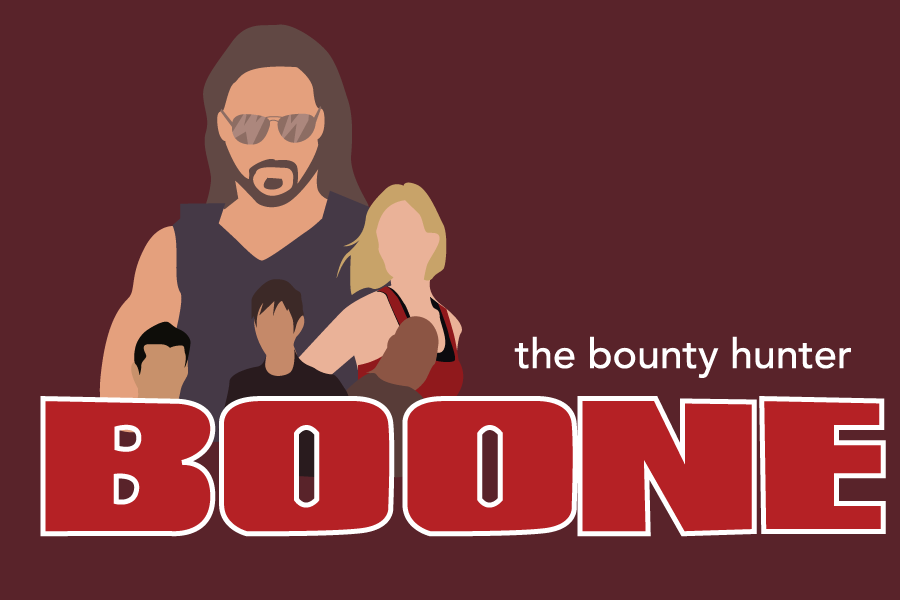 John Hennigan visits his alma mater — from kung fu films in the arboretum to pro-wrestling
For 2002 Davis alumnus and World Wrestling Entertainment (WWE) superstar John Hennigan, "dream big" is more than a figure of speech. The pro-wrestler-turned-actor grew up on action films like Big Trouble in Little China, Lethal Weapon and Rush Hour — until he made one of his own. On Monday, May 8, Hennigan hosted a pre-screening for his newest film, Boone: The Bounty Hunter, to an eager audience of students and fans.
"This [movie] specifically is what I wanted to do," Hennigan said. "This is what I dreamed of. This is what I started when I was in Davis, doing my little kung fu movies in the Arboretum. That's why I was excited to come back here to do the screening."
The pre-screening was nostalgic for Hennigan; in that same lecture hall he completed the chemistry and calculus series as he pursued a major in geology years back. Halfway through his second year, however, Hennigan switched to an individualized major, film aesthetics and culture, to pursue the "big dreams" his favorite childhood films had inspired.
When applying to colleges, Hennigan chose UC Davis because, at the time, it was the only UC with a wrestling team. And, as with his other aspirations, he succeeded — until injuries altered his path.
"I was captain on my high school wrestling team," Hennigan said. "I wrestled all four years. So when I finished high school I really identified myself with wrestling, as 'the wrestling guy.' And I wanted to go somewhere where I could continue to wrestle. I got here and I only wrestled for one year, and hurt both my knees, and for some reason it was just enough to bump me off that track."
Hennigan remained involved in on-campus activities, specifically a mix of athletics and performance-based art that would later become his career.
"When I was here, I spent six hours a day at the rec hall," Hennigan said. "I would go from the gym, to gymnastics, to kung fu on Tuesdays and Thursdays, to breakdancing Mondays and Wednesdays — I spent all my time there."
It didn't take long after graduation — in fact, not even 24 hours — for Hennigan's dreams to become an immediate reality. During his senior year, Hennigan submitted a tape to participate in the MTV series Tough Enough.
"I saw [the show] and I was like, 'I want to do that. I grew up on pro wrestling and action movies,'" Hennigan said. "So I submitted a tape for season two, and almost made it, but didn't. And then for season three, I re-submitted, and it was crazy timing: I submitted a month before graduation, and they let me know the day after I walked […] I ended up making it on the show — and then winning the show."
From there, Hennigan's career became a whirlwind of wrestling and television and chaos. The season winner of Tough Enough is granted a WWE contract, and Hennigan remained a wrestler with the organization until 2011.
"So it's like as soon as I graduated, I did the show, and then four months later, I packed up my car and drove to Louisville and lived there for four years," Hennigan said. "I learned how to become a pro wrestler, and I started on SmackDown in 2005, and I guess I had a career as a pro wrestler. As soon as I left here it was like, I'm a pro wrestler now."
In 2011, Hennigan denied the renewal of a 5-year contract with WWE. The rigorous schedule of a pro wrestler infringed on Hennigan's ability to work as an artist; it lacked, according to Hennigan, "creativity autonomy."
It was this transition that inspired the creation of the film he helped write and produce. Boone: The Bounty Hunter is an epic, action-packed film with all the obligatory one-liners and bad puns required of an action movie. The main character, Boone (played by Hennigan), is a charismatic bounty hunter with his own TV show. In an attempt to save their dying show, Boone and his crew travel to Mexico to catch the ultimate criminal, hoping to save their low ratings.
"I made this movie because I grew up on action movies," Hennigan said. "I wanted to make the kind of movie I would have loved as a kid. And I think I've got a reputation in pro wrestling for really hard-hitting, acrobatic, high-risk moves. So if you're a fan of the stuff I do in the wrestling ring — if you think that's crazy — then I really took it to the next level in this […] But it wasn't just a showcase for action. I took a lot of care with the story. I wanted this to be a story about a guy who took an arc, and that has a change of heart in the middle of this movie."
As the loveable, bounty-hunting wrestler, Boone is in many ways a product of Hennigan's experience. From making risky career decisions to performing wild stunts (including a scene in which Hennigan speed-races a children's bicycle, as only a Davis alumnus could) — the film is a simplified version of Hennigan's complex journey.
"Most people that I know, they grow up, and they get a degree, and they have a career," Hennigan said. "For some reason, I felt like I wanted to be an Olympic wrestler, and that didn't work. And then I wanted to make films, and then I got an opportunity to be pro-wrestler, which was the dream I had when I was 6 years old — and I thought was impossible until it actually happened. Davis made me feel like whatever I wanted, I could do."
Written by: Ally Overbay — arts@theaggie.org