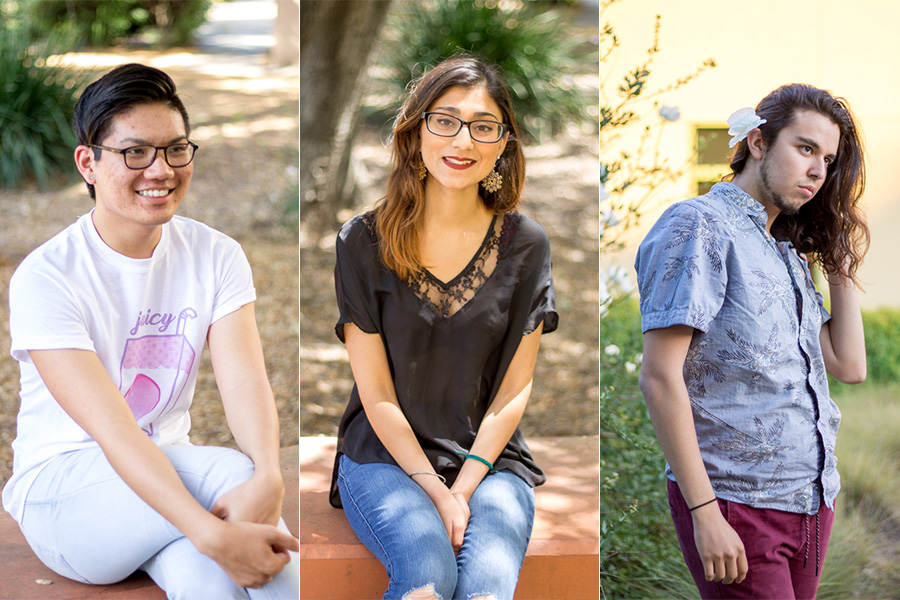 Activism in LGBTQIA community uplifts others
May is Pride Month at UC Davis — a month during which members of the LGBTQIA community can celebrate and heal through a variety of workshops hosted by the LGBTQIA Resource Center and other collaborators. The Aggie interviewed queer activists on campus to find out what inspires them and how they got involved in advocacy.
Austin Tarumoto is a third-year global disease biology major and co-president of Asian Pacific Islander Queers (APIQ).
What activism have you done in the queer community?
My first year, I was a part of this queer organization and it just felt like my culture identity as a Filipinx Japanese person wasn't acknowledged, so I found the Asian Pacific Islander Queers (APIQ) my second year and got more involved with that, and so that's where I found a lot community and that's where I felt uplifted as a queer Asian person. This year, I am the co-president for APIQ and I've been doing work to further community and better support the community with the recent political climate — just hosting processing and healing spaces and trying to figure out ways I can engage in community care because I feel like that's a really powerful thing to do.
Another way is me and my co-president advocated for a seat on the Asian Pacific Islander Retention committee, specifically centering the experiences of queer API folks at this university and what a retention initiative would look like that involves and includes queer people.
We are also a part of SEA leaders, Southeast Asian Leaders, so being allies to the Southeast Asian community and also having straight allies within the Southeast Asian community to support us as well and building those connections with them is really cool.
I'm also a peer educator at the Cross Cultural Center through peer education and community empowerment (PEACE) and it's not necessarily a solely queer job, but I find ways to incorporate my queerness in the ways I do my education work, and how I can use my own experiences as learning goals but not necessarily exploit my own traumas as a learning objective.
Any favorite queer artists?
The first person that comes to mind is Jade Phoenix Martinez, she's a trans femme poet, activist and educator she's really amazing and I saw her the first time last year at the trans people of color conference and then she kept coming back to UC Davis for different events. It's really great to see her because I feel really affirmed by her words, especially for me identifying as genderqueer and seeing representation out there and being really successful, I feel really inspired by that. And just my co-workers, I have a lot of really dope co-workers here that are artists, some of the people that are on the APIQ board with me they just make this beautiful art and they retain me.
What does your queer trans people of color (QTPOC) family look like?
For me, it's how much support there is in the community. It's not one-sided — we all have things we can give to the community and we all have things we can receive from the community and we help each other grow, whether that be through education, whether that be through helping [each other] cope with our own traumas or caring for one another, or just gossiping […] it's definitely what makes it a family. But there's more to it, there's just this feeling of home and a feeling of acceptance. To speak for me personally, having pretty religious parents, it's hard being a queer child so being in that community has been really affirming.
Carlos Leal is a third-year human development and Spanish double major. He has been involved in QTPOC activism throughout his time at Davis and recently has enjoyed performing in drag.
How has the queer community supported and uplifted you?
The queer community has been really powerful for me in a lot of ways. I think that even dating back to my first year I lived in the rainbow dorms, the LGBTQIA friendly dorms, and that was really the first start of my activism journey. I come from Woodland and it's only ten minutes away but it really is a lot different, I was bullied all through school and didn't always feel like it was the safest place and it wasn't. I didn't know that just 10 minutes down the road I would find a community, and a solace and begin my own journey of self-love and appreciation. I've been uplifted through people I've met in the different resource centers, like LGBTQIA Resource Center, the Cross Cultural Center and the AB540 and Undocumented Center and I feel like it's been really great to have those connections and friends and especially my queer and trans friends of color, you know QTPOC fam.
What has activism looked like for you in the queer community?
I think a lot of the activism I've done in Davis has been undoing the damage that was done on me growing up and helping other people undo some of that damage. Specifically in terms of machismo and the patriarchy informed the way I saw myself. I never felt adequate enough trying to reach these socially-constructed gender norms. I think that through learning and continually unlearning those damaging narratives of gender it's allowed me to support other folks who also have dealt with some of that homophobia and queerphobia and that hatred towards femme folks and really support my feminist expression as well. I've been able to explore drag and I've been able to explore voguing and different forms of dance that have history and ties back to QTPOC as means of survival, and a means of expression and it has been really powerful for me to do that. Even two years ago I never thought that I would be able explore drag comfortably and now I want to continue to do it. I want to show other folks that femme expression is beautiful and powerful.
What queer artists do you recommend?
Well of course Rupaul's Drag Race. I think it's important for queer trans folks of any age see themselves represented in the media especially QT folks of color. This season there's a Latinx queen, Valentina, and she's been really great and it's been so amazing to see her be so proud of her Latina heritage and I think it's important for young brown folks to see that people from these communities who are often marginalized and oppressed can express themselves [in ways] that don't align with machismo or whatever they were socialized with, they can be free from that.
What have you learned from the queer community?
Something I've learned in college is that I have to be unapologetic. There's a need to be unapologetic and limitless in everything you do. If I could look back on my first year, as much as it was so nice being a part of the rainbow dorms I still felt so lost. It takes time to find your niche and don't give up because the struggle is always going to be real. I'm still figuring everything out but it's always a continuing journey and you grow in some ways and you don't in others and that's ok because you can grow in that area tomorrow. I have to be patient with myself and remind myself it's ok to not progress in something right away.
Written by: Abigail Wang — arts@theaggie.org