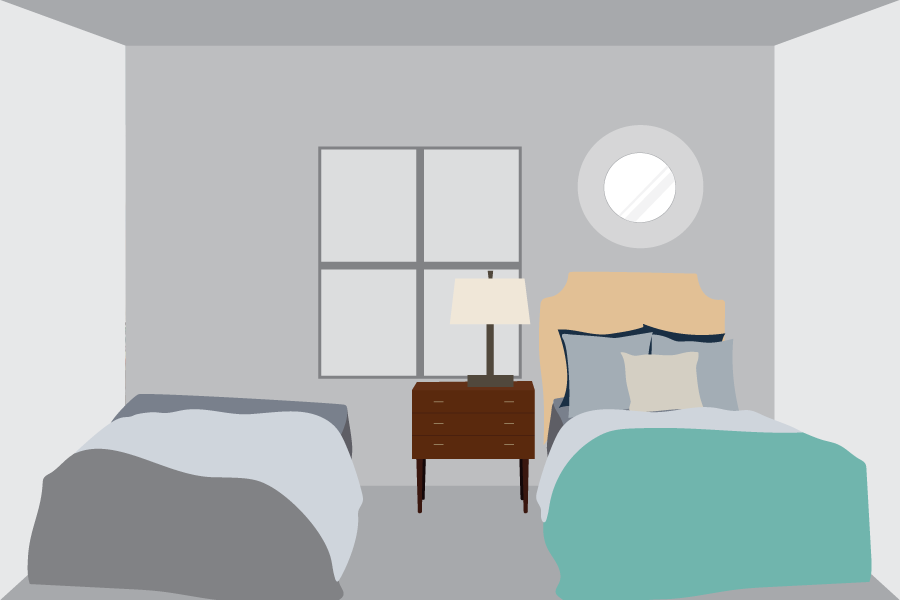 Students share tales of college roommate experiences
For many, the world of college brings to light a plethora of new experiences — classes that start in the afternoon, freedom from parents and, of course, dealing with roommates. While some students end up with the best-friend-and-roommate package deal, not everyone gets that lucky. In fact, many UC Davis students have cringe-worthy tales of their past roommates.
Sarah, a third-year global disease biology major, experienced a bad roommate during her second year at UC Davis when she moved into an apartment with her roommate from orientation.
"We ate lunch every day together freshman year," Sarah said. "She was cool, everything was fine. When we moved in together, […] she wanted to do everything with me. She just started getting super controlling. She always wanted to know what I was doing and where I was going, like [an] 'I need to keep tabs on you' kind of a thing."
The pressure of always having to tell someone where she was caused Sarah to start withholding the truth about her day-to-day activities.
"I would go on a date and then lie about it, […] or she'd want to come with me," Sarah said. "Having someone always need[ing] to know where you're going is really stressful. It's like parents on steroids. [It was] turning into a stalker kind of thing, [and] it was never coming from a place of kindness, it was coming from a place of, 'you can't leave without me knowing.'"
Among other things, Sarah said that her roommate thought of herself as "the best cook in the world," yet repeatedly burned things, and also "would get up and stare at [Sarah] while [she] was sleeping."
Similar to Sarah, Kat, a first-year marine and coastal science major, experienced a particularly unsavory living situation earlier this year.
"[My suitemate] would keep a really weird schedule," Kat said. "She would have this alarm that went off at 4 or 5 in the morning, and it was 'Rockstar' by Nickelback, and it was really loud. She would wake up to go watch Gossip Girl really loud in the common room. We would ask her to put in headphones and she'd immediately not do it."
Kat also discovered that her suitemate's hygienic habits were problematic for sharing a living space.
"[One time] she just […] puked and left it overnight and didn't really clean it up," Kat said.
According to Kat, the final straw was when her suitemate got a concussion and began staying in the common room permanently.
"She just used it as an excuse to be completely outrageous," Kat said. "She just stayed on the couch in the common room and watched Gossip Girl."
After this incident, Kat and her other suitemates moved out of the suite into other living arrangements, leaving their suitemate to live alone.
While the experiences of Sarah and Kat went on throughout the year, second-year environmental science major Casey told the story of a single event that changed his apartment dynamic entirely. His roommate studied abroad Fall Quarter and found a subletter to live with Casey in the meantime. One Saturday evening the subletter returned home from a Model United Nations social "very drunk."
"I was on my phone in a chair [and] he immediately sat on my lap," Casey said. "He started touching my shoulders […] to my back, getting lower, and I was like, 'Okay, […] he's drunk, this is fine, nothing weird about this.' And then […] his head was getting closer to my ear, [and] he started complimenting me, not in directly sexual ways, but just like […] along those lines. He started to almost kiss my neck."
According to Casey, he and the subletter had previously had open conversations about his bisexual identity. Casey had also explicitly stated that he had a girlfriend, with whom he was exclusive, and that he identified as heterosexual.
"I was starting to feel uncomfortable," Casey said. "I was like, 'stop, I don't like this.' I kept saying no. He continued to feel my back intermittently, as he started to come closer to my waist and then my butt. That's where I actually got him and lifted him off of me."
Upon pushing him away, Casey got up and went to the sink, where he began washing dishes to clear his head from what had just happened. The subletter, however, followed Casey to the sink and continued to touch him.
"I think he thought [I] was […] trying to play hard to get," Casey said. "He came down really quickly and grabbed both my ass cheeks. I turned around and […] pushed him back and […] grabbed both of his wrists. I got in his face and immediately said, 'Stop this shit, I don't want this.' That's when he started to […] understand that I was not into this. He started to mellow out."
After the incident, the subletter spent a few nights elsewhere, until eventually Casey confronted him and made clear his discomfort with the situation. Casey never harbored any grudges and they are still on speaking terms today, but Casey acknowledged that such an experience had the potential to go in a dangerous direction.
"I realized if I was in a situation where I wasn't physically capable of pushing him back or grabbing him by his wrists, […] this could have been a lot different," Casey said. "He was very aggressive, and [with] somebody that's not physically confident or even confident with words, I could see this happening a lot. That's why I'm [sharing this story] here today, […] so that this hopefully gives somebody [in a similar situation] confidence."
Despite the extreme situations of Casey, Kat and Sarah, the roommate horror stories of many others are yet to be told. While some make for light, college-humor anecdotes to tell at the dinner table, others become important lessons to be learned.
"[Mine] is one story of roommate issues and […] sexual assault, but there's tons of […] other people who have their own story," Casey said. "I think their story, if it's worth it, should come to light."
*Last names have not been included in this article for confidentiality reasons.
Written by: Allyson Tsuji — features@theaggie.org