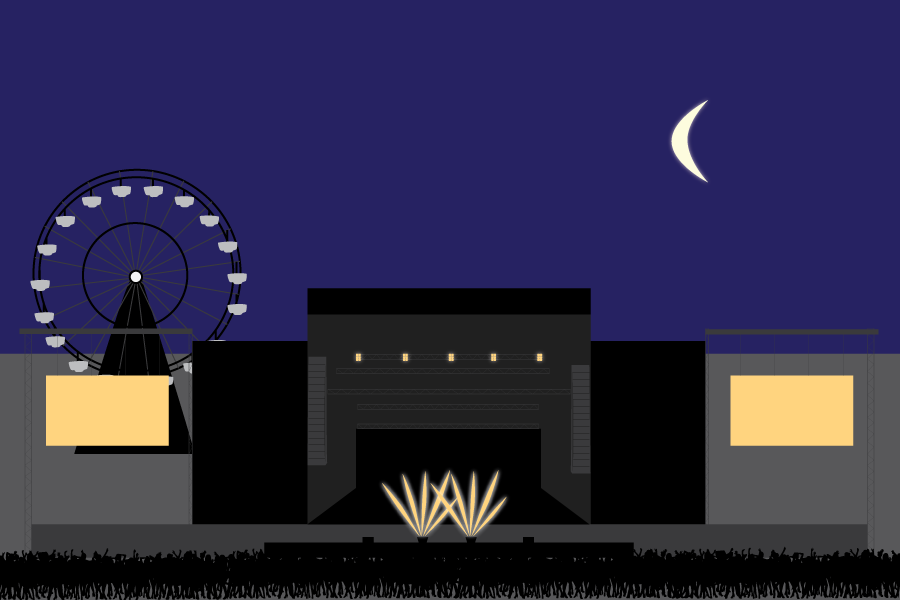 From Woodstock to Coachella — how outdoor festivals have evolved over the years
It was the summer of 1969 at a dairy farm in Bethel, New York when the Woodstock Music and Art Fair started it all. With over 500,000 attendees, legendary live performances and a vibe that captured the cultural zeitgeist, Woodstock revamped the concert experience and left a lasting impact on music as a whole. Since Woodstock, countless new festivals have emerged — most notably Coachella, Outside Lands, Lollapalooza and Bonnaroo. Along with festivals that showcase a variety of different music genres, there are also genre-specific festivals such as Stagecoach for country music, Electric Daisy Carnival for electronic dance music and Desert Trip for older bands and artists.  
As the accessibility of music festivals has expanded, a culture has developed alongside them. Nowadays, going to an outdoor music festival does not simply revolve around the performances. There is artwork to experience, delicious food to eat, trendy outfits to wear and an atmosphere unlike any other. As a result of social media, there is now an additional dimension to the festival-going experience. The artist lineups at many of the most popular music festivals have also slowly evolved in order to keep up with the constantly changing tastes of consumers.
In recent years, electronic dance music, or EDM, has significantly risen in popularity, making its way into the mainstream sector of the music world. Consequently, popular DJs and other EDM groups have developed a strong presence at festivals that were previously dominated by alternative and indie music. Rap artists are also growing in popularity at music festivals like Coachella and Outside Lands, with artists such as Kanye West and Kendrick Lamar often making appearances as headliners.
This stray from the typical festival style of music to a more mainstream scene of EDM and rap is now considered to be the norm at many of the main summer festivals. This development has been met with criticism from longtime festival-goers, but has also been a large part of the reason behind the overall rise in festival popularity. For instance, the upcoming lineup for Outside Lands 2017 falls back on its alternative and indie style roots for the festival's 10th anniversary with headliners such as Gorillaz and Metallica. While some are in favor of the return to this kind of lineup, many festival lovers criticized the lack of modern artists.
"In comparison to the Coachella lineup this year, I would say that Outside Lands is lacking in variety for sure," said Lexi Beaty, a first-year environmental policy and planning major and avid festival-goer.
Although the music festival phenomenon has grown and changed significantly since the days of Woodstock, the festival trend doesn't seem like it will be dying down anytime soon, and it will surely continue to evolve with the changing music tastes of generations to come.
Written by Sydney Odman – arts@theaggie.org